2000 Saab 9-5
User Reviews
Average Ratings from

19

reviews
Performance:
Appearance:
Build Quality:
Overall:
Review Highlights
Click to filter reviews below
Displaying 1 - 10 of 19 2000 Saab 9-5 reviews.
Matt

writes:
2000 Saab 9-5 Aero Wagon
Review
Pros
Build quality, ride, handling, turbo engine performance, looks, class, Koenigsegg made here too!
Cons
Hifi kit as stock, parts and service costs, 3000 mile oil changes....fuel eonomy (or is that my right foot??) Volvos made in sweden too!
2000my Saab 95 Aero Estate — Come on! Vikings, Swedish blondes, long legs, tans, free love, 24 hour day light, design, style, beautiful country, plus Eric Carlsson... SAAB's own home bred rally champion (see 1960's and 1970's for his exploits). 'Tis he who decides how fast Saabs go...stop....and handle! Ja Elska Day (or some such, meaning: I love you in Swedish!), and boy do I love my Saab...an aero estate no less 250BHP as standard and a top speed of about 150+mph....mind you, I have Abbott racing around the corner from where I live and 330bhp plus is available from the 2.3 litre 4pot. Mine so far has Abbott suspension, and has a new set of boots (Tyres), while a set of up-rated discs, pads, fluid, and brake hoses has yet to go on.....this is one reliable load lugger having covered 122K miles when I bought her, and with less than 10 months and 12k miles already covered she has yet to seriously let me down or disappoint. They like good oil (fully synthetic) and regular 6k max changes. keep em well serviced and bang for buck wise there is little to touch em! Come on Maja lets go for a drive!
Britton

writes:
2000 Saab 9-5 SE V6
Review
Pros
Safe, fun, comfortable
Cons
expensive maintanence
Saab 9-5 Se V-6 — Great car but expensive to maintain. Fun to drive, fast, handles great on dry or slick pavement. Very comfortable with great stereo. Decent gas mileage. Very very safe car, has 5 star safety rating. More unique than boring toyota or honda.
Primary Use: Sport/fun (spirited driving, track racing, off-roading, etc.)
Aaron

writes:
2000 Saab 9-5 Gary Fisher Edition
Review
Pros
Fantastic performance. Just unbelievable performance and ride for a fwd car! So comfy. 10 speaker Harmon/Kardon sound system is better than any aftermarket system. great MPG.
Cons
Very poor reliability prospects in some years. Parts are astronomically expensive even by german standards. car depreciates even faster than it accellerates. If you test drive one, you'll buy it (even if its a lemon) ask me how I know...
Wonderful Performing Miracle Car- With A Catch — This is perhaps the best car Saab ever made before GM totally wrecked everything good and independant about them. It also was the last of the saabs made before GM forced them to stop making overly complicated, over engineered time bombs. Possibly one of the best handing FWD cars I've ever driven, this car is so solid, so fast, and so comfortable, you almost forget you arent' driving a BMW or Audi. Saab pulled out all the stops for this model. Making it the safest, best performing, most comfortable Saab ever. The attention to detal is staggering. But as they say, the devil is in the details... These cars suffered from the malady of its own complex designs. the 2.3 turbo engines, while ultra reliable in prior saabs like the 9000, proved to be troublesome in this variant with oil sludge and turbo failure problems near epidemic. Self destructing belt tentioners, malfunctioning traction control, uncontrollable climate control, wer just a few things to truly hate. But if you can get one with few of these issues you'll be a happy person indeed. When saab says the 'people who test drive a saab buy a saab' they ater talking mostly about 9-5 owners, and they are correct. I did, and I did.
everetttom2009

writes:
2000 Saab 9-5 Gary Fisher Edition
Review
Pros
Comfort with standard stick with good sound. A solid car.
Cons
Full size but with good mileage 28 highway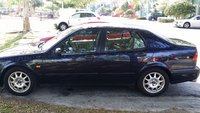 Clean, Nice Trim All Leather Luxuary Car — Car used by all family members and is the favorite for performance, luxuary and comfort. The e european and swedish styling and use of technology is way ahead of its time. The controls are in the middle deck all very handy to safety operate the car. It handles well in all weather situations and serviced by Tampa SAAB Story garage.
Primary Use: Commuting to work
Arnt

writes:
2000 Saab 9-5 2.3T Wagon
Review
Linus

writes:
2000 Saab 9-5 Aero
Review
Aero — A good and solid car from Saab. Amazing speed and torqe. 230hp and 370Nm. A wonderful and fast car. This is an new classic. There is not many of them around anymore, easy to fix with sheap spare parts. Godbye
Primary Use: Commuting to work
Hans

writes:
2000 Saab 9-5 SE V6 Wagon
Review
Cons
That I put it in the ditch and broke the front air dam
You Know You Want One. — I love this car! Awesome in snow, TURBO, looks good, hauls the whole family and all our stuff, and if we ever hit a moose? Saab thought of that. :) The default transmission setting is a bit doggy, but switch it into "sport mode" and turn off the traction control and it will smoke the tires. Not your grandmas wagon!
Kyle

writes:
2000 Saab 9-5 2.3T
Review
Pros
Amazing to drive, great quality, fuel efficiency
Cons
Probably more attractive alternatives out there
If You Can See Past The Bland Exterior, Amazing In Every Other Asset — Overall one of the best cars I have ever driven. The only reason I didn't give it 5 stars for performance is in the handling dept. But what can you expect from a 4-door saloon? I haven't had any issues mechanically and its beautiful inside. Outside however the car seems a little bland but still somewhat attractive. I love driving it. The car feels like it wants to be driven when you hit the accelerator
Primary Use: Commuting to work
David

writes:
2000 Saab 9-5 2.3T Wagon
Review
Pros
Safe, Quick, Quiet, Comfortable, Luxurious, Great Stereo
Cons
Quite a few GM parts and repairs expensive
2000 Saab 9-5 2.3t Wagon — Performance: 2.0LPT gives lots of pull from low revs, almost as much torque as a diesel. Very easy to drive fast, brakes feel very nice, handles Ok, body roll is progresive and feels safe. Build Quality: Very Good. Appearance: Very Nice, 7 Speaker Stereo System sounds amazing. Cost Of Owneship: Not as good on petrol as expected (Average 25.5 so far), but that is the trade off for having a turbo. Fun Factor: Good fun, it doesn't feel as vast as it is to drive.
Primary Use: Sport/fun (spirited driving, track racing, off-roading, etc.)
Joakim

writes:
Pros
Comfort, roomy, engine midrange, easy to DIY...
Cons
Needed som DIY (but many don't), varying quality? Go for Vector or Aero package for fun. Linear is not exciting.
It's A Keeper Now That It's Working Without Breaking Down Every Three Months. — Got it at 120000 km and things just started to give in. Changed a lot of parts but now (since about 190000 km) it seems to be working steady. Pretty comfortable car to ride. Engine is sufficient with nice characteristics, but not more. Easy to tune with a chip, but I haven't.
Primary Use: Family transportation
Displaying 1 - 10 of 19 2000 Saab 9-5 reviews.
Looking for a Used
9-5
in your area?
CarGurus has
456
nationwide 9-5 listings starting at
$899
.