2000 Mercedes-Benz C-Class
User Reviews
2000 Mercedes-Benz C-Class Review Ratings
Average Ratings
from 18 reviews
Performance:
Appearance:
Build Quality:
Overall:
Review Highlights
Click to filter reviews below
Displaying 1 - 10 of 18 reviews
1
2
Next
Matt2960

writes:
2000 Mercedes-Benz C-Class 4 Dr C280 Sedan Review
Pros
its a great buy, it looks good, and its stylish, you get plenty of power
Cons
very expencive reapir bills
If You Can Afford A Mercedes Benz, Buy One. — its a very luxurious car. a head of the time for the price you pay for it if you would have bought one new. mine has pure blue HID. it has all the update tech you would expect from Mercedes Benz, such as TCS (ASR), sport tuned suspension, plush leather, and lots of little gadgets that most cars of 2000 didn't have, but have now. the C class excels in comfort over everything else. also. its equipped with a peppy Lil 2.8l V6 pumping out 210whp on despite its 3300lb frame. the best part about this car in my opinion is its quality band for your buck
Primary Use: Commuting to work
Looking for a Used

C-Class

in your area?

CarGurus has

21,027

nationwide C-Class listings starting at

$3,099

.
rockman

writes:
2000 Mercedes-Benz C-Class 4 Dr C280 Sedan Review

Great Solid Vehicle, Pricey Accessories, Electronics Glitches, Still Pleased! — Just bought a used Mercedes C280 w/ 106,000 miles on it 02-23-07. Car felt very comfortable, safe and solid from the get go. I'm tall at 6'4 and have a lower back problem from years of playing sports. Lumbar support could be better, but still was able to manipulate seat for maximum comfort while driving. Only problems so far have been mostly a bad ignition relay ($300) that the dealer paid for. Car would be running great but then once you stopped it and left it for a few minutes it would not start, sounded like it was not getting fuel. Apparently that was just the case, #1 cylinder has something attached to it to inject fuel on the start. Now repaired and has been fine ever since. Also, Left rear turn signal light has a short and I can fix it. Also, fog lights (for right rear) are not functioning like they should. Car gets 29.11 mpg on the highway at 74 mph and runs like a top. I bet I could get over 30 with a lighter foot. All in all, I am still very pleased. I never thought I would like a smaller version Mercedes or otherwise, but I am very satisfied. Great city car, great highway trip vehicle, killer turning radius, you can put down the rear seats and get a load of ski's and snowboards in there and still have some room. If you find a good deal, and car was maintained (although I'm only hoping mine was) I would say you should buy it. I'm a very finicky buyer and was looking for the right vehicle for nearly 3 months before I bought this C280 (sport models look cool to). Oh, and my key was pretty rough so I bought a new one = $170 from dealer only (rip off)! Also, antenna is missing mast...replace the whole thing...$100 (double rip off)! Ouch, the price you pay for these accessories can be crazy. Also, (come to think of it...maybe I should take it back) but the clock and gear indicator (very cool transmission, by the way.. smooth tiptronic style) for 2000 and later) are showing hieroglyphics. Was quoted $1700 to replace...will fix with a piece of Black tape and a clock from the Auto parts store affixed over the malfunctioning readouts (I know this is ghetto...but 1700, come on! Paid $9000 for the car...can't complain but too much. Enjoy this car..watch out for electronics, negotiate price if anything is whacked...I was too taken with the ride and might have been able to barter the price had I known how much these parts were to replace! Still very satisfied, hope to get many years of driven out of this one! Good luck!
Owner for 0 years, 2 months
Miles Driven per Year:10,000
Rob

writes:
2000 Mercedes-Benz C-Class Review
Pros
Comfort. Capacity. Build quality - everything works! Brakes are ok too
Cons
No handling, No power. Standard issue cage fair zzzz
Merc C180 Sport Estate — I've just bought a Mercedes C180 Sport Estate. I only got it yesterday. Well the missus did, and I sorely regret not keeping it for meself. Seems like a nice enough motor, plenty of potential, very practical and confortable etc etc. Then I forget I've not a 60 year old dear with a yappy dog and jump back on the bike but I can see the advantages of this car. If I could buy two like this I'd have one too. Build quality and longevity seem 2nd to none, very impressed. Not great speed as I'm talking about the C180 UK model but it's a quick enough motor for a cargo lugging estate. Err, it red?? That's about it. It's left a good but shallow impression on me.
Primary Use: Family transportation
Nathan

writes:
2000 Mercedes-Benz C-Class Review
Pros
Good looks, performance, safety, fuel economy, comfort, pretty much everything. Feels faster than a 170hp car ;)
Cons
Needs some 17" or 18" alloys (preferably AMG Monoblock II's or Brabus Monoblock VI's), C43 AMG bodykit & exhaust, needs to be lowered on sportier suspension! :)
Elegance, Reliability, Safety, Comfort All-in-one! — Very satisfied with this car. Good power, good fuel economy, extremely comfortable all year round. Looks much better than even the newest cars nowadays, but at the same time it doesn't scream, "look at me, I'm an exotic 2-door Ferrari! I have money!" Stats: - 2000 Mercedes-Benz C240 (W202) - 170hp 2400cc V6 engine - 15" stock Mercedes-Benz alloys - Stock bodykit (front & rear) - Air-conditioning, electric windows, ABS brakes, power steering, airbags - 10-way electric & heated seats (front seats only) - Emerald green metallic paint Mods: - Avantgarde W202 grille (S600 style) - Custom AMG pedals - Custom AMG gear knob - iPod car kit
opelken2

writes:
2000 Mercedes-Benz C-Class 4 Dr C230 Supercharged Sedan Review
Pros
Best car I have ever owned for merging into traffic. The car feels safe(...feels tough as a tank) and stable anywhere, but is definitely in it's element on the highway. On a long distance trip(7+ hrs. on highways) achieved 33MPG.
Cons
Rear seat area is not very roomy. Uses 91 octane fuel. Repair parts are on the expensive side of things.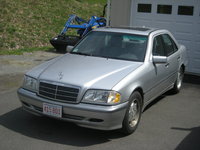 Built Like You Would Expect A Mercedes To Be Built. — Sedately aggresive apearence with moderate ground effects and a slight truck lip. I have no trouble finding my car in the parking lot. The car is solid, comfortable to drive, and the stability control in winter driving cannot be explained...it just works. On long trips, the seats get a little uncomfortable. Merging with traffic and highway driving are this cars nitch. You will find it hard to believe that you are driving a 4 cyl. until you get to the gas pump. And parking lots are no problem either, as this thing has a super tight turning radius. Finally, the braking is also first class with just the right feel. Highly recomended automobile.
Primary Use: Commuting to work
Michael

writes:
2000 Mercedes-Benz C-Class Review
Cons
newer versions and i want
My C220 — My Alpine sound system , its crazy loud, its wagon and that allows for my woofer to function cos there is space. not expensive anymore cos of year but its a lovely buy. mad to drive handles the corner pretty tight and its feels firm on the road
Primary Use: Commuting to work
Osman

writes:
2000 Mercedes-Benz C-Class 4 Dr C230 Supercharged Sedan Review
C230 Kompressor — Fast acceleration, stops on a dime and handles corners like nothing. It's a Benz, amazing build quality, very reliable. Some maintenance can be a little high, but if you learn to do things yourself, it, in cases, can cost less than domestic cars.
Primary Use: Sport/fun (spirited driving, track racing, off-roading, etc.)
Christian

writes:
2000 Mercedes-Benz C-Class 4 Dr C43 AMG Review
Awesomeeeeeeeeeeeeeeee — Acceleration- awesome Brakes - awesome Handling - AWESOMEEEEEE Build Quality - it will NEVER start to rust Appearance - A great amount of the inside is leather, while on the outside they use carbon. Cost - the car doen't cost pretty much, and it doen't need much gas. But it's fast as hell!!! Fun Factor - I already drove this car, and it's amazing!!!
Jonno

writes:
2000 Mercedes-Benz C-Class Review
Pros
Fast and comfortable
Cons
expensive parts if it should go wrong
Cheap, Sporty, Comfy And A Merc So Keeps On Truckin... — This car is cheap to fuel i get around 42MPG on the motorway, All cool extras cruise control alloys everything electric i paid 1400 for a 2000 model with 90k miles on the clock. what a result I have done 30 k in about seven months with a replacement air flow sensor around £400 fitted from merc but otherwise excellent cheap motoring. Only issue is tyres tend to wear a lot on the inside of the tread and you dont see it untill itis up on the ramp, performance is really good for an auto box good smooth changes. originally would have been around 150 BHP when new, ercon its lost 1 BHP/year so around 140BHP but with K&N filters and stainless exhaust drives truly like a new car but without the cost. Loves high speed roundabouts sticks like GLUE!
Nathan

writes:
2000 Mercedes-Benz C-Class Review
Pros
Quite comfortable most of the time, good visibility.
Cons
Underpowered, underdeveloped.
Displaying 1 - 10 of 18 reviews
1
2
Next
Ask CarGurus about the 2000 Mercedes-Benz C-Class
Average response time:
8.5 hours
,
# of Mercedes-Benz C-Class owners:
5,358
Looking for a Used

C-Class

in your area?

CarGurus has

21,027

nationwide C-Class listings starting at

$3,099

.