2000 Jaguar XK-Series
User Reviews
Displaying all 3 2000 Jaguar XK-Series reviews.
Brent

writes:
2000 Jaguar XK-Series XKR Convertible
Review
Pros
Fast, beautiful and glued to the road.
Cons
Parts cost and reliability
Supercharged Xkr — This sleek car handles like a dream and accelerates like a mussel car. The maintenance costs are high so resale is low. So if you can twist you own wrenches you can pick up a used super car for a sweet deal.
Primary Use: Commuting to work
myshack

writes:
2000 Jaguar XK-Series XKR Convertible
Review
Pros
fantastic acceleration, great handling and extremely smooth ride
Cons
Several small issues and tricky to do it yourself fixes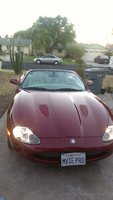 Great Overall — The ability to ride smoothly is unparalleled. Jaguar handling is phenomenal. You do have to dig around if you are a diyer. Power and acceleration are exactly what you expect from a Jaguar. it is a amazing car to drive.
Primary Use: Sport/fun (spirited driving, track racing, off-roading, etc.)
Jonathan

writes:
2000 Jaguar XK-Series XK8 Coupe
Review
Pros
Style, Performance, Kudos, Overall feel
If You Love Cars, You Wont Be Dissapointed, Buy Sensibly, Get Service History, Look At Lots! — Ive had the XK8 nearly a year now. Ive always loved the look of the XK range and getting the chance to own I car I have admired from afar is kind of a dream come true. Ive bought it to keep as the coupes tend to hold there money very well and the prices are just ever so slightly starting to creep up on them. Before long it will have its classic car status and values will rise considerably. The shape of the XK for me is true classic Jaguar, its a DB7 without the cost of running one. I love the interior, dials and lots of leather with beautiful wood dash. plenty of dials to keep me entertained. Its a car that feels soo good to be in, gives you a real feeling of class. For a Sports GT car the ride is great, firm and very communitive. You feel everything the car does on the road and the steering is superb. Gives you real confidence to push on and use the power. Normal mode the car is very quick and gear chanages are virtually un-noticeable even under hard acceleration. Select Sport mode and the car setup changes to be firmer and the gear response is instant. round the windy back roads the car feels pretty small for such a big coupe. I am looking at changing a few basic things. Im looking at Milltech or a Larini performance exhaust both stainless steel and handbuilt around £600 -£1k and around 25BHP increase. Im also changing the Air intake to a Carbon Cold Air intake duct system which averages around 12 to 15BHP increase. Im fitting a Performance Lifetime Air filter which gives a 5 to 10BHP increase. Next big thing are cross grooved n drilled discs n pads with braided performance brake pipes, lowering kit and wheel spacers. Overall the car will look standard but will be going towards 400 BHP once the ECU is remapped and configured.
Primary Use: Commuting to work
Displaying all 3 2000 Jaguar XK-Series reviews.