2000 GMC Jimmy
User Reviews
2000 GMC Jimmy
Review Ratings
Average Ratings from

16

reviews
Performance:
Appearance:
Build Quality:
Overall:
Review Highlights
Click to filter reviews below
Displaying 1 - 10 of 16 2000 GMC Jimmy reviews.
Mohammed

writes:
Cons
Prices for spare parts
The Quality — # Performance is excellent, good acceleration and braking, and handling not too bad. # Build quality, the quality of the structure of the vehicle very cool - does not need a lasting reform, and there are disturbing sounds. # Appearance - both interior and exterior design - look relatively good for the year of the vehicle internally and externally to an end either. # Cost of ownership, gas mileage, and maintenance - the cost of an average vehicle ownership, and gas mileage is also not quite the one that, and maintenance is good, I was the problem lies in the prices of spare parts. # Fun factor, this is the car fun to drive - the car is comfortable for the driver and passenger and for the rear seats are not comfortable for the car I was generally acceptable.
Primary Use: Sport/fun (spirited driving, track racing, off-roading, etc.)
Looking for a Used
Jimmy
in your area?
CarGurus has

380

nationwide Jimmy listings starting at

$1,500

.
Austin

writes:
2000 GMC Jimmy 4 Dr SLE 4WD SUV
Review
Cons
Multitude of problems; constant electrical and mechanical failings
Good For Winter, But Would Never Buy This Gmc Again — Pros: This SUV was a beast in the winter. The liftgate with the push of a button on the hatch (the newer GM SUVs require you to have the remote, not just the car to be unlocked), except the whole tailgate can only be opened if the car is unlocked. Cons: Highway speeds handling is poor. It has a very "numb" feeling which makes you feel like you have little control. It seems like after I had fixed one thing with this vehicle, another problem arised. There is no way to open the hatch with a key (you have to use the remote or have the car unlocked). Because of it's smaller track width and wheelbase compared to the bigger Yukon, it's ride quality is horrible, but given that this SUV is made for four-wheel driving, the bumpy ride is negligible. Overall, this was a great SUV for winter. It was a beast through Barrie's snow storms. But, clearly GM paid a lot more attention with it's bigger trucks and SUV's because this one had many issues. I would definitely recommend the bigger Yukon over this, especially for winter. Whoever said that this SUV was a luxurious beast concealed in an SUV was VERY wrong.
Primary Use: Family transportation
trip65

writes:
2000 GMC Jimmy 4 Dr SLE 4WD SUV
Review
Pros
it starts everyday!!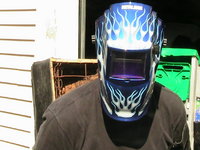 Gmc — its a dependable driver in any weather! great on snow ,but i wont be worrying about that now that i live in florida. i have it for over a year now & has never let me down.i also have had 3 other Jimmys in the past 89 91 & 03.
Primary Use: Family transportation
chiefdavid

writes:
2000 GMC Jimmy 4 Dr SLE 4WD SUV
Review
Pros
Nice gas mileage, good for family and personable, can tow fun vehicles too.
Cons
Runs so much eventually will need tires.
Good To Go! — I very much like the all around comfort and luxury for this kind of truck, without the high gas cost of bigger trucks and it can fit into small parking space, and still tow fun vehicles. Has ability to be road trip truck with very little effort.
Primary Use: Family transportation
AviationMech

writes:
2000 GMC Jimmy 4 Dr SLE 4WD SUV
Review
Cons
If your tall or large bodied
I Enjoy Driving This Vehicle — All around I like the looks and performance of this vehicle. The interior is used friendly and everything is within reach of the operator. My vehicle has the optional auto shifter on the floor which I think is a nice option not available in most 4x4's.
Primary Use: Family transportation
Mike

writes:
2000 GMC Jimmy 4 Dr SLT 4WD SUV
Review
Pros
Its just comfortable for a suv
Cons
Gas, repairs, insurance
Love It — Its a good reliable vehicle. Its allot like my 98 was but its just all round better. with a sun roof and atomatick climate controle its like heaven on weels. It handles nice for a suv. and the little thing that tells gas mialage and the temp. is kinda cool.
Andrew

writes:
2000 GMC Jimmy 4 Dr SLE 4WD SUV
Review
Pros
Looks, rumbly V6, great 4x4
Cons
Everything breaking at once
Gmc Jimmy, The Good The Bad And The Reeeaaaallllly Bad — After replacing all the steering components in the front end, and then replacing all the ball joints and shocks I figured I was home free. Until the transmission decided to go out on me and I didnt have reverse on the day I needed it most... its hard getting people to volunteer to push a 2 plus ton truck up a hill... Otherwise it's pretty fun, 4x4 works great now that the rear end has been changed..
Primary Use: Commuting to work
Greg

writes:
2000 GMC Jimmy 4 Dr SLE 4WD SUV
Review
Pros
Acceleration, 4x4 system, interior space, capability, Bose system really thumps
Cons
Fuel economy, headlights could be brighter
Why I'm Keeping My Jimmy For A Long, Long Time. — Strong acceleration, great low end torque. Some body roll. Exhaust note is low and mellow at idle, but growls at full throttle. Build quality good. Some squeaks and rattles, especially in the door panels. Bose sound system really thumps. Basic repairs and maintenance needed. No surprises. Repairs are extremely affordable due to the huge popularity of the Blazer/Jimmy/Bravada/S-10/Sonomas that share the platform. Exterior styling unique from Blazers. Unlike most cars, looks great in two-tone. Interior looks best in grey/brown. Dark grey is too dark. Floor shifter is nice (certain years, others had column shifter) Seats are comfortable. Plenty of leg room in the back. Pickup sized cargo area with seats folded down. Gas mileage is pretty poor, (12mpg city/19 highway) but for the power at the disposal of your right foot, I'll take it =D Blast to drive; handles mountain roads like a champ. Only kill joy is the body roll in sharp corners, but the high output 4.3 makes up for any braking you have to do. High end acceleration is adequate, but low end is where the Jimmy hauls. Feels safe. Sunroof is the best option on the car. 4x4 system is a champ, ground clearance reasonable. Suspension is both comfortable on road and competent off road, but feels too soft at times (luxury ride suspension is standard on the SLE) Headlights could be brighter, but an HID system or Silvania Silverstars is an easy fix. As a student, I sometimes wish I had bought a sporty car instead, but when the weather turns bad, you're headed to the mountains, or you need the extra space, you're reminded why this is such a great truck. And when you are in the mood to drive, you aren't penalized for buying an SUV. Long live the Jimmy =)
Primary Use: Commuting to work
Jessica

writes:
2000 GMC Jimmy 4 Dr SLE 4WD SUV
Review
Pros
It will get you from A to B...maybe. but its sturdy
Cons
just about everything has gone wrong with it
henkelman19

writes:
2000 GMC Jimmy 4 Dr SLT 4WD SUV
Review
Pros
Bad ass looks inside and out, good power, affordable midsized SUV that will get you noticed.
Cons
REPAIRS! Gas milage, sound system sucks, expensive to keep on the road even with todays low gas prices.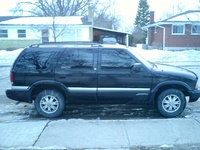 My 2000 Gmc Jimmy — The Good: Good all around vehicle, mine has 321,000 km's on it, doesn't burn a drop of oil, AC still works, and still has plenty of power. handling and braking and decent. interior is very nicely crafty, the heated power leather seats are very comfortable and the sunroof is a very nice feature. i love the way this truck looks inside and out, i only have the stock 15" steel rims right now but when i get the 22" voodoos i'll be a happy camper. The Bad: disapointed first of all with the stock sound system, its Bose, but sounds a little more like CRAP! the interior noise is more then what it should be, their are way too many rattles and squeeks. the 4.3 vortec does have good power and torque but you pay for it in gas milage. i was able to get my overhead computer to give me exact readings on what gas milage i was getting at that time and took some tests, here is what i found: with the cruise control on between 50 and 90 km per hour, you get 22 MPG, at 100: 20, 120: 18, and at 159 (just before the autmatic gas shut off) you are getting 9 mpg, not to mention, if you floor it, you are down to 3 mpg. i know this vehicle has alot of milage but it seems like i'm spending half my time at the garage writing checks, everything beyond the engine seems to always need repairs, such as the 4WD, ABS, not to mention all the interior electronics like the heated seats, sunroof, and power seats that i don't even both to fix anymore. overall its a good vehicle if you can afford to keep it on the road, i'm sure jimmy's with less km's have less problems, i'm only speaking about what i know personally.
Displaying 1 - 10 of 16 2000 GMC Jimmy reviews.
Looking for a Used
Jimmy
in your area?
CarGurus has

380

nationwide Jimmy listings starting at

$1,500

.