2000 Ford Focus
User Reviews
2000 Ford Focus
Review Ratings
Average Ratings from

78

reviews
Performance:
Appearance:
Build Quality:
Overall:
Review Highlights
Click to filter reviews below
Displaying 1 - 10 of 78 2000 Ford Focus reviews.
Shaun

writes:
2000 Ford Focus ZX3
Review
Pros
Cheap, Sporty, Lasts forever
Cons
Ummm, hold on... Let me think... Needs about 10 more horse power and a better sounding horn. Thats about it.
The 2000 Focus Zx3 — Where can I start? The 2000 Focus is a complete solid car that can bring joy to anybody. First, the performance: The 2.0 litre, 4 cylinder, DOHC, Zetec engine produces 135 BHP and is fairly bullet proof, it will last for a long time. My Focus has done around 180,000 miles on all origional parts, except for gaskets and other parts that need replaced every couple of thousand of miles. Pretty good for a ten year old car! The engine is completely adaquate enough for everyday use and the occasional time when you feel like going fast. Despite this, the engine could do with just a tiny bit more power to add to the sportyness of the Focus. However, when you hit the GO pedal and you let the revs get up high, you will hear the sweet sound of the engine. It is phenominal. The brakes on the Focus are unbelievably brilliant. All you need to do is tap the brake pedal and you stop very quickly. When you stop, put your face back where it belongs and keep going. The brakes stop you quick when you need it and slows you down when you need it. The stopping power is phenominal considering the brakes at the front are about 1 foot in diameter and the rears are drums. The 2000 Focus is well built all round. It will keep its self composed for many years. I've recently replaced the suspension all round and the front rotors just to keep it as safe as it possibly can. After 10 years, the suspension is pretty soft instead of hard. Now that the replacements are on, the Focus sits about 2 inches higher than it did with the sagging, old ones on there. There was nothing wrong with the brakes, just replaced them so I know its safe and they'll last another life time. After 10 years though, the Air Conditioning Compressor is squeaking now, but from frequent use for 10 straight years, it is expected to happen, nothing can last forever. The car does not rattle, bang or anything else. The Focus looks, to me anyway, really good. I like the way the rear lights are situated up high, not only to look more interesting, but so that they are more visible to the car following you. The side of the Focus had very interesting lines and you could spend hours looking around it looking at all the tiny curves, bends, and lines on it. The large headlights look good aswell as lighting up the road amazingly. The interior design is pure and also very interesting. The lines of the dask is unique and is oddly good looking. The gauges are very large and easy to read as well as being accutare. The gauges do need a readout for battery life though. Apart from that, they are brilliant. The way the seats feel are unbelievably comfortable. They hold you well when you are moving down the road. One fo the best things about the Focus is that is is so cheap to run. $20.00 of fuel today will easily last you up to 2 weeks (depending on how you use it, of course). The Focus is incredibally easy to maintain. It will last you a while when you treat it right. This car is a "hatchback", but it behaves as a sports car. It is really sporty to drive and it makes you forget that you are driving a hatchback. It shouldn't be called a hatchback; it should be called a "Sports Coupe". To sum it all up, the 2000 Ford Focus ZX3 is one of the best cars out there today and gives you a feeling of joy that is unique in every way.
Primary Use: Family transportation
Looking for a Used
Focus
in your area?
CarGurus has

46,643

nationwide Focus listings starting at

$1,450

.
Eric

writes:
2000 Ford Focus ZX3
Review
Pros
sporty economy car and the handling is excellent and its even better with a lowering kit
Amazing Car To Drive — i have owned this car for 2 years and it is definitely a work in progress still ... its always changing the appearance and style but its so much fun ... custom led taillights ... hid headlights ... eibach sportline lowering springs ... custom painted stock 5 spoke rims ... interior neons ... cold air intake ... alpine stereo ... amp and 2 - 15 inch kicker subs ... and the gas mileage is amazing even driving with a lead foot ... my next purchase is definately going to be a ford focus zx3 svt ... faster and better looking car in my opinion ... i love my car ... enough said lol
Primary Use: Sport/fun (spirited driving, track racing, off-roading, etc.)
Mark

writes:
2000 Ford Focus ZX3
Review
Pros
Handling, capacity and fuel economy.
Cons
Rear brake drums and power.
Good Daily Driver — Performs well for a daily driver. The car looks nice but could use some lowering springs. I bought the car for $400 so it was pretty much a steal. The car is overall fun to drive since it is small, sporty and manual.
Primary Use: Commuting to work
Dan

writes:
2000 Ford Focus LX
Review
Pros
Inexpensive, easy to maintain, great fuel economy
Cons
Not the most luxourious car
Absolutely Phenomenal Car — Incredibly solid car. The original clutch lasted for over 160,00 miles. Handles well, has a 2.0L 4 cyl. which is surprising quick (acceleration, speed, etc.). Has had very low maintenance costs and gets great fuel economy. Good looking car and (I own a sitck) fun to drive. Highly recommended. My mechanic has recommended it over many fancier european models.
JoseJAX

writes:
2000 Ford Focus ZX3
Review
Pros
Dependable and sporty to drive
Cons
Paint didn't hold up well over the years, roof started to show wear but expected for a 13 year car, thinking about wrapping the top since my last paint job didn't last more than 2 years before showing wear from the sun (Maaco Special).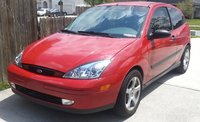 Great Car, Dependable And Fun To Drive — Love this car and owned it since 2002. Meets all my needs in a commuter car, I only wish I would have gone with the SVT model for the extra power (130HP vs 170HP), other than that it's been a great car.
Primary Use: Commuting to work
Peter

writes:
2000 Ford Focus ZX3
Review
Pros
Fast, fun, good handling and seats 5!
3/5 Stars. — Perf: Acceleration is alright. Not stellar. Braking is excellent, can stop on a dime. Handling is quite remarkable. Easily takes corners at 80kph+. (Granted, my car is lowered 2"). Speed: I have personally reached ~175kph. Car maxes out at around 190kph. Build: Not so great. You get the lousy groan from the power steering pump. (Standard with all Fords after 10yrs). Tends to shake a bit over 150kph. Appearance: dents easily and looks like a shrunken minivan, but looks pretty shnazzy. Cost: Very cheap. Original price is usually below $2500, and it gets about 30mpg. Fun Factor: awesome. Not jaw-dropping or head turning, but hauls ass pretty well.
Primary Use: Sport/fun (spirited driving, track racing, off-roading, etc.)
Stephane

writes:
2000 Ford Focus ZX3
Review
Not Sure I Will Ever Let It Go :) — Almost 140,000 miles and no major problem. Why buy a new car when a few thousands added in aftermarket parts make it still turn heads on the street... I am looking forward to the next 140,000 miles :) Never had any problem, knocking on wood!!!
Primary Use: Commuting to work
Kyle

writes:
2000 Ford Focus SE Wagon
Review
2fst4u — Good everyday car, has the extra space if you need to haul something. Not bad on the highway. Cheap to maintain but parts are in odd places. It has good get up and go with the Zetec Engine. Wouldn't buy a duratec one
Primary Use: Commuting to work
JT

writes:
2000 Ford Focus SE
Review
Cons
the only bad thing is that it doesnt plant u back in your seat like my mustang does
Awesome Car — doesnt have the same get up but it is fast enough. great mpg and i never had a single problem with it. the stock stereo was good. the space was good often fit a few more than five people in the car. the car looked good and was comfortable to drive.
Primary Use: Commuting to work
Hren

writes:
Pros
It's a good all-rounder
Cons
it could use a bit more hp
Ford Focus Tddi — Performance - there is none Build quality - it's a Ford, so it has its ups and downs Appearance - it doesn't quite show it's age, so that's a good thing Cost of Ownership - the occasional thing breaks or wears out, but is usually cheap to fix. It does very good mileage Fun Factor - it's quite fun to drive on occasion :)
Primary Use: Commuting to work
Displaying 1 - 10 of 78 2000 Ford Focus reviews.
Looking for a Used
Focus
in your area?
CarGurus has

46,643

nationwide Focus listings starting at

$1,450

.