2000 Dodge Intrepid
User Reviews
Average Ratings from

28

reviews
Performance:
Appearance:
Build Quality:
Overall:
Review Highlights
Click to filter reviews below
Displaying 1 - 10 of 28 2000 Dodge Intrepid reviews.
cbb27615

writes:
2000 Dodge Intrepid ES
Review
Pros
Style. Spacious interior.
Cons
Not built to last. Unreliable.

Disaappointment!! — The car was more of a hassle than it was worth. Owned it early on in it's short life, 11000-130000miles. Several warranty repairs on the AC before 36k miles. Then a recall later on. I don't believe they ever fixed it, just put on a bandaid. Spent thousands of dollars trying to fix it. Never a permanent fix found for the AC. Engine died after 130k miles. We put a factory rebuilt engine in it, only for it to die within a month of its 3yr/36k warranty. Change the oil like clockwork to maintain the warrenty. What a waste of time and MONEY!! Never will I buy a Chrysler/Dodge product again!!
Primary Use: Family transportation
Looking for a Used
Intrepid
in your area?
CarGurus has
514
nationwide Intrepid listings starting at
$1,895
.
carproblems1000

writes:
2000 Dodge Intrepid
Review
Pros
every thing u look for in a car it has. space good on gas nice size for road trips good interior rides smooth
Cons
engine problems and transmission problems around 90,000 miles. hard to find the source of the problem also.

Sucks To Fix The Problems When You Can Pin Point Them. — cheap when buying parts. hard to fix random problems. but a good car when its up and running. huge trunk space. easy to customize if your into that. my only advice is to keep the car maintance at all times.
Primary Use: Family transportation
andre1969

writes:
2000 Dodge Intrepid
Review
Pros
Good handling, decent performance for its engine size, fairly reliable, good interior/trunk room for the most part. Decent build quality overall, use of hard plastics inside kept to a tasteful minimum.
Cons
Legroom tight in passenger front seat. Visibility not so great...plenty of blind spots and hard to see the corners of the car. Trunk opening is a bit small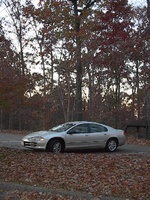 Good Car Overall, Nice Blend Of Size, Performance, And Economy. — I've had my 2000 Intrepid base model, 2.7, for about 9 1/2 years and 146,000 miles, and it's been a good car so far. It was pretty reliable up to around 2007, when it hit 130,000 miles. I probably put around $2,000 into it that year, which included new front brakes, coolant flush, belts/hoses, the cooling lines that run from the transmission to the radiator (OEM and pretty expensive), two new tires, both front bearing hubs, an a/c recharge, and some other odds and ends that are probably escaping my mind right now. The 2.7 is supposed to be sludge-prone, while the 4-speed automatic is known for dying an early death, but I've had no trouble with either. I try to change the tranny fluid every 30,000 miles. I started off trying to change the oil every 3,000 miles, but slacked off in later years. Every 4500 is probably my average. It's a good handling car, and the tiny 2.7 does a reasonable job of moving the car...you just have to put your foot into it and make it scream a little. This ain't no 440 big-block! For fuel economy, I usually get around the EPA rating...20/29. I have gotten as high as 32 on the highway, in the right conditions...and as low as 16-17 in the winter, in mostly local, short-trip driving. My biggest complaint is probably the legroom on the passenger side front. I'm 6'3", and fit okay behind the wheel, although I could use a bit more room. But it feels like the footwell area is a lot tighter on the passenger side. The few times I've been a passenger in my own car, I've hated it...and prefer the back seat! Decent car overall, and I don't regret buying it. If I could do it over again though, I think I would've sprung for an ES model with the 3.2, and power seats. I hear that the 3.2 gets almost the same economy in the "real world" (not necessarily according to the EPA) yet has a lot more power. Oh, as for ownership costs, I estimate the car has cost about 22 cents per mile, plus gasoline, plus insurance. **Update: On November 18, 2009, with about 150,300 miles on it, someone pulled a hit and run on my 2000 Intrepid in a restaurant parking lot, and the damage was enough to total it. I replaced it with a fully loaded 2000 Buick Park Avenue Ultra that, when new, probably MSRP'ed for around $40K, versus the $20,950 MSRP of the Intrepid. The Park Ave is faster, better-equipped, and roomier than the Intrepid was, but comes up inadequate in handling, braking, build quality, fit and finish, etc. While the Intrepid was a very good ~$20K car, the Park Ave, while it cost about twice as much new, is definitely NOT twice the car! I actually came close to buying another Intrepid when mine got totaled. I had found a well-equipped ES model with the 3.2, leather, sunroof, etc that was fairly low mileage. But, as I'd had my car for 10 years, I wanted to try something new. Still, sometimes I still miss my old Intrepid.
Primary Use: Commuting to work
Michael5865

writes:
2000 Dodge Intrepid ES
Review
Pros
1. A steal as a used car! Only paid $12,000 for the Top of the Line ES in 2005.
2. Large trunk that can fit anything and everything
3. Great 3.2L V6 (225 HP, 225 TQ), translates to plenty of power
4. Great on Gas, especially on the Highway. What other car this size is able to achieve 400 miles of highway driving?
5. Little to NO torque steer even with hard acceleration
6. Quiet engine
7. Sentry Key (Uses a special security chip in the key to start the car)
8. Power driver and passenger seats
9. Automatic A/C
10. Auto Dimming Mirror
11. Temp, Milage Meters, Compass
Cons
1. It's large size...my first car was a bit smaller
2. Rear side blind spots (behind rear doors)
3. The low positioning of the grill lets water in during heavy rain and may make the belts sqeak for a few seconds.
4. Chrysler decided to discontinue this model which wasn't a smart move
5. Sometimes people think you are a cop and drive slowly in front of you
6. Anti-lock brakes were not standard for this model year (My only real complaint about the car, especially after owning a car from 1988 that had ABS)
7. Exterior Headlights get cloudy (but this is common place and I have PlastX to make them clear again)
Great All Around Car! — I've had this car for nearly 3 years and have had no major mechanical problems. The only expensive things were the replacement of the timing belt and water pump at 90,000 and I just got a new belt for the alternator a couple weeks ago. The car is almost at 104,000 (it had 66,000 when I first got it). This is truly the best full size FWD sedan ever made, but unfortunately was replaced by the smaller Charger. There is plenty of passenger space and can seat 5 very comfortably. The security system, sentry key, and engine immobilizer keep your car safe. If you decide to purchase a non ES Intrepid, make sure to have a security system installed because my mom had a 2004 SXT which was stolen (it did not have a security system, just keyless entry) along with many other Chrysler, Dodge, and Plymouth vehicles in my area.
Alex

writes:
2000 Dodge Intrepid R/T
Review
Pros
I would definatly recommend this car to any one just not mine!
Cons
none exept its 9 years old
I Love It ! Just Dont Try To Jump Any Thing I Cracked The Oil Pan ( Its Not Like The Movies) — I love my baby! It was built to take on BMW M5s so its fast, large (lots of trunk space) comfortable ( and i gave a 911 a run for its money on HWY 407 before the 50 over law).Its also a great family car. Im sorry i cant say the same about all other intrepids
roader1

writes:
2000 Dodge Intrepid R/T
Review
Pros
Dependable. driveable, just exciting enuf
Cons
Could use some more HP

One Of Those Very Happy Combinations — Engine -Medium strong - 50 more horse would be great- Know where I can get it? Are there any mods out there for the 3.5HO? Still Bullet Proof after 215K - Still strong. Suspension - Dynamic, great balance, very driveable at speed, even with the longe wheelbase, Big brakes. Kinky-sized tires-Oh well. Sportstick tranni better than the Chargers- Use it all the time, Pop it into directly into drive whenever... Great Roader for the $$$ - Still love it!
Primary Use: Sport/fun (spirited driving, track racing, off-roading, etc.)
Katie

writes:
2000 Dodge Intrepid ES
Review
Pros
its got great pickup
Cons
my back passenger door lock opens, but doesn't relock
Its Awesome — i love it!, i dont know what i would do without it. it has a couple scratches, but overall it's quite beautiful. the sound systaem is good, the gas mileage is good, and i couldnt be happier :) and the best part is it's all mine and i dont have to share it with anyone
Primary Use: Commuting to work
James

writes:
2000 Dodge Intrepid Base
Review
Cons
Just over 130k miles now the small things are breaking lol
Good Cheap Car. — It's a good all around car. Generally rides pretty good no matter where I go. Wish i got the 3.5 motor instead of the 2.7 it has for the little more power O.o. It is a good car for stereo cause i can blast my stereo and you can't hear it to much on the outside :D.
Primary Use: Commuting to work
Jovo

writes:
2000 Dodge Intrepid Base
Review
Pros
Pretty great buy for 200 bucks! Make sure you have everything, and the big stuff like lifts and stands, also have moderate experience before you rip one of these suckers apart.
Cons
Kinda handles like a boat around turns but it is really great in snow. the slight angle the car sits at makes the front dip down and makes it a little prone to scraping if I hit deep bumps or raised speed bumps. Just gotta learn to drive different with it and keep aware of the road conditions and parking lot conditions.
Pretty Decent For An All Around Functionality Car. It's An Ok Commuter Car And Has A Smooth Ride. — Got this beast with a rod knock on the 5th cylinder. 2.7L. Seems like the previous owner didn't change their oil. I know of the "bad oiling" crap people say about these but it's not a bad car. I picked up a crankshaft rebuild kit, pulled the motor and threw it back in after i rebuilt the engine in a week and it runs perfect now. The new replacement bearings they sell for these had upgraded oil passages, they were classified as new oem. advance sells the reman crank with all bearings for about 208.00 if you use the online coupon through the advance auto website. only needed 1 connecting rod and those run 45.00 a piece reman. you can tell when a connecting rod is bad if you test it with green plasti gauge, or see that its out of round. I highly suggest running synthetic in these cars due to slightly increased heat in the bay from the cats being so close to the engine and slightly narrow stock oil passages. has a huge trunk and the back seat is huge too ; ) great for parkin' if you got tinted windows! This thing pulls pretty good for being a large car. i thought the 220 hp would be watered down but it runs the road great and i can even burn out with this thing.
Primary Use: Commuting to work
Ryan

writes:
2000 Dodge Intrepid R/T
Review
Pros
Performance, Style and Build
Cons
Needs better Gas mileage
Fearless R/t — This is an R/T with a 3.5 Liter High Output V6 it has 253 hp with premium gas. This Car is fun to drive and the tires spin easily. Bad gas Mileage though. Nothing major has gone wrong with this car. All I have had to do is regular maintenance. However this year I had to replace and inner and outer tie rod. With 136,589 miles on it, the motor is dying. It still runs for now but its louder than it should be. Except for the motor dying everything else on the car works perfectly
Displaying 1 - 10 of 28 2000 Dodge Intrepid reviews.
Looking for a Used
Intrepid
in your area?
CarGurus has
514
nationwide Intrepid listings starting at
$1,895
.