2000 Chrysler Sebring
User Reviews
Average Ratings from

24

reviews
Performance:
Appearance:
Build Quality:
Overall:
Review Highlights
Click to filter reviews below
Displaying 1 - 10 of 24 2000 Chrysler Sebring reviews.
John

writes:
2000 Chrysler Sebring JXi Convertible
Review
Pros
Roomy comfortable interior, 6 disk cd changer with infinity speakers, chrome rims
Cons
Needs stronger engine, typical Chrysler brakes
One Of The Nicest In Chrysler's 2000 Lineup — Looks good, could use a little boost in power I have owned this car for at least 2 years now and i must say that even though it has had its quirks, it is an amazing car. Where it really shines is when the top is down and the sun is up on a nice warm day. I got mine used fully loaded so basically whatever was available on this trim level i got (with the exception of a spoiler). Its got a good ride quality but the engine is too small for a car like this. Except for some casual maintance when i first got it the car has held up quite nicely.
Looking for a Used
Sebring
in your area?
CarGurus has
4,282
nationwide Sebring listings starting at
$1,100
.
scottwithconvertible

writes:
2000 Chrysler Sebring JXi Convertible
Review
Pros
A design thatis Moddern in 2008
Cons
2000 limited Sebrings? Not many in my area

Sebring Convertible 2000 Limted — Sebring Jxi Limited I bought with 63000 miles. In mint condition. Jaguar dark green in Color. With a nice black and tan two tone seats. Perferated tan inserts. Wood trim and infinity sound system with tape and cd. Every one says its a fancy Car. It looks like a modern car in 2009. It gets better gas milege than most american products. Not the fastest but it was never ment to be. It was ment to be refined. Yes you Can talk on a cell phone at 90 miles per hour in trafic in this convertible? Its quite and handles good. And it is fun to drive with the top down. Put the top down and leave it down when parked. its a statment. Dont think others will notice then you would be wrong. Its a car in a class of its own. Not too expensive in price but good enough to say you are are sugsesfull. Brakes and motor and suspention are quite. This is a touring Car. A stealthy ride to where ever you want to go. Unfortunatly I have seen no other Sebring convertible with the limited package. The wheels and tires and interior are very much different. You would almost feel that the non limited cars are very different. They dont look as rich. 2000 cars of this model are all close to 120 000 miles by 2008. So its not the center of attention at a car show. Low mile colector cars of this type are hard to find. And their are a huge difference in price between clean colector cars and ones that are drivers in low income areas. My point is if you find one in great condition the 2000 sebring was a refined modern car that is very nice among more expencive audies and lexus and BMWs. It is a convertible. And the Sebring convertible has some respect in any car lovers mind. It rides and drives like a regular car with the top up in the winter. Its not too small. The back seat can be used by big people. It feels like 50 mph at 90 mph with the top down. No wind flutter. No hair pounding. That is almost incredible in its self. Try that with a MG. Or a VW Bug Convertible. This car wiould be a rocket ship that is 10 times as safe. American cars are very fun to drive. Dont count out Chrysler. The 2008 is a nice upgrade. This is overall on suggsesful car. You can find a car easy but not easyer to drive than this Sebring.
Sparky222

writes:
2000 Chrysler Sebring JXi Convertible
Review
Pros
Stunning appearance, good space utilization, reliable mitsubishi engine, butter soft leather seats, confident handling, amazing infinity stereo standard. Excellent visibility with large greenhouse, mirrors and heated rear window.
Cons
Brakes always squealed, winter traction so-so, (Goodyear Eagle GT's improve it) low ground clearance, OK power, especially with 4 passengers, and little back seat storage. Weak A/C. Pollen clogs door bottom drains each spring,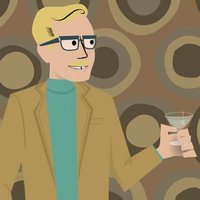 Head Turning, Good Handling Daily Driver. — This car is an amazing feat really, witness the rental fleets of sebrings! The car looks great and holds 4 adult passengers comfortably WITH their luggage. As such I loved it for travel as well as short hops in the city, confident handling. It ran reliably, no engine or battery issues, just squeaky brakes that the dealer could never silence. If ungaraged, the top requires replacement after 7 years or so, the sunbrella type fabric is quiet and soft but prone to sun fade and bird stains. The heater was excellent but A/C weak. Controls and displays were simple and clear, day or night, I liked the courtesy lights everywhere- doors, console, glovebox and the night illumination made finding small items or drinks in the console easy. Fuel economy was around 20-22 on regular, not bad fo a heavy car. Overall a good car, fun, nothing perfect, but nothing really bad either, and I really miss the exhaust burble too.
Primary Use: Commuting to work
Brieanna

writes:
2000 Chrysler Sebring JX Convertible
Review
Pros
Car is great on gas and love the convertible
Cons
It's hard to figure when dealing with problems
Totally Different — I have had this car for about 8 months and I must say I love this vehicle I've grown to get used to it , this is by far a car great on gas and highway and it drives so smooth
Primary Use: Sport/fun (spirited driving, track racing, off-roading, etc.)
whoa17

writes:
2000 Chrysler Sebring JXi Convertible
Review
Pros
convertible top, rides like a Cadillac, nice interior/exterior, few engine problems
Cons
road noise with the top up on the highway, many problems with rear window, problems with alignment and tire wear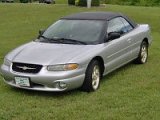 Great Car To Cruise Around In. Rides Nice & Is Fun To Have During Summer. Has Some Defects Though. — I bought my 2000 Sebring JXi convertible in September of 2005. At that time it had about 64,000 miles, and it now has about 137,000. I have driven this car on gravel, little country roads, highways, and in the city. I use it for commuting to and from college, about a two and a half-hour drive one way. I have also driven on a few 600-mile trips via interstate. Performance: This car has some get-up-and-go, but it's definitely not the fastest thing out there. But, it was never meant to be a road racer. I like the v6 engine, and the car runs quiet. I've yet to see any engine problems. The brakes feel a bit soft, but that might just be old age and lots of miles catching up to my car. This car handles like a low-end Cadillac; pretty smooth turns, no jerky movement at all. For the money, its a decent, lower-end luxury convertible that the "poor man" can afford. Build Quality: When I got this car, there were no problems at all that I noticed right off the bat. But after driving it for 4 years, the rear brakes have been giving me some trouble. This car comes with disc brakes on front and drum brakes on the rear. I don't know if this problem is just with my individual car, or if it's a common defect in the Sebrings, but the rear brakes squeak like crazy all the time. I've had it checked out, and I was told that they are no longer readjusting like they should. So, every couple of days I have to take it to a parking lot and back up then brake hard, back up and brake hard, and so on, to readjust the rear brakes. Then they stop squeaking, at least for a day or two. As far as other repairs, the rear window fell out of the threading and broke into a million little shards all over my backseat. I was putting the top down because it was a nice day, and it just shattered. Had that checked out, and was told that there is a defect with these Sebrings' rear windows. I don't remember all the details, but the guy has seen a lot of Sebrings in his shop with the same problem. So be careful with that back window! When driving on the highway, there is a lot of road noise- not from the tires, but from all the air leaks in the top. Also, I have to be extra careful when washing this car because the seal between the windows and the top is not tight, and water will drip through and damage the upholstery. One last thing on build quality- I have had to replace the tires more often on this car than any other car that I or my family have owned. My car eats tires! The strange thing is that I take really good care of my car, keep the tires at the right air pressure, and don't drive the crap out of it, so I don't know how it is going through so many sets of tires. Appearance: I love how this car looks. I think this generation of the Sebring convertible looks the best by far. It's very futuristic, and has a little of that sporty look without losing the luxury. The canvas top doesn't look trashy, or like plastic. The interior is comfy, and there's quite a bit of room in the back seat compared to other convertibles in it's class. The leather seats have their drawbacks though- really hot in the summer sun, and not very warm for your bottom on those below- freezing days of winter. Cost of Ownership: The gas mileage is pretty good on the highway (I can get about 33 on average), but it is significantly less in town. If you are a careful driver and plan ahead, you can keep the mpg over 20 in town. But, you have to keep track of the real- time mpg display on the dash. As I said before, my dad was a mechanic, so he graciously does most of my maintenance/upkeep when I'm home from college. I also mentioned that my car eats tires, so that has become a real nuisance. In addition to the tire thing, I've had at least one alignment done every 10 months that I've had the car. My dad and I have noticed a lot of abnormal wear on the tires, hence all the alignments. This last time it was the rear alignment that was out of whack. Strange thing, because I hadn't been in any accident, ran over, or hit anything to screw up the rear alignment. And that's pretty rare to have the rear alignment go haywire. Overall, maintenance for the average Sebring isn't too bad. I haven't had any engine troubles; just the problems with the alignment, tires, and rear window. Fun Factor: This car is obviously fun to drive because of the convertible top. It's an eye catcher, and when you have the top down, your favorite song playing, and the wind in your hair, people will be envious!
Primary Use: Commuting to work
Trisha

writes:
2000 Chrysler Sebring JXi Convertible
Review
Cons
It is low on the ground... be careful going down a steep driveway
Great! — I like that my care is purple. It has leather seats, the gas mileage isn't bad at all! I have my oil changed every 2500 miles and my fluids get checked quite often. I have never had any major problems other than a brake light going out with it and just normal wear and tear of a car.
Primary Use: Commuting to work
Adam

writes:
2000 Chrysler Sebring LXi Coupe
Review
Its Been Reliable Thus Far So It Alright — bought it for 1000 bucks, its no muscle car but it gets me from a to b til i get my muscle car, its not bad looking, its 2 door, american, and not a 4 cylinder, those are all pluses.
Primary Use: Commuting to work
Steven

writes:
2000 Chrysler Sebring JXi Convertible
Review
Pros
just fun to drive and have any papers that you leave in the car blow away while driving topless
I Like It And Thats All — Love it, fun to drive ... believe it or not it handles like a European car, stiff to the road. Please get good Kuhmos or Yokohamas and you will notice how kool it sticks to the pavement. Good one for the price.
Primary Use: Sport/fun (spirited driving, track racing, off-roading, etc.)
Ray

writes:
2000 Chrysler Sebring JXi Convertible
Review
Seebring Jxi Conv — So I totally love my car. I got a screaming deal on it and I have loved it ever since. I would have never originally bought it but I love it now that I have it. A convertible is so much fun! I totally recommend it! It handles well and has enough weight to get things done. A nice large engine and nice leather, the only thing is that it is purple. :/ oh well LOVE IT
ahmed_oregon

writes:
2000 Chrysler Sebring JXi Limited Convertible
Review
Pros
My first and best car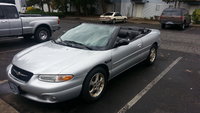 Sexy Look — Well I bought this car brand new on 2000.still same engine running strong with 186000 miles.super fun with roof off.beautiful look.i got nice stereo system.not a family car.never broke down on me.what else do I expect with really small budget:).1 more thing never take car for a cash wash.it will mess up the roof.i had bad experience
Primary Use: Sport/fun (spirited driving, track racing, off-roading, etc.)
Displaying 1 - 10 of 24 2000 Chrysler Sebring reviews.
Looking for a Used
Sebring
in your area?
CarGurus has
4,282
nationwide Sebring listings starting at
$1,100
.