2000 Buick LeSabre
User Reviews
2000 Buick LeSabre Review Ratings
Average Ratings
from 21 reviews
Performance:
Appearance:
Build Quality:
Overall:
Review Highlights
Click to filter reviews below
Displaying 1 - 10 of 21 reviews
1
2
3
Next
mllurchjk

writes:
2000 Buick LeSabre Limited Review
Pros
Roomy and comfortable. Decent gas mileage for a larger car.
Cons
Harder to park due to length.

Nice Ride — Bought this car three years ago with 65,000 miles on it. It now has 105,700 miles and still runs smoothly. Have had to replace plenum, but that is all. Large enough storage, I can move my daughter 6 hours away to college in it.
Looking for a Used

LeSabre

in your area?

CarGurus has

4,151

nationwide LeSabre listings starting at

$995

.
Alex

writes:
2000 Buick LeSabre Custom Review
Pros
I have seen few cars last this long
Cons
The miles are getting to it
An Old Horse — The car that I drove shows the endurance of GM in an era where GM was not known for endurance. The car has over 208,000 miles. It has had its problems over those miles but nothing to serious. You dont buy this car for performance but then again it wasnt built for that.
Michael

writes:
2000 Buick LeSabre Review
Pros
Massive Trunk Space, Will Never Ever Be Stolen, More Likely to Destroy Opposing Object in Crash
Cons
Horrible Appearence, Lurches Around Corners Like Frankenstein's Monster, Thinks About Maybe Accelerating With Pedal on the Floor, Poor Gas Mileage
Why Would You Ever Own This Car If Given A Choice? — Let me be frank, this car's build quality is about the only thing it has going for it. It handles like a large freighter and has a turning radius larger than most houses. It looks like an "old woman's car," but this only after realizing that it is actually an old man's car that is usually driven by the aforementioned old mans' widowed wives. To give you an idea about how bad this car looks, out of an average score of 100 on a theft rating, where over 100 is more likely to be stolen than average and below 100 is less likely, the Buick LeSabre rates an astonishing 1. Quite a thirsty car (at most 21.3 mpg) that has one good feature if you can call it that. It handles as well on snow as you are at driving on snow. This is because the ABS system could care less about actually working and decides it is going to let the driver handle anything the road may throw at it. It is very solidly built and seemingly immune to any large rust spots.
Primary Use: Commuting to work
Matt

writes:
2000 Buick LeSabre Limited Review
Pros
232,000 and going good
Cons
gas gauge don't work-ac needs worked on
Buy A Buick- Topend Quality With A Reduced Price — I got my Buick with over 200,000 miles on it. Of course right away a couple of sensors (crank trigger and emission) needed replaced, but at that point it's to be expected. As long as I'd drive highway (2-lane or 4) she'll get 28+ mpg, even with all those miles. We've replaced alot of the common "wear" parts in the first year, but it still beats trying to finance half a car at 4 times the money. I can stand on it and know she's gonna blast off!!
Primary Use: Family transportation
Jordon

writes:
2000 Buick LeSabre Limited Review
Amazing — the buick has balls!!! it may not look like it but it does. it runs smoothly and looks great. its a sleek sporty model. its a fun car to drive the sound system is great and there is plenty of room.
Primary Use: Commuting to work
Donna

writes:
2000 Buick LeSabre Custom Review
Cons
It has a low weight capacity
Its An Overall Great Car. — I love the "sleekness" off the car. I love the older, but handsome style it has. I also love the dark color of it. Only problem is the brakes squeak from time to time. Great on gas. Great pick up on speed
Primary Use: Commuting to work
Charlie

writes:
2000 Buick LeSabre Limited Review
Pros
Smooth, powerful, luxurious, reliable, easy to maintain.
Cons
Rather numb handling, a few electrical problems, steep depreciaton rate.
A Fine Example Of American Engineering. — This is my Grandma's car, which she bought new in 2000 and has driven just over 26,000 miles as of 2008. I actually do not remember if I drove this car or not. I may have, but not sure. It has all available options except the sunroof and trunk-mounted 12-disc CD changer. The acceleration is good, and the car is very smooth and efficient. The handling is what you would expect from a Buick, floaty and rather unresponsive, but the car is very safe and easy to handle. In terms of appearance, it is a beautiful car, and inside it is very elegant and luxurious. There is lots of cargo space, and there is room for 6 people. It even has rear air-conditioning vents. The car is very reliable and dependable, but it does have a few electric gremlins. The power window motors have broken numerous times, once while the window was partially down, the radio had to be replaced because the cassette player ate my car kit adaptor, and the ducting for the rear vents always come loose. While it blows ice cubes, the A/C is very noisy, my dad says it is comparable to a Cessna.
Jason

writes:
2000 Buick LeSabre Custom Review
Pros
comfortable ride
roomy interior
big trunk
reliable
good MPG... when well maintained
for touring
easy to repair
Cons
not alot of power
the center arm rest crumbled in 5 years
too big for the city (SF)... long car!
it wallows in turns, handles like a bouncy rubber ball.
battery is under the rear seat! don't have a heavy person on it!
i don't like plastic intakes.. it had a recall too.


"drive Beautiful" This Car Takes You There... Comfortably! — not the best in power but it goes well. the handling is like a typical luxuory car. i can go from hayward to LA in one tank full of gas. not bad. no problems yet. the car is closing in on 45k miles. nice.
jsmomma

writes:
2000 Buick LeSabre Custom Review
Pros
car was very dependable and needed very little maintenance or service done to it. great gas mileage.
Cons
only one I can think of is needed more storage/trunk space.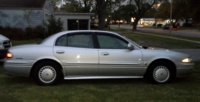 Great Car With Very Little Service Work Needed — this car was easy to learn and it was so comfortable as far as driving long distances. I need more cargo space, as I have a small child. the couple of times I did have it in for repairs it was only normal wear and tear such as rotating and balancing tires, oil changes, and once I had to spend a little more ($500) to replace the wheel hub assembly. but this service is one that any vehicle would need after driving so many miles
Primary Use: Family transportation
Bamabuick

writes:
2000 Buick LeSabre Custom Review
Pros
Great ride, and comfort for a big and tall person. Has excellent low end power but struggles a little finding gears. Good MPG and averaging around 23-26 MPG per fill up. It is much lower when I drive around town and averages about 20 MPG. I have achieved 28 MPG on the highway.
Cons
Ride is good but mushy and does not like corners. Maintenance work is easy but the car seems to nickle and dime you to death when things start to break.

Great Car — This is a great car. I just bought another for daughter. The ride is comfortable but suspension needs stiffening up (in the works). I will be making a sleeper and will be upgrading the exhaust, suspension, motor and brakes. I am well pleased with the interior and exterior styling. The dash is starting to curl up on both LeSabres and I will attempt to recover them both ( cant look any worse than it is).
Primary Use: Commuting to work
Displaying 1 - 10 of 21 reviews
1
2
3
Next
Ask CarGurus about the 2000 Buick LeSabre
Average response time:
8.5 hours
,
# of Buick LeSabre owners:
1,696
Looking for a Used

LeSabre

in your area?

CarGurus has

4,151

nationwide LeSabre listings starting at

$995

.