2000 BMW 5 Series
User Reviews
2000 BMW 5 Series
Review Ratings
Average Ratings from

44

reviews
Performance:
Appearance:
Build Quality:
Overall:
Review Highlights
Click to filter reviews below
Displaying 1 - 10 of 44 2000 BMW 5 Series reviews.
Jdshipley

writes:
2000 BMW 5 Series 540i Wagon
Review
Pros
Great Family car that can pull off a reasonable imitation of a sports car. Awesome power, very well balanced, great handling with the Sport package. Sport package seats are amazing, I used to think Volvo made the best seats but these may have the sweeds beat.
Cons
Expensive. Expensive to maintain but the E39's may be the last BMW that you can DIY your own maintenance on. Cooling system is a known weak point and needs rebuild every 70,000 miles or so. If you're looking at one of these make sure all maintenance has been performed on time and documented.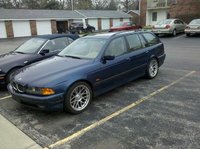 Great Alternative To An Suv If You Actually Like To Drive. — I'm very happy with this car, it took a long time to find but the wait was worth it. It's big enough for the baby, the dog, the stroller , the wife... all the stuff a family has to lug around but still drives like a German Sports Sedan. Newer 5 series are larger I think the current 3 is bigger but they dilute the BMW essence. Where else are you going to get a family friendly wagon the can do 0-60 in 5.6 seconds and loves to be thrown into a corner? If you can find a clean well maintained example jump on it.
Primary Use: Family transportation
Looking for a Used
5 Series
in your area?
CarGurus has

16,160

nationwide 5 Series listings starting at

$1,500

.
GermanCarFanMA

writes:
2000 BMW 5 Series 528i
Review
Pros
If you haven't had an E39 5-series, you don't know what you're missing
Cons
Cheesiest cup-holders in the world, repairs and maintenence get expensive very quickly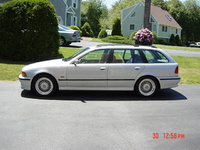 528it Sport Wagon...why Would You Want A Minivan Or Suv? — All the great stuff you've heard about the E39 5-series is true. If you need a full-size sport sedan, this is it. If you want a more flexibility and space, get the Sport Wagon. The 2.8L inline-6 is surprisingly quick, and consistently returned 21 mpg or better - I'm confident it will last forever. Poise, ride and handling, are incredible. The interior isn't quite as nice as my Audi A6, but the exterior is arguably better-looking. Reliability has been good for a German car, but when it's time to replace stuff, parts are German car pricey (as expected).
Johan

writes:
2000 BMW 5 Series 540i
Review
Pros
Great drive, power & responsiveness & great gas mileage on the open road for a 4.4ltr V8
Cons
Around town Gas mileage
Bmw 540i — The solid THUD when you shut the door, the absolute silence and absence of road noise while driving, the ease at which it cruises along, & the instant response & surge of power when you step down on the accelerator. Haven't had it for to long but so far it's been great. Can't wait to see how it drives in the snow. Extremely comfortable, all options.
Gareth

writes:
2000 BMW 5 Series 528i
Review
Pros
Fairly quick, comfortable, reliable, looks great, sounds great, a simple clean interior
Cons
Limited back seat space for tall people, 5 speed transmission, came with a mediocre stereo
I'm A Lucky 20 Year Old — I purchased this car when I was a Junior in high school. In the 5 years that I have owned this car I have roughly put 50k on the odometer for a total of 71816 miles. For every mile I have driven this car it has been reliable, comfortable, and has gotten me through tricky situations on several occasions with me and the car unscathed. I was rear ended about 2 years ago by a VW Jetta and to my surprise my car was relatively undamaged. Besides having the bumper replaced there was no other major damage. I recently had the transmission flushed and despite the reliability issues of the automatic transmissions that were in early model E39's mine has been perfectly fine. My one complaint about this car would have to be the factory stereo. I am a big fan of loud music and I was disappointed with the sound as a lot of owners are with mid 90's and early model E39's. This didn't really matter too much because since I planned on doing a lot of neat things with this car from the beginning I simply put in an expensive after market system. The one thing that has been great about this car is the maintenance has been cheaper than I expected. Once my factory warranty expired at 50k miles I opted to find an independent garage to work on my car and the biggest thing I had to do was replace the stock thermostat housing with an aluminum after market housing as the factory part tends to fail after a certain amount of time. Other than that minor problem this E39 has stood up to plenty of hard driving and at 72K miles it sure has a lot more in it.
Adrian

writes:
2000 BMW 5 Series 540i
Review
Pros
Nice smooth drive but handles very well being the M sport
Fast ,smooth ,goodlooking — Very fast ,handles great , lots of fun being rear wheel drive , can be costly on fuel, manual gearbox is the one to have..interior is nice modern looking very comfy and feels very good quality , car feels solid and tight and is a pleasure to drive...
Primary Use: Family transportation
Pooria

writes:
2000 BMW 5 Series 528i
Review
Pros
Really enjoyed having this car.
Impressive Car. — This car has it all, power (automatic transmission with BMW's Steptronic and S- Sport mode), excellent handling, good family car where 3 people can fit in the back, giving drivers a lot of fun with the power features for Sport mode and manual transmission with internal clutch days. Not only was this car used for sport/fun, it was also used for commuting to work and having family members and all of these happening at once as well.
Sam

writes:
2000 BMW 5 Series 528i
Review
........ — Overall the best car you could ever own. Once you have a BMW you'll never be satisfied with anything else. Mine is the top of the line with sport package/nav....everything. You must have the service done and take proper care of your car. Rotate your tires...they will last longer. Change your oil, your engine will thank you. Have you transmission serviced regularly...very important on a 5 series BMW. Do this and it will last 300k trouble free miles. I have put that much on my other 3 BMW's and have no doubt this one will last that long. Others BMW's owned X5 4.4, 328i, 330i (still have).
Chad

writes:
2000 BMW 5 Series 540i
Review
Pros
Smooth, Fast, Nice Fit and Finish
Cons
reliability of engine
Overall, A Great Car — Solid construction for body and chassis but engine built with parts that fail sooner than they should in a German car. I enjoyed the plush seats and the auto-sensing wipers. 0 to 60 in well under 6 seconds. Not a car for those who don't have big pockets for repairs and a backup car.
William

writes:
2000 BMW 5 Series 528i
Review
Pros
safe, handle great, ride smooth.
Cons
to much rear negative camber in rear wheels excessive tire wear.
Bmw 528 — Best car I have ever owned! Great road trip car. 28 mpg low maintenance cost since I've owned it. Safe size I feel if I was t-boned I wold survive. Braking is excellent, high speed performance in excess of 140
Primary Use: Family transportation
Sean

writes:
2000 BMW 5 Series 540i
Review
Pros
It has a fast V8 engine
Cons
It has a thirsty V8 engine
BMW can design a great engine but the cup holders design is one of the worst ever implemented.
BMW parts and labor are very expensive
The Best 4 Door Sports Car Ever Made. — I use to think that BMWs were overrated until I actually drove one. BMW is truly a driver's car. Drive one if you want to understand the term "fits like a glove". I have been very impressed with this car, but it has had some issues. The cup holders are the worst. Not many cars can go 0 to 60 in under 6 seconds and still fits two large car seats in its back seat. So it is a very fast sports car while also being very safe family car at the same time. If its V8 engine did not burn so much gas, I would drive it more often.
Displaying 1 - 10 of 44 2000 BMW 5 Series reviews.
Looking for a Used
5 Series
in your area?
CarGurus has

16,160

nationwide 5 Series listings starting at

$1,500

.