1999 Volvo V70
User Reviews
Average Ratings from

17

reviews
Performance:
Appearance:
Build Quality:
Overall:
Review Highlights
Click to filter reviews below
Displaying 1 - 10 of 17 1999 Volvo V70 reviews.
edley5856

writes:
1999 Volvo V70 4 Dr GLT Turbo Wagon
Review
Pros
Gets fair gas mileage,runs good,fun to drive
Cons
The cost of parts and repairs,hard to work on.

It's Not My Dream Car — I like the acceleration,it's surprisingly comfortable on long trips.It's starting to nickel and dime me I just got the radiator fixed and now the head light switch is out.Hopefully I can find a used one or it's going to be the bus.
Primary Use: Family transportation
Looking for a Used
V70
in your area?
CarGurus has
561
nationwide V70 listings starting at
$1,799
.
Benjamin

writes:
1999 Volvo V70 4 Dr XC Turbo AWD Wagon
Review
Pros
Comfort, Safety, AWD for snow and light off roading, Commuter Car.
Cons
Cost of ownership, Lacks European handling
Great For The Snow Belt, Yuppie Families, First Car. — Slow off the line, handles better then a truck, accelerates fast after turbo is spooled. However its a bit dowdy looking, but very comfortable. The power trains on Volvos are solid, however many of the ford made accessories are not, over $1000 in repairs in a year from the neglect of the previous owner, runs great now; needed fluids changed, radiator, and brakes and rotors. Therefore costs of ownership are obviously higher, including the sub par gas millage of 24 highway, 19 city. Since the car is lifted and the suspension is stiffened, its about as fun to drive average american sedan. Insurance is just about the cheapest of any car.
Primary Use: Commuting to work
David

writes:
1999 Volvo V70 4 Dr R Turbo AWD Wagon
Review
Pros
Boxy, sporty for a wagon, very fast at top end, headlight wipers, good
stereo, perfect height for a roof rack, you can sleep stretched out in
the back, perfect for campers/ cyclists, comfortable for extended
journeys, good in snow, enormous cargo room, quirky, did I mention
it's boxy?
Cons
parking, fuel economy, blind spots, repair bills, sluggish off the line
response, turning radius, divey suspension, electrical gremlins
It's A Volvo, Not The Best At Anything, But Good At Alot Of Things — Moderately sportier variant on the t5, but slower due to the additional weight of AWD. Also, was only available as a 4 speed automatic. Unfortunately, not as sporty due to the automatic, but the tranny is reliable, so far. Seating is a mix of Volvo's typical High grade leather with Alcantra. This seating is ultimately the most comfortable option available from those years. Handling is a touch crisper for the R package, but by no means sporty. Turbo does have a degree of lag to it, so you definitely notice it when it winds up. Also, Turbo is relatively large, so it's not pushing itself very hard. In general a good car for someone looking for something with a bit more identity than your run of the mill V70. Note, this vehicle is not cheap to repair, not BMW bad, but very pricey. Also, while the gas mileage is better than a full size SUV, the premium requirement for the fuel makes every trip to gas up rather uncomfortable. As I'm sure many other Volvo lovers can say, I have a very love-hate relationship with my car.
Kevin

writes:
1999 Volvo V70 4 Dr R Turbo AWD Wagon
Review
Pros
if you like fast cars but have a large family this is for you!
Cons
petrol stations are your freind!
Fast Comfortable 7 Seated Gas Guzzler — with 265bhp it pulls fairly well for a big estate 150mph with not much hassle the handling is very good for such a large car as it has an independant rear end that i dont think the 2wd has. the build quality is very solid and i cant fault it. the only down side is the price of some of the parts and the fact the tyre wear has to be within 2mm front to back oh and not to mention an average of 21mpg! i never thought i would buy a volvo as i always thoought of them as old man cars but as i needed 7 seats i dont have many options other than 4x4's and people carriers so bought this just for the sake of it and if im honest i am converted! i would deffo consider another volvo!
Primary Use: Family transportation
Nathaniel

writes:
1999 Volvo V70 4 Dr XC Turbo AWD Wagon
Review
Pros
The turbocharger and the interior.
Cons
The transmission had to get rebuilt.
1999 Volvo V70 Xc Awd — Got the car without a reverse so had to get the transmission rebuilt. I love the turbocharger. Accelerates nicely. The interior is beautiful with gorgeous black leather. The silver paint keeps it looking clean almost all of the time with no scratches.
Primary Use: Commuting to work
Shelly

writes:
Pros
its fast an reliable and handles the road like bosstick to paper
Volvo For Your Ideal Comfort An Realiablity — weve had it now over a year an its never let us down , its good fuel wise an when cold it soon gets warm by front an rear heated seats :D x grips the road like bostick to paper x
Primary Use: Family transportation
Griffin

writes:
1999 Volvo V70 4 Dr XC Turbo AWD Wagon
Review
Pros
Excellent in bad weather, good build quality, comfortable
Cons
Too much turbo lag, its a bit heavy, and repairs are very expensive.
1999 Volvo V70 Xc — Performance is not too impressive, but a nice muscular feel with the turbo. The combined lag from the AWD and the turbo can get a bit frustrating. Handling is decent, brakes are decent. But be warned: Its a heavy car, and it shows in both areas. Superb bad weather car. Build quality is typical Volvo: Outstanding. Appearances are pretty modest, but I rather like it. Repairs can be a bit costly, and gas mileage is in the low 20s. Fun factor: 5/10
Eivind

writes:
1999 Volvo V70 4 Dr R Turbo AWD Wagon
Review
Pros
Safe sporty family car
The Coolst Volvo Ever. — *Performance - Acceleration is awsome, top speed is even better. Handling is exelent thanks to the AWD system. *Build Quality - No squeaks or rattles, some repairs have been needed. *Appearance - Quite boring inside, but amazing exterior styling and colour. Lazerblue pearl. *Cost of ownership - poor gas mileage expensive maintenance.
2 of 2 people found this review helpful.
You found this review helpful
AsaHerring

writes:
1999 Volvo V70 4 Dr T5 Turbo Wagon
Review
Pros
Great every day driver and has plenty of room.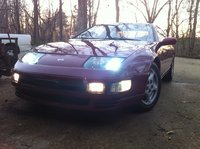 Great Family/first Car, Avoid The N/a. — Performance: 4/10 Not much to work with on the N/A. Needs some major upgrades: Intake, exhaust, turbo, injectors, ECU, etc... Build Quality: 6/10 I've spent more on maintenance in 4 years than what I payed for the car. Appearance: 5/10 Actually an attractive Estate. I would rate mine 7/10. Cost of Ownership: More than a sports car. You will pay out the but for maintenance, it's a Volvo. Insurance is cheap, regular gas, 25mpg Highway. Fun Factor: Easy car to drive fast, no chance if you're in a race though.
Primary Use: Commuting to work
Colin

writes:
1999 Volvo V70 4 Dr GLT Turbo Wagon
Review
Pros
Cheap easy versatile gets me home everyday
Cons
The original owner parked by brail
My Beater — For what I paid @ 145K kms and the condition of the car overall I'm happy. So far al lI have done is brakes and 28K a year this thing owes me nothing. No finance payments, no lease no banks. If only I could get it to run on wood alcohol I wouldn't have to pay gasoline tax.
Primary Use: Family transportation
Displaying 1 - 10 of 17 1999 Volvo V70 reviews.
Reviews From Other Years
Mafia Staff Car!
Sleek low-profile appearance, very tight construction; feels very safe. Turbo makes the car very quick off the line. The motor requires full synthetic oil so it is more expensive at the point of oil ... Read More
I Bought This Car Thinking That We Needed To Have The Safest Car In The World...
I love that this car is safe but, I love it more due to it having a turbo 5 cylinder that is faster than my wife's V6. I don't like that the more it seemed to me that I fixed up something, my windshie... Read More
Read all

28

1998 Volvo V70 reviews
Very Good Car, Just Working Out The Bugs , Lol
Way to many electrical issues. Otherwise , Love It !!! I've owed it for 2 years now and I guess I'm the lucky one to fix everything . Next job is the fuel pump been having starting problems for a whi... Read More
Great Utilitarian Cruiser With Style.
Parts can be high and, when you do have to go to the dealer, they make you pay dearly. A good independent mechanic can cut maintenance costs by 30% or more. Luckily, they're quite reliable and not muc... Read More
Read all

8

2000 Volvo V70 reviews
Silver Bullet. Fast, Safe, Sleek, And It's 'me'.
haven't had long; like it lots so far. Rides very nice for being on 17 inch rims and 45 series rubber. Most everything still works at 177k. body and interior have held up well for the mileage over 13 ... Read More
Negative
Lemon, the all wheel drive failed in a ball of flames. The viscous coupling siezed and caused the bevel gear to overheat and catch fire, luckily there was snow on the ground to put it out with and my ... Read More
Read all

20

2001 Volvo V70 reviews
It's A Great Family Car.
It's a great and safe car for my family. It's a good long distance car. The Third seat, the back row seat, was a real plus so we could give a ride to our kids friends. I recommend this car to any fami... Read More
The Wagon
This car is awesome, the only issue I've is the cost of a replacement key. Performance is good from the 2.4 turbo. Downside of the car; a few of the plastic trim pieces are very fragile. Build q... Read More
Read all

9

2002 Volvo V70 reviews
Great Family Car.
Our 2003 Volvo V70 is a great looking car thar has held up extremely well over the years. It is still tight - no rattles, creaks, noises, etc. We find it very comfortable for long family trips to our ... Read More
Great Car With A Few Glitches.
Love the car. Hate repairing it. I have electrical problems and I had a previous owner treat her badly (few oil changes) other than that, I love the car. AWD is tremendous. I would recommend this car ... Read More
Read all

9

2003 Volvo V70 reviews
Looking for a Used
V70
in your area?
CarGurus has
561
nationwide V70 listings starting at
$1,799
.