1999 Volkswagen Jetta
User Reviews
1999 Volkswagen Jetta
Review Ratings
Average Ratings from

49

reviews
Performance:
Appearance:
Build Quality:
Overall:
Review Highlights
Click to filter reviews below
Displaying 1 - 10 of 49 1999 Volkswagen Jetta reviews.
Samuel

writes:
1999 Volkswagen Jetta New GL TDi Turbodiesel
Review
Pros
Very reliable, very good on gas, decently equipped for price.
The Ideal Student Car. — Classic Volkswagen everything. It has typical performance for a 90hp diesel. Build quality is very good (German Engineering). As far as appearance goes I'm a huge fan of German styling and the cost to maintain it is minimal. Is it fun to drive? It is a Volkswagen so... heck yes! German cars always handle better! I love it! I would definitely recommend this vehicle.
Primary Use: Commuting to work
Looking for a Used
Jetta
in your area?
CarGurus has

35,404

nationwide Jetta listings starting at

$1,495

.
Ben

writes:
1999 Volkswagen Jetta New GL
Review
Pros
great little car, great handling, great acceleration, smooth, you're in full control
Cons
annoying little fixes that cost lots
Great Car For The Price, But Watch For Little Defects. — its got good performance and all that jazz. runs well, no major problems, but it seems to be the little things that go wrong with it. for example the windshield wiper motor went out, and was expensive to fix. same story with the air control switch. good car, expensive minor details.
Primary Use: Commuting to work
Chelsea

writes:
1999 Volkswagen Jetta Wolfsburg
Review
Pros
Gas-mileage, handling, braking
Cons
not very stylish, built more for purpose
Pack-leader — My car is a beast. It's a "wolfsburg" edition.... I like to call it the pack-leader, because it seems to feed monthly.The build is very tough and can withstand a great deal of beating. I love driving it though; the handling is great. It packs a lot of punch for just a four cylinder. The gas mileage is awesome. It gets about 28-30 miles to the gallon (highway). It's not high maintenance, just the usual stuff. The interior is very roomy for such a compact car.
Grant

writes:
1999 Volkswagen Jetta New GLS
Review
Pros
Great fuel economy, well built, and not bad looking when its cleaned up.
Cons
Hugely underpowered. Back seat is a little cramped. AEG engine is rubbish.
Love And Hate. — Before buying my car I should have researched more about it. It is a great car for fuel economy, but the motor is one of the lemons of that year/model. The person that owned it before I did must have not taken care of the car for the simple fact that a lot was broken before I owned it. With the styling, what more do I need to say? Its a Jetta. As far as performance goes, you would need to spend a couple thousand dollars just to get it to the level of a good sports car. Handling and braking are decent for the price and what the car is. I can fit five people in the car fairly comfortably but long journeys may get cramped in the back seat. I love my car just for the fac tof everything that i've been through with it, but if I had my choice I would have chosen something with more power in the end.
David

writes:
1999 Volkswagen Jetta New GLS VR6
Review
Pros
The Jetta is a decent car. It has really good handling in my opinion. The VR6 version has quick acceleration when you need it. Even the VR6 Model get pretty good gas mileage.
Cons
Expect high repair costs when you need to service this car. VW and Audi vehicles aren't cheap to fix. The newer models aren't easy to work on. Manufacture suggests that 91 or above (high test) for fuel. My car does not like 87 octane.
The Jetta Vr6 — I've had my VW Jetta VR6 for quite some time. I have mixed feelings about the vehicle. The car has been fairly good to me getting me from point a to point b. Unfortunately- having this car you have to have heavy repair costs then you need to fix it. Parts aren't cheap and certainly the body shop charges and arm and leg for repairs, so be prepared. If you are a do it yourself person, the VR6 its a bit tougher to work on. There's not much room in the engine bay to work it. And getting to certain things may be a pain in the ass. The VR6 is pretty quick in acceleration, and response time is almost instant. None of the sluggish non-sense. In fact, probably one of the most responsive V6 engines I've driven. So you shouldn't have a hard time evading police (just kidding), getting on the high way or passing someone when you need to. In my opinion this car has awesome handling. The VR6 actually does get pretty gas mileage- the first long trip I took was from CT to TN. High way I averaged about 34.2 miles/gal using 93 octane. Overall- this car is a good car to own. I'd only recommend it to a friend if they have the cash to keep up with repair costs when the come along the way.
CGtanocasr

writes:
1999 Volkswagen Jetta New GL
Review
Pros
Original parts are expensives

Enjoyable To Drive. — Overall I enjoy driving it, automatic, easy to park (medium size) ,cd player (8 cd carrier) am/fm radio, black exterior and interior, with automatic door safe look, spaced trunk for caring lugged or grocery shopping, 3 persons will be seated very comfortable on the back.
Primary Use: Commuting to work
eaortman

writes:
1999 Volkswagen Jetta
Review
Pros
This Jetta has many highway miles as I drove from Kent to Columbus, and from Newark, OH to Columbus regularly for school. With that being said, the comfort and sense of security it offers is impressive. The fuel milage definitely has to be one of my favorite attributes of this vehicle, ranging from 29 city, and 37-40 on highway. In regard to its appearance, it seems to never look old or out dated. Every person that has been a passenger in my car are always surprised when I tell them that it's a 1999. They always assume it's newer. Lastly, 5-speed stick shift makes driving more exciting!
Cons
Like most older Volkswagens, they do burn oil, so it is very important to check and add oil just about every 2-3 weeks. When doing 75+ mph the engine is a little buzzy.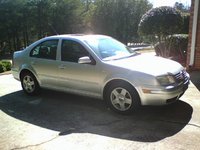 A Reliable Everyday Commuter And Traveling Vehicle. — I have been very pleased with this vehicle! So much so, I am looking into purchasing a new or newer used Jetta. You get what you pay for, and what my family payed for in 1999 was a solid and reliable vehicle and I can say that in 2012, this 1999 Jetta still holds true to that.
Primary Use: Commuting to work
Roudi

writes:
1999 Volkswagen Jetta New GLS
Review
Pros
Great fun. Looks amazing inside and out.
Cons
Poorly design engine sitting too low to the ground. Not enough power with the 2.slow.
Vw Jetta: The Love/hate Story — This was the first car that I have ever owned, bought for me by my parents. I knew then I wanted something that looked bold, stylish, and crafted with a touch of German. Not throwing out the idea of owing a Civic, but every kid my age had one. Little did I know, I ended up in the land of Vdub. What came along with owning a VW, was the sub- culture that came behind it. Through shockers, and love amongst Dubbers; it seemed almost as a cult. However, a cult with tastefully modded vehicles, unlike their counter part japanese street tuners. Stretch tires and RWD fitments on a FWD car with huge spacers became a fashionable thing to do amongst dubbers, completely senseless, but cool. At the time, these where in the discussion boards and a power struggle between VW and Honda fanboys were hitting the drag strips. I enjoyed the quarrels, and participated in many discussions. It became my passion, my pass time, my studies... From then I grew with real knowledge from mechanics and physics. What I had gained from this car, was once a great time in my life. From knowledge, wisdom, the right mods, the wrong mods, friends, and stories. This car was the love of my life! It was a Love/Hate story. Had I have know at the time of purchase I would have gone with a 1.8T 5- speed gear shifter, instead with no knowledge I opted for a 2.0L grand-ma/sissi boy gear changer aka automatic transmission. Performance wise, it was very weak. It was never built for performance actually . Yet it felt nice as it revved to 3k RPM before shifting gears. Higher gear ratio's made it very "torquey"! Suspension was solid and kept the car on the road very well. Compared to those japanese vehicles, it was smooth and not as bouncy. It felt solid, it felt German. Built quality seemed impeccable, especially the interior was very comfortable and un-boring as if nothing seemed cheap. Even though it really was! Broken glove box, plastic molding from the dash kept breaking off, and the lighting from the heater dial would never light up when you want it to and the heater never seem to kick in just right. Windows either fog up after awhile, then you would have to trickle with the dials to get it back on, it was a constant adjustment. Finally, you would always have a burnt stop light bulb or a burnt headlight that was nearly impossible to change behind the battery. To top things of the 2.0L burns oil faster than a Buggati Veyron hitting top speed with a full tank of gas! On a final note, it had a very poorly design by having its engine sit so low as for the oil pan to knock every bump on the road. I had gone through 4 oil pans within it's life span. In the end, I loved it! It was beautiful, was comfortable, and was fun to drive. Those were just minor details that some will cry over, but not I; a person who just absolutely enjoys driving. Whether it just be around the city that I've grown to love & call home.
Primary Use: Commuting to work
Nathan

writes:
1999 Volkswagen Jetta New GLS TDi Turbodiesel
Review
Pros
Love that diesel sound:)
Cons
almost too many bells and whistles (more stuff to potentially go wrong, i.e. my sunroff has occasionally opened itself)
Last Car I'll Ever Own (pending Availibility Of Diesel Fuel In 2050) — Always wanted a diesel car. Glad I got one. Gets 50mpg on the highway and no less than 43 no matter how hard I run it on local runs. Will run 75mph at barely over 2500rpms. Car has 240k and, while some extras no longer work (heated seats, etc.), it doesn't appear that it will ever wear out. Biggest drawback is that is nearly impossible for a non-VW mechanic to work on as the motor is absolutely shoehorned into the engine compartment, and everything on the car is controlled by seemingly 10 different electric gizmos. Also requires about the most expensive 65 series tires money can buy. Bottom line, it does use some expensive parts, but they last forever, and I can't complain.
Philip

writes:
1999 Volkswagen Jetta New GLS VR6
Review
Pros
Great Performance- Lots of Potential
99 Vr6 Jetta — I like the amount of torque that comes with it. You can customize these cars in so many different ways to fit your profile. There is a great official manual that the experts use to work on this car. It makes it very easy to break down your car and make the customizations yourself. I think with just some basic customizations you can make this car turn into a very sporty, fast sedan. German engineers really know what they are doing. I have 101,000 miles on my car and it actually runs better now than the day to bought it off the lot. Like I said with a few modifications to you can turn this "adorable" car into a little monster!
Displaying 1 - 10 of 49 1999 Volkswagen Jetta reviews.
Looking for a Used
Jetta
in your area?
CarGurus has

35,404

nationwide Jetta listings starting at

$1,495

.