1999 Saab 9-5
User Reviews
Average Ratings from

23

reviews
Performance:
Appearance:
Build Quality:
Overall:
Review Highlights
Click to filter reviews below
Displaying 1 - 10 of 23 1999 Saab 9-5 reviews.
Howie

writes:
Pros
ride at high speeds, turbo, comfort
Cons
stock stereo bites, computer display issues
Saab 1999 9-5 Keeps Going — I love my 9-5. It is one of the most comfortable cars that I've ever ridden in. I put about 30k miles a year on it, so I need to like my car. It's fun to drive and still stylish after 10 years. Overall quality has been good. I've owned for 80k miles and have 190k on it total. I've had a few common Saab issues, but can't complain at all. Put it in sport mode and it's very fun to drive. It will jump in and out of traffic and keep up with anything that I encounter on the road. I love having a car rarely seen on the road and also performs on the high end. On quality... in 80k miles in two and half years I have had to replace air compressor, transmission mount, blower moter, and heater by pass valve.... so I've been happy. I've put $2500 in it, but most has been because of how much I drive. it drives like it has 50k miles on it and overall is just great car.
Amanda

writes:
1999 Saab 9-5 4 Dr SE 2.3t Turbo Sedan
Review
Pros
comfy, nice ride, lots of power, quiet, huge trunk, fold down back seats, heated seats, warms up quick
Cons
repairs cost a fortune
I Love It And They'll Probably Have To Bury Me In It. — I'm never getting rid of this car... I love it! It has a ton of power and all of the goodies and extras I now think I need.... like heated leather seats... and wipers on my headlights.... ahhhhh and the turbo engine.
Malven

writes:
1999 Saab 9-5 4 Dr SE V6t Turbo Sedan
Review
Cons
maintenance can be costly
1999 Swede Executives — Very powerful, reliable, comfortable and fast. Comes with an executive style look, long battery life, economic gas consumption. These are obviously no longer on the market (these models) but you sure can get a good deal for a good used one. It's very fun to drive and foremost very comfortable leather interior. Saab cars is originally Swedish, they built the engines replicating jet technology (scania) which gave these models and newer versions a much more powerful, fast and very unique engine.
Primary Use: Commuting to work
tony_001

writes:
1999 Saab 9-5 4 Dr SE 2.3t Turbo Sedan
Review
Pros
Excellent handling, enough power to easily zoom in and out of traffic. Plenty of room inside and luggage space. Lots of options.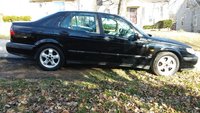 Love The Car. Dependable With Regular Maintenance. — I love the look of this car! I mainly drove it back and forth to work (7 - 10 minutes from home), and around town. This car has one of the most comfortable ride I have ever seen. It definitely lives up to its luxury sedan classification. The build quality is very solid, and visibility is very good. Gas mileage is decent -350-375 miles on average from a single tank. Repair costs are fair to expensive - it depends where you take it - Independent Saab local specialists are my preference.
Primary Use: Commuting to work
Bozmania

writes:
1999 Saab 9-5 4 Dr 2.3t Turbo Sedan
Review
Pros
Smooth Drive, fast pickup in an emergency situation. Comfortable options. Good views. It's a very stylish unique car.
Cons
Steering not on a dime, Paint was oxidizing. Lots of Electrical issues with the taillights and also the brake lights. It's an acquired taste.


Good Enough To Give Me That Euro Feel Of A Car. I Dislike American Carmakers. — I bought the car used, the dealer failed to divulge the A/C was working, and it needed about 2,500 in repairs. Secondly, it needed a cassette replaced, which was leaking onto the spark plugs. No fun, luckily I caught it in time. Frankly the car, just drove and drove. Really with all those investments it was a good car. I really enjoyed driving it, it was good for my family. It has the speed and everything else necessary for getting around town for an older car and looks great!
Primary Use: Commuting to work
saab9_5

writes:
1999 Saab 9-5 4 Dr 2.3t Turbo Wagon
Review
Pros
Theres alot of room and you can find these cars for cheap.
Cons
The cup holder sucks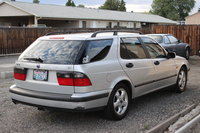 Tara

writes:
1999 Saab 9-5 4 Dr SE 2.3t Turbo Sedan
Review
Pros
Standard, leather interior, harmon kardon speakers, crazy drink holders,
My First Car — Very fun because it's a standard. The one thing I don't like about the car is that it has a lot of little electrical problems. I love the drink holders. The high and low beams are very bright (good visibility). I love the color black always looks good for cars. Leather interior. Heated and air conditioned seats.
pinkyjabberbox

writes:
1999 Saab 9-5 4 Dr SE V6t Turbo Sedan
Review
Pros
This car is SO much fun! It looks so civilized and then just zips! I put 214,000 on mine before my daughter totalled it AND WALKED AWAY WITH NO SIGNIFICANT INJURIES.
Cons
Crank position sensor goes out and does not show up on the diagnostic scan, repair of the heater is $3,000. Message center constantly bleeds out. Goes through LOTS of headlamps.

It's Like A Beautiful Woman Who Requires Just Too Much Upkeep. — I Loved this car and would not buy another for all the cons listed above. They just outweigh the pros, I am sorry to say. I bought the car new and ten years later, when I opened the door it still smelled new. I still was excited to drive it. What a shame some things are just so lousy on it!
Primary Use: Family transportation
Russell

writes:
1999 Saab 9-5 4 Dr SE 2.3t Turbo Sedan
Review
Pros
great car for something different
Cons
bad pcv kit can cause failure
Saab 9-5 — if your looking for something other tan a german plastic box everyone thinks is the bees knees then look no further than a saab. the 9-5 is well specced and has performance to match the smile it puts on your face. the reliability is great, nothing really major in 6 years of ownership
Richard

writes:
1999 Saab 9-5 4 Dr 2.3t Turbo Sedan
Review
Pros
Performance, Build Quality, Rarity
Saab 9-5 - Great Car — Performance - Fast enough to humiliate many a boy racer at the lights! Build Quality - Brilliant, no squeaks even after 10 years! Other than the Crankshaft Ventilation defect, perfect! Appearance - Not the best looks-wise, needs wheels larger than 15"! Cost of Ownership - Not bad considering it's size/performance- £1400 insurance, £80 fuel per month Fun Factor - Good to drive, can handle moderately well in the dry - keep an eye on the fuel consumption though!
Displaying 1 - 10 of 23 1999 Saab 9-5 reviews.
Looking for a Used
9-5
in your area?
CarGurus has
449
nationwide 9-5 listings starting at
$899
.