1999 Saab 9-3
User Reviews
Average Ratings from

31

reviews
Performance:
Appearance:
Build Quality:
Overall:
Review Highlights
Click to filter reviews below
Displaying 1 - 10 of 31 1999 Saab 9-3 reviews.
dwpoint548

writes:
1999 Saab 9-3 4 Dr Turbo Hatchback
Review
Pros
Performance, reliability, cheap to maintain if you know how
Cons
Few dealerships and mechanics, but no big con's concerned with the actual car itself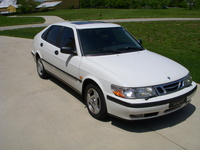 It's Hard Not To Fall In Love With A Saab — Allow me to start out by saying I grew up loving Hondas, but when it came time to buy my own I stumbled across this car in the used dealer lot. It stood out because, let's face it, it's an odd looking car, but in a cool sort of way. It definitely grows on you. If you can get the SE trim, it looks better than the Base like I have. If a would have known when I was shopping I would have gone for one of those. I knew nothing, repeat nothing about Saab when I bought this car, but I was sold on the test drive. The turbocharged 4 cylinder is a beautiful and very practical concept. The 1999 is quick yet still good on gas (34mpg highway at 65mph). It really is a pleasure to drive. Overtaking is no problem, and in sport mode it's so much fun when the turbo kicks in. The suspension is ok but on the plus side it is tighter than your standard car. Cornering is always an experience ;-). I have spun out in the snow while in the Winter mode which could be considered a con but it showed me how reliable the suspension can be, even if it isnt considered to be up to "sport" standards. I say this because even while in a 360 spin I was able to maintain control and straighten her out without ever leaving the road. In normal conditions however, it handles wonderfully. Braking is very good with 4 disc brakes, but they are subject to an annoying squeaking even before the pads wear out. I recommend buying higher performance, low dust aftermarket brake pads which eliminates the problem. I don't why the stock pads do that but I guess it's just another Saab "quirk". These cars are all subject to unique little sometimes lovable quirks, with some common ones being SID pixel problems, wind noise, and minor repairs, but overall they are all easy fixes. Getting repairs done at the dealership are expensive because usually there's only one dealership around and they can get away with charging higher prices. I seriously recommend getting the Hanyes repair manual which will save big $$$ on most repairs and maintenance like oil changes, various filter replacements, and basic parts replacements. For example I fixed my A/C cabin fan speed resistor for only $80 doing it myself as opposed to $300+ the dealership wanted. One of the best things about owning a Saab is there a plenty of online DIY forums and parts websites, making it easy and cheap to do the work yourself. If you don't mind rolling up your sleeves every now and then you'll find this car easy and fun to work on. If you don't, then this probably isn't the car for you. Either way the mechanical foundation is well- designed and very-reliable making major repairs few and far between. I'd pit it's reliability against Honda any day. Overall, I found my 1999 9-3 to be the best car I've ever owned. She's treated me well and in return I treat her even better. Saab makes great cars that are too easy to fall in love with if you are lucky enough to come across one. Nowadays the 2.0L turbo that Saab pioneered is common in everything from Audi's to VW's to Cobalt's, but it's nice to own one from the company that did it first, and did it right. For me it'll be hard to find a better car than my Saab and something tells me it'll be the first of many...
Primary Use: Commuting to work
Looking for a Used
9-3
in your area?
CarGurus has
1,295
nationwide 9-3 listings starting at
$1,783
.
Tomek

writes:
1999 Saab 9-3 4 Dr SE Turbo Hatchback
Review
Pros
comfort, seats, practical, nice design, climate
Cons
performance, engine culture, gearbox,
99 Saab 93 Hatchback 2.2 Tid Se — I own my old saab for 5 years now. Bought it with 100 000 km on ODO. No it's got about 200 000. It's a diesel 2.2 with 115 hp. Not fast but strong enought overtake on most of roads. I's an old saab so it's a still saab a bit. It costs a bit to drive an old car like this but i like very much. Many times I wanted to change it but every time I did a long distance I always changed my mind. So I'm still driving it and probably will for some more time. I recommend this car to everyone who wants to have some oldschool design outside and inside + some comfort. It;s not a handling master, It's not a performance master but it always works.
Primary Use: Family transportation
JA37_pilot

writes:
1999 Saab 9-3 2 Dr Viggen Turbo Hatchback
Review
Pros
Interior, character, speed, responsiveness.
Cons
Torque steer, tram lining, under steer, emblems keep falling off.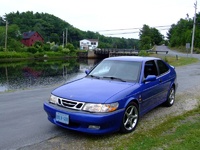 This Is Your Captian Speaking, Fasten Seatbelts And Put Tray Tables Up... Its Go Time. — When looking for my first car, I was skeptical of going with anything but a domestic... Because I was a philistine when it came to the car world... A friend said I should go for a European built car. I had a look around and realized I couldn't find a BMW, Audi for a reasonable price, even used. So I dug deeper and saw SAAB. I was going to get a 93 SE but then came across an ad selling a 1999, Lightning Blue, Viggen. I decided to go for it for a reasonable price. When I went to pick it up I immediately fell in love with it. From a looks standpoint it has a very sleek stance, not very wide, but low and long. The interior is very comfortable, the backseats (even though you need a shoehorn, some lard and a bit of luck to get a bigger person into) are quite pleasant. The sound system has a very large sound for all the audio fanatics out there who lust more for the boom than the zoom. In the center of the dash is the SID, telling you everything from temperature, to that you have slacked off and forgot to put in some bug wash. Also in the view from the driver's seat is an easy 360º view of whats around you as you drive. It has a fairly quiet ride (for a sports car) and the suspension takes up a good amount of road feel, so you aren't able to feel the date of a dime you've ran over, but it is also far from the numbness you would get in a heavier domestic. On the handling front, it tracks very well, responds quickly to driver input, and doesn't roll very much. It is almost impossible to get it to go out of control. With a 2.3 liter, turbocharged, (20lbs boost from factory) 4 cylinder, power plant pumping out a cool 225bhp and 256ft/lbs of torque, you will get you where you need to go and have enough time left over to fix your hair and change your underpants. The 5-speed transmission is very smooth to operate yet doesn't feel soft or sloppy. As a whole the car works very well on the rural winding roads of Canada's east coast, and also in the urban centers it has little trouble dealing with stop and go traffic. But there are cons, just like every car. It does have decent fuel mileage, that is until you want to get somewhere faster than your grandma. The turbo lag will leave you with a feeling of inadequacy, that is until it kicks in (usually reminding me of a certain Delorean reaching 80MPH). The torque steer will lock you into a turn if you only have one hand casually on the wheel, and one foot deep in the accelerator. Tram lining can raise some hair if you are on an uneven road surface and using all of what the engine has to offer. Under-steer can be a bit of a pain to on wet surface (and with bad tires), since it is front wheel drive and has enough torque to temporarily slow the earth's rotation. However with some minor after market modification (mainly steering rack and anti roll bar upgrades) this car glues to the road, and doesn't have trouble keeping the horses under the hood in line. Everyone knocks Saab owners calling them quirky, and weird, and calling their cars, quirky, and weird. Thats fine , I have no problem with that. However until you have had the chance to get behind the wheel of one, or ride shotgun, don't make fun. Saab has done good with this version of their 93. So instead of going out and buying a $15,000 car and putting 10k of plastic and audio systems to it look around and maybe find something worth keeping stock. I'm not saying Saab is the best company to import their automobiles to the Americas, but they are certainly not the ones to bear the brunt when it comes to making fun of imports, save that for KIA, or Hyundai.
Owner for 1 years, 5 months
Chris

writes:
1999 Saab 9-3 2 Dr Turbo Convertible
Review
Pros
Fun to drive Convertible
Cons
Leaky roof, a/c compressor clutch went
Fun Car — Served me well for a couple years. Loved having the top down and the tight European handling. Roof leaked when it rained. A/C compressor clutch went so I had to replace A/C compressor which I've heard is common with this car.
Lakedeck

writes:
1999 Saab 9-3 2 Dr SE HO Turbo Convertible
Review
Pros
This is a convertible tha will not give you wind wipe lash.Comfort, Power (turbo) Handling, size
Cons
Not many I can think of other than a donut for the spare tire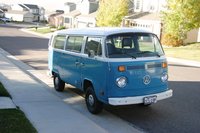 Soon To Be A Classic — Bought this auto on a slow Friday night for the dealer and drive it off the show room floor. Traded a Volvo wagon in which was great on my bank account. As stated this Saab was a great convertible and never have looked back. still handle well and is super easy to take care of even though they are not made today.
tbberry

writes:
1999 Saab 9-3 2 Dr SE HO Turbo Convertible
Review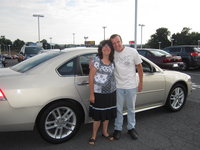 Great Car A Couple Or A College Student Or Weekend Car. — This car still has great looks for the year, Handles great and has a winter mode for transmission that makes going in snow a lot easier. Gas mileage is good and seats are comfortable in front, rear are not for adults.
Primary Use: Sport/fun (spirited driving, track racing, off-roading, etc.)
Neal

writes:
1999 Saab 9-3 4 Dr SE Turbo Hatchback
Review
Pros
Pure and affordable quality
Cons
could use a bit more horsepower
If This One Ever Breaks Down I'll Buy A Saab Again, Damn Sure Of That! — for an 11-year old car this car rocks! full-option 2200 turbodiesel, 120 horsepower. Build quality's rock-solid, never needed a serious repair, just the usual maintenance. Leather-seated, it is as comfortable as it is fun to drive! It has a gas/mileage of 8L/100Km.
Primary Use: Commuting to work
Andrew

writes:
1999 Saab 9-3 2 Dr Viggen Turbo Hatchback
Review
Cons
If something breaks its expensive to fix
Fun Car To Drive But If Its Not Taken Care If Its Will Be Expensive To Fix — Performance - stock turbo, 190 - 200hb, braking is fine, handles good through sharp turnes do to sway bar. Build quality - most major repais needed was a new fuel pump, and some type a bearings but cannot remember what it was. Anyway the damgae came to 1500 bucks for just those two parts and laobr costs. Aperience - interior needs alot of work. news seats are needed, ac dosent work, needs new inside carpet, cd player is shot, speakers are shot. Exterior - some minor scatches but nothing serious Fun factor - Its def a fun car to drive but its not a racing car. Not enough horse power to keep up with the compitietion theses days.
Primary Use: Sport/fun (spirited driving, track racing, off-roading, etc.)
Rudolf

writes:
1999 Saab 9-3 4 Dr Turbo Hatchback
Review
Pros
The turbo and handling, it drives like a sports car
Cons
I wish the front seat was little bit further away from the dash, as well as if the steering wheel was telescopic would be nice
My Saab 9-3 Review — Not bad for a cheap car to last you until you want to buy a new one. It's very fun to drive and looks great. gas consumption isn't great, I barely get 500 kms to a tank. No other major problems other than typical stuff for a 13 year old car.
Primary Use: Commuting to work
foreverlearning

writes:
1999 Saab 9-3 2 Dr SE Turbo Convertible
Review
Pros
Beautiful car and fun to drive
Cons
The convertible SE doesn't drive as smoothly as the hardtop. You feel more of the road.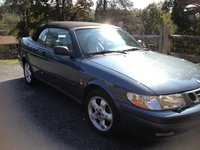 Sleek Convertible — This car has been a joy to own. It is reliable and it great condition. I was shopping for a sporty looking convertible and fell in love with the color (blue metalic exterior and tan leather interior). I've been happy with it since I bought it.
Primary Use: Commuting to work
Displaying 1 - 10 of 31 1999 Saab 9-3 reviews.
Looking for a Used
9-3
in your area?
CarGurus has
1,295
nationwide 9-3 listings starting at
$1,783
.