1999 Lexus GS 400
User Reviews
1999 Lexus GS 400 Review Ratings
Displaying all 4 reviews
Brian

writes:
1999 Lexus GS 400 Base Review
Pros
Nice supple leather. auto or push button manual
Cons
alloy wheels not chrome. leather starting to wear in some areas and could use some paint becaus it is 9 years old. requires premium gasoline. 4 speed
Rich923

writes:
1999 Lexus GS 400 Base Review
Pros
Smooth, comfortable and looks great. The V8 has nice power and still gets over 25 MPG on the highway.
Cons
The Lexus dealers charge high prices for the service.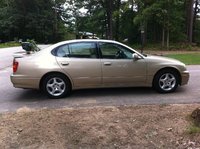 Gs400 Delivers Great Value — This is a great sedan with some punch in the power train. The ride is smooth and quiet. The front seats are somewhat stiff but provide good comfort and support for long trips. The rear seat fits two comfortably and three in a pinch. The exterior design is a standout and the finish always looks good.
Primary Use: Commuting to work
Dz

writes:
1999 Lexus GS 400 Base Review
Pros
The sound under full throttle.
Cons
Parts if its major.. so far i'm good
I Would Def Buy Another Lexus — Love the V8 and bug 3 inch exhaust pipes!!! Fast & Luxurious and the gas ain't too bad either...Now and then the the brakes squeal and the a/c doesn't cool as fast in really hot weather. Overall not bad. Def fun to drive (esp wheel burn outs).
Primary Use: Commuting to work
Ammar

writes:
1999 Lexus GS 400 Base Review
One Of Most Dependant Cars — It's one of the best cars I've ever driven in my whole life. You can depend on it everytime. It has a powerful engine and nice driving position with a simple interior. This is easy to modify simply, rims replacement plus lowering springs.
Primary Use: Family transportation
Displaying all 4 reviews
Reviews From Other Years
Great Car After 6 Years Of Ownership.
I ask for something and she delivers always wanting more. Although Lexus could have outfitted them with the breaks of their flagship LS400 it is very easy to upgrade to the 4 pot LS400 calipers. Not t... Read More
My Car
The car is the best in class. It have leather interiors, Sunroof, it have a graet acceleration 300 horsepower the maintenace is not too high and i buy for a good price. it's not a new car but when I d... Read More
Read all

3

2000 Lexus GS 400 reviews
Simply One Of The Most Amazing Cars Ever Built. I Will They Still Make Them.
I love this car through and through. GS400 is not the average lexus that drive like you know Lexus to be. This is a beast. Like Lexus, the V8 and tranmission is silky smooth; but unlike Lexus, it driv... Read More
What You Hope For In A Car
This car just goes and goes. I've never had to do a major repair in 8 years of ownership and it's approaching 178k. It's larger that an IS250/350 but will still get you 18/25 miles to the gallon. Read More
Read all

6

1998 Lexus GS 400 reviews
Ask CarGurus about the 1999 Lexus GS 400
Average response time:
8.5 hours
,
# of Lexus GS 400 owners:
135