1999 Honda Civic Coupe
User Reviews
1999 Honda Civic Coupe
Review Ratings
Average Ratings from

26

reviews
Performance:
Appearance:
Build Quality:
Overall:
Review Highlights
Click to filter reviews below
Displaying 1 - 10 of 26 1999 Honda Civic Coupe reviews.
Vinny

writes:
1999 Honda Civic Coupe
Review
Pros
Gas mileage, performance, looks, handling, great build
Cons
no turbo installed and size can be augmented
Worry Free Car — Although this car is not the best looking car and its not the most outgoing performance vehicle... right now... this car is the best in high mileage, decent looks, built to last, and can drive better than most others in performance. For maintanance this car is a dream because it requires only a minimum. In all those cases, this car is one of my most prized possesions. Gas prices are a killer... especially right now.
Primary Use: Commuting to work
Looking for a Used
Civic Coupe
in your area?
CarGurus has

11,755

nationwide Civic Coupe listings starting at

$4,500

.
Nathan

writes:
1999 Honda Civic Coupe
Review
Pros
The top reason to drive this car is the bolt on capability that this car has. bolt on will 8/10 beat all types of hyped up ricers with a computer in the passenger seat.
Cons
Small engine, tight headers, and very stock exhaust.
Great Car For Building Up, Overall 9/10 — *Performance-Performance on this car with a stock engine lacks speed, and get up from the start. But when it gets up to about 25-30 it can take off pretty quickly. I cant say much about brakes because well every car eventually needs new brakes and i went after market. BUT the rotors didn't wear to bad on my pads so I'm guessing built very well in that area would be a good estimation. handling. man I can't say enough. I can take 35-40 MPH turns at 40- 55. its great. My low profile tires i have on are great for that and probably help out a lot too haha. *Build Quality- The build quality on this Specific make is great because when they started building the 99 EX, the SI of this year was such a hit they slowed the Production of EX and made more SIs. therefore the quality went up because they could spend more time on each car. *Appearance- well appearance is where this car can lack without delicate care. the classic Honda wheel well rust is oh so scary and hard and expensive to fix. *Cost of Ownership- If you know Honda's you know that replacement parts are easy to come by and after market is even easier to come by. *Fun Factor-Fun factor I give it a 8/10 stars all because of performance lacks.
Primary Use: Sport/fun (spirited driving, track racing, off-roading, etc.)
danwat1234

writes:
1999 Honda Civic Coupe
Review
Pros
Sporty, drive on rails around corners
Stable
Low maintenance
Agile
Cons
Not the safest car
Not the fastest car
Not the highest MPG car
Front seats need a beaded seat cover to be comfortable.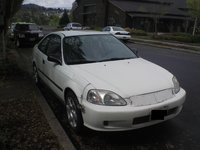 Sporty, Fun, Reliable, Moddable, Definitely A Keeper — The 1999 and 2000 Civics are the best. 1998 and earlier don't have motorized fan vents and no OBD2B connector. Civics after the 2000 year do not have a fully independent suspension like the 1992-2000 Civics. So I love my 1999 Civic DX 4 speed automatic. My mother got it for me and at first I didn't like it at all compared to a 2006 Forester, but it was my first car and over time I grew to like it after I discovered modding. It is taffeta white with black trim. Lots of black trim, with a small black "POLICE INTERCEPTOR" below the left tail lights. I first didn't like the understeer, so, I installed a 19mm rear sway bar and that helped incredibly. Now the car is on rails around corners. Helped further by the best all season tires I could buy (205/50/R16 Continental DWS). The road feel is amazing with perfect road feedback from the hydraulic steering. Next, I didn't like the headlights, too dim. So, I put in 55 watt 5000K (White output) HIDs. Totally awesome. I also put in 35 watt HIDs for the reverse lights so I can well when backing out of weird areas. Also a bright 16 LED dome light and underseat/trunk CCFL tubes for illumination. The engine made a chattering noise at certain RPMs when cold, so I switched the oil from 5w30 to 10w30 and then the chatter went away and oil consumption is near zero. I then installed a complete train horn system under the hood, and a genuine train bell under the driver's side rear bumper and a high output alternator and huge inverter so I can power big appliances with my car. I am very happy that the components under the hood are not tightly packed like newer cars. I was able to add a complete train horn system including the air compressor, 2 gallon air tank and the horns all under the hood and inside the front bumper (Shocker train horns). There were even pre-drilled holes on the sides of the rails just inside the hood to knit all my zip ties through to secure the components! Awesome. The car now has 231,000 miles on it with an automatic. I change all fluids regularly including the brakes, PS, tranny, engine oil and coolant to ensure no unnecessary wear or corrosion occurs. Very cheap and easy to do by myself on this car. The only wear on the car are the Rear Trailing Arm bushings, but they aren't completely worn out yet. It'll cost about $340 to get the bushing replaced. Use 52385-SR3-003. Also the ignition switch is showing signs of wear but that part is only about $40 and easy to do myself. Performance; Phenomenal stability and great cornering abilities. In a straight line; not fast. Helps that I can put the transmission in "2nd" and it will stay in 2nd all the way until 70MPH at around 7000RPM! So it isn't entirely gutless. The transmission does lockup so you can get fuel economy on the highway. So it has good performance from 30-38MPH (top of 1st gear) and 50MPH-70MPH (top of 2nd gear). In the summer you can get around 32MPG in mixed conditions and 36MPG on the highway at 60MPH. In the winter, about 29MPG mixed, 32MPG highway. As good or better than my Mother's 2012 Elantra with a limited torsion beam rear suspension. Comfort; The front seat required a beaded seat cover to be comfortable, but after that it is great. Very little rattles, doesn't complain when I abuse it. Stock brakes are good and easy to replace yourself. Don't forget to replace the timing belt regularly because if it slips, the engine may be destroyed. I plan on keeping this car forever, but if it ever breaks I'll probably get an AWD plug-in hybrid.
John

writes:
1999 Honda Civic Coupe
Review
Pros
Handling, reliability, gas mileage
Cons
Needs more power/torque
99 Civ Ex — Fun car to drive, stiff steering, decent suspension with a low ride high stock (with plenty of room to drop it even more). The stock brakes aren't too bad either but it could use some brembos. Could use more torque and horsepower as well. Nothing a turbo can't fix but that's a maintenience nighmare until you get it dialed in. That and the turbo laws in CA are strict.
Indra

writes:
1999 Honda Civic Coupe
Review
Pros
- 30+ mpg
- Looks appealing
- Tons of possibilities
- Easy to find parts
- Cheap to maintain
Cons
- Slow
- Most stolen car
- Hard to find decent condition civics
- Too many ricer civics out there
Simple, Practical Daily Driver, Gets Great Gas Mileage — Overall impression, I'm pretty much impressed with the car. I'm a huge fan of Honda and this is one of my favorite model of all. Handling is not that great when the car is fully stock, but since I have upgraded the suspension (redo the whole thing), it handles nice and firm now. Acceleration, you might not want to expect a lot from the stock 1.6l SOHC engine. But again, this is a civic, there are tons of possibilities on this car, swap out the engine with Civic Si or Integra GSR and you'll be amazed how much powerful this car can be. Braking is just okay, make sure you replace the pads on rotors as it's probably worn out for the age. Appearance is not that bad at all, I never find my car looks outdated at all, Honda designed their cars to last pretty long. I'd recommend this car for people in the market for used car. Price is not so bad, expect to pay around 4-5k for decent condition ones. Don't forget to change the timing belts, perform all the recommended maintenance because most parts are toasted already. Also, I'd recommend adding security device on this car, this is the most stolen car in the US, park carefully!
illiamw

writes:
1999 Honda Civic Coupe
Review
Pros
Great gas mileage (25-30mpg), excellent reliability, great V-Tech engine, great handling for what it's worth, semi-practical, sporty coupe looks
Cons
Smaller size, crappy cup holders, not a family car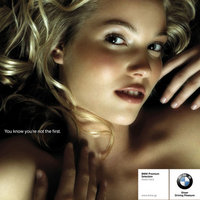 A Fun Little Econobox: 99' Honda Ej8 (civic Coupe Ex) — Most of you Honda owners probably know if you do your routine maintenance judiciously, they can last you 150k-250k miles. The build quality is great, the engine runs strong even after 100k miles and you barely notice that it's a >15yo car at times. It handles quite well for its price, and the V-Tech engine is fairly powerful for such a small displacement. With a 1.6 litre Inline-4 engine producing 127/6600 HP and 107/5500 TQ, howling it's 2513-lb curb weight isn't too much trouble. However the interior can wear out if you're under California sun, especially the sun visors and the roof panels; dirt can trickle down when you bump into them. Gas mileage is excellent (25-30mpg). With its great reliability, the Civic EX Coupe is one of the most fun econobox you can purchase used for <$5k; but then of course, careful screening (CarFax, autocheck, maintenance records etc) and bringing a mechanic friend when you do decide to shop for a used Civic is needed to prevent getting poorly maintained ones.
Primary Use: Commuting to work
DK

writes:
1999 Honda Civic Coupe
Review
Pros
It was great car. That's it, that's all.
Cons
It needed an engine swap! Really, it needed a Type-R. The steering feel/ratio could have been better, a lot better!
Civic: Good Decision. — The front seats were changed to RSX seats. The fit and finish was great considering its entry-level status. Very cheap cost of ownership. The driving fun-factor was, while stock, not very fun. But with tires, KONI suspension, and a host of other modifications, it became a really fun car to drive.
Primary Use: Sport/fun (spirited driving, track racing, off-roading, etc.)
Chris

writes:
1999 Honda Civic Coupe
Review
Pros
its fun, its fast, and its a honda
Cons
they tend to burn oil late in their life
Get One — Drives great, handles like a dream, has plenty of power due to some minor performance mods, wish it was lowered but otherwise i love the look. i love my gols rims and matching dragon. needs a new radio though, but what can you do?
Primary Use: Commuting to work
Miguel

writes:
1999 Honda Civic Coupe
Review
Awesome — Performance wise pretty good handling, speed lets just say its better than gas guzzling v6 v8 and better than american pony's , that also means that it looks better, oh and i did i mention If I race your generic munstang i'll still have gas to kick your ass three times lol
Chris

writes:
1999 Honda Civic Coupe
Review
Pros
It's a fun and smooth car to drive.
Cons
The stock body line looks like a boring econo-car.
See My Last Line In My Written Review. — I could take it apart and put it back together again like Lego! Not to mention the fact that I can drop so many different Honda motors into the engine bay! Good on fuel and had all the necessities I wanted, yet cheap enough that I wasn't afraid to take it all apart.
Primary Use: Sport/fun (spirited driving, track racing, off-roading, etc.)
Displaying 1 - 10 of 26 1999 Honda Civic Coupe reviews.
Looking for a Used
Civic Coupe
in your area?
CarGurus has

11,755

nationwide Civic Coupe listings starting at

$4,500

.