1998 Subaru Legacy
User Reviews
Average Ratings from

27

reviews
Performance:
Appearance:
Build Quality:
Overall:
Review Highlights
Click to filter reviews below
Displaying 1 - 10 of 27 1998 Subaru Legacy reviews.
Matt

writes:
1998 Subaru Legacy 4 Dr GT Limited AWD Sedan
Review
Pros
AWD, Boxer engine, Appearance, reliability...EVERYTHING
Cons
the cup-holders block the radio when they are out.
Bullet Proof Car With Stunning Performance And Grip. — I have had this car for 4 years now and it is simply amazing. It is 11 years old and requires almost no maintenance. It is absolutely unstoppable in the snow and with the AWD system it is able to tear the curves apart. Also the Subaru Boxer engine has been around for ever and keeps a low center of gravity which allows for even better handling. The interior is very simple and comfortable with soft touch trim and leather seats. It has plenty of room in the trunk and it can be increased by folding down the seats 60/40. I would recommend this car to anyone who wants a fun, dependable, and good looking car.
Looking for a Used
Legacy
in your area?
CarGurus has
8,222
nationwide Legacy listings starting at
$1,521
.
Bowmaster457

writes:
1998 Subaru Legacy 4 Dr Outback AWD Wagon
Review
Pros
Easy to maintain, cheap parts, very easy to modify, excellent cargo space, a lot of aftermarket exterior accessories available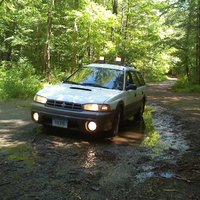 Awesome — I love this car. I got this as my first car and I have loved it. It is great in the snow and awesome off road. I have done some major repairs to the car but it wasn't anything i couldn't do myself. This is probably the best car i will ever own. I will own Subarus forever thanks to this car. I love it
Primary Use: Sport/fun (spirited driving, track racing, off-roading, etc.)
Jani

writes:
1998 Subaru Legacy 4 Dr GT AWD Wagon
Review
Pros
Quality, power, room and all weather abilities
Cons
Expensive to fix if something breaks. If you're tall, you'll find, that the adjustment for distance at least for the drivers seat runs out and you cannot get it as far as you'd like. Also, I'm not quite friends with the behaviour of the automatic gearbox.
Review Of A Jdm Twinturbo Legacy '98 (bh5) — Performance: So.. this is what happens, when some blokes from Subaru drink a bit too much sake one night and decide to swap in some STi class parts into a family wagon just for the heck of it? Well, I can tell you, that the combination is very nice. The weight to power ratio is equal to an STi so when pushed, this wagon hauls ass despite of its size. There is something of an issue regarding the operation of these TwinTurbo's, namely the oh so famous "Valley of Death", but that is more of an small nuisance rather than a really crippling thing. When driving normally, you almost never get past the 3000rpm mark which is below the VoD. This is due to very turbo-diesel'ish torque characteristics and the automatic transmissions eagerness to shift upwards very early. The first turbo comes into play as early as 1500rpm and therefore you have over 200nm to play with as low as 2000rpm. Going beyond the VoD to the high side of 4000rpm, the second turbo comes into play and the two turbos work in parallel mode. It pulls nicely and cleanly all the way to the red line. There is no old fashioned turbo-lag and the feeling of being shoved to the back with a two by four, but there is a lot of power and you can see this by having a eye on the speedometer! The trusty Subaru trademark AWD is present at all times meaning, that the car goes forward, in any weather, just in the direction that you want it to go. Be wary of the dual nature of the car though. Subaru's are prone to first understeer, but careless, or intentional, use of the excess power turns it into very tail-happy! This can be good or bad, depending on the situation. The Bilsten engineered suspension works very well. It is a bit soft at first but then firms up quickly. In other words, on everyday roads and situations, it eats up bumps and such veyr smoothly but then when going faster in corners, it is firm enough that the body movements are kept in check. Build Quality: The standard Subaru deal here; after a decade, everything works still with out an issue, there are no extra creaks or other noises. Very solid build for which the Subaru's are known for. Appearance: The car isn't striking to the eye. More like it is shaped to blend in but with a few characteristic differences. There are of course the Subaru trade marked frameless windows, but other than that, the car doesn't really stand out. Even the hood scoop used to pull some fresh cool air to the intercooler is very small. All in all, very stealthy. The interior is roomy with well chosen materials. You can get full blown leather interior if you wish, but that is an optional extra. Mine has the half-leather interior. The seats are modelled well and offer a fair bit of side-ways support also. You can get electric dual sunroofs, which would light up the interior nicely. Unfortunately, mine lacks those as well. There is the Momo leather steering well with leather also in the gear-lever and parking break handle. Nice touches. The plastic wood-imitation on the dash and center console though really look tacky and shouldn't be there. Perhaps some of that semi-carbon fiber looking material that is around the instrument panel would've worked well instead. The car comes equipped with McIntosh stereo with 6 speakers + subwoofer and separate amplifier. It has cassette as well as CD players. Take note though, that this being Japanese spec, the radio only covers frequencies from 76.0 to 90.0 MHz and therefore you'll probably need to either swap the unit or get a frequency converter to lsiten to radio in your own country. The entry level accessories list is very complete and doesn't leave you wanting much. Cost of Ownership: Well, this being the top-of-the- line model, it isn't cheap. However, due to the taxation scheme in Japan, if you're importing one of   these, you can get them for practically peanuts. So buying a used second-hand TwinTurbo Legacy is not as expensive as you'd think. Of course, you then need to be prepared for all of the additional fees (shipping, taxes etc). Regarding the owing one of these, they aren't that expensive. There hardly is anything to fix as long as you keep up with regular maintenance schedule. The engine being only 2 liter in displacement means fair insurance costs as well. The car isn't very fuel hungry either if you manage to keep that speed demon in check and drive nicely. If you're doing in highway at fair speed, you're likely to be in the first turbo range and you can get to under 10 liters / 100km which is not bad at all. Of course, these can gulp easily more than twice that on a track.. Fun Factor: The car is fun to drive certainly. The engine characteristics and suspension work well together. Not to mention the very stealthy appearance means you can have some fun teasing out others at traffic lights ;)
Primary Use: Commuting to work
midijery

writes:
1998 Subaru Legacy 4 Dr L AWD Sedan
Review
Pros
has been a good car until now
Cons
would prefer a forester

Good Car Until Engine Light Goes On — Good handling and power, would like a roof rack and trailer hitch. Has serious problems since the engine light went on and can't afford dealer rates on repairs. Haynes manual is in complete should at least describe the use of every part under the hood. Instead it only describes parts that it describes how to repair. I'm very disappointed with the manual. Also very disappointed with the policy of Subaru support putting a time limit on the amount of time you can use their manual.
Primary Use: Family transportation
Charles

writes:
1998 Subaru Legacy 4 Dr GT AWD Sedan
Review
Pros
Cheap to drive reliable great first and last car
Cons
I dont hate anything about this car except the dent in the passenger door.
I Love My Subaru Legacy Gt — This car is my life. It has been very reliable 217xxx and counting not many repairs have been needed but only about 1000 in repairs at its age is great. Gas mileage is ok insurance is cheap. Fun to drive loves the snow, rain or whatever you throw down its ready to power down.
Primary Use: Commuting to work
CP

writes:
1998 Subaru Legacy 4 Dr GT Limited AWD Sedan
Review
Pros
Great handling, reliable, low-maintenance, comfortable, practical, beautiful.
Cons
Poor cupholders, and that's about it!
Great Driver's And Buyer's Car, Rain Or Shine! — The first thing you need to know about this car is that it handles beautifully. It's a little heavy but the AWD, even though it's a 10-year-old system, does a great job. Its ABS is sharp; and even with an AT, and though it was the last year the Legacy didn't get a turbo, it still has plenty of pop. The build quality is very solid -- almost 110,000 miles and all it's needed has been basic brake, engine and wheel maintenance. It's only just begun to make a rattle, and when I checked the source of the noise the part was actually snug -- just a resonant frequency thing, I guess, seeing as it always rattles when the engine reaches the same RPM. It's a beautiful car. While Subaru makes fantastic cars and always has, it's increasingly been missing the styling mark in the past few years. This car has a classic, timeless look and it looks great in its candy-red paint with still showroom-quality black leather interior. Its mileage is good -- it generally gets nearer 30 mpg than 20. Maintenance is practically free, since as I mentioned, it barely needs anything but a fluid and tire pressure check every so often. It's got nice perks such as very quick heating and A/C, easily adjustable mirrors, limited blind spots and great windshield visibility and driver position. The fold-down rear seats are nice as well, though not very unusual these days. As I mentioned, the interior is very nice. Both room and comfortable, the leather looks great on everything and the layout is very accessible. The only major drawback (and the only thing I dislike about this car) is poorly-constructed pop-out cupholders. The best part is probably its poor-condition driving. This car is glue in the rain, and in more than two feet of snow I regularly drive my little red sport sedan past spun-out Explorers on the side of the road! If you're looking for a fun, safe, reliable and great-looking sedan to go churning around mountain passes or pick up groceries, in rain or shine, this car is a steal.
FirePro669

writes:
1998 Subaru Legacy 4 Dr Outback AWD Wagon
Review
Pros
My first car that I have owned (other than my porsche) in 15 years, and I wish I would have bought one years ago.
Cons
The people I bought it from did not take care of it.

Most Reliable And Economical Car On The Market, In My Opinion — Probably one of the simplest of vehicles to maintain, I have put 6,000 miles on it since rebuilding the engine and I have not had any issues with it. I would say this is one of the most reliable and economical vehicles anyone could buy.
Primary Use: Commuting to work
Josiah

writes:
1998 Subaru Legacy 4 Dr GT AWD Sedan
Review
Rice Rocket With An Attitude — psh, The awd and low profile, make for one great winter driver. She's heavy, and rides extreamly well. Her sleek design gives her pretty good gas milage, but dangit, my betty keeps breaking down on me every year during the summer time!
Jamie

writes:
1998 Subaru Legacy 4 Dr GT AWD Sedan
Review
Pros
+ good acceleration
+ sounds great
+ high MPG/KPL
+ Sporty appearance
+ lots of interior room
Cons
- prone to catastrophic engine failure
- lower top speed than turbo version
- most dashboard buttons not illuminated at night
- very expensive to repair
Fun Little Zipper With Plenty Of Room — This car is very fun to drive, 5spd H4 2.5L. It sounds amazing and actually has coupe performance unlike other GT's. If you're going to pick on up however; make sure the cylinder heads have been done. If not the don't buy it unless you're paying $2,000 or less becasue it's a $3,000 job and you WILL have to do it. Overall very practical and very sporty, the best mix of two worlds.
Displaying 1 - 10 of 27 1998 Subaru Legacy reviews.
Looking for a Used
Legacy
in your area?
CarGurus has
8,222
nationwide Legacy listings starting at
$1,521
.