1998 Pontiac Grand Prix
User Reviews
1998 Pontiac Grand Prix
Review Ratings
Average Ratings from

61

reviews
Performance:
Appearance:
Build Quality:
Overall:
Review Highlights
Click to filter reviews below
Displaying 1 - 10 of 61 1998 Pontiac Grand Prix reviews.
dvigano

writes:
1998 Pontiac Grand Prix
Review
Pros
The power was great! The interior, while it worked for a short time, started falling apart quickly after the warranty.
Cons
Build quality was very disappointing! This car could've been something extremely impressive - not!

One Of My Favorite Cars To I Learned To Hate ... — I fell in love with this car in late 1998. The styling, the performance and it was a sedan. It had ample horsepower and it was plenty big for my family of 4. Just after my 3 year warranty expired the water pump went bad. Then it seemed to overheat during the Arizona summers - so bad that sometimes we had to pull over and sit with the engine off (without air conditioning) in 120 degree weather. Then the doors would rattle like the technician left some extra parts inside the door. Near the end the SRS Air Bag light was coming on and nearly cost me $2,000 during the trade-in phase of my next purchase.
Owner for 3 years, 2 months
Miles Driven per Year:15,000
Looking for a Used
Grand Prix
in your area?
CarGurus has

4,772

nationwide Grand Prix listings starting at

$1,195

.
Cravey

writes:
1998 Pontiac Grand Prix 4 Dr GT Sedan
Review
Pros
Performance, build, appearance, regular gas

I Would Buy It All Over Again — What a dream. The Grand Prix was a white 4-door torpedo that drew as many stares as compliments. The naturally-aspirated 3.8L V6 was smooth and powerful, delivering exciting performance and mid-20s economy in mixed driving, and made nice noises under hard acceleration. Knifing through traffic was a cinch and the console- mounted shifter gave complete control of the gears. The leather seats were comfortable if a bit thin on padding, interior quiet, a/c very strong. The stereo and interior trim were excellent. The factory Goodyear Eagle LS rubber was whisper quiet with good grip. Best all- around domestic luxo-coupe ever!
Primary Use: Commuting to work
TankBDB

writes:
1998 Pontiac Grand Prix 4 Dr SE Sedan
Review
Pros
Comfortable for big people. Sporty look. Minimal maintenance issues.
Cons
Average to low gas mileage.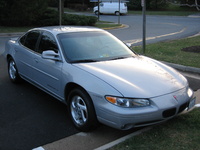 Very Stylish, Classy, Comfortable, And Dependable Family Car! — I owned this car for three years and loved every minute of it. The car had great features that put it in the luxury class as far as I'm concerned: Heads Up Display, Leather Seats, Steering Wheel Audio Controls, stock 8 speaker sound system, dual zone air conditioning, to name a few. It got decent gas mileage, much better on the highway then in the city (19,28). It had good performance - the 3800 Series II V-6. A very dependable motor and drivetrain - no transmission problems. Most of all, it was comfortable, especially for large people. I am 6'5" tall, and this car was an awesome fit for me. One of my taller friends actually bought a Grand Prix after driving mine for a bit. To sum up, this car is powerful, dependable, comfortable, and it looks good too.
Owner for 3 years, 0 months
Miles Driven per Year:20,000
Deadheat33

writes:
1998 Pontiac Grand Prix 4 Dr GT Sedan
Review
Pros
It's rather comfy driving with really nice stock stereo and speakers and I'm not talking about the Bose speakers, I'm talking about the AC Delcos
Cons
With the sideways engine, work space is minimal. As with all large repair projects, it's difficult to DIY without an actual garage, i.e. removing and replacing oil pan gasket. With such a low chassis expect to get stuck in snow rather easily and carry a flat, roofing style shovel to chop ice and reach under the frame to dis lodge your situation. It would be a good idea to get chains or studded snow tires for climates with heavy winters.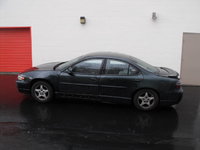 1998 Pontiac Grand Prix 3.8k 4 Dr Gt Sedan — Appearance: If you look at cars the way I do, with the headlights being eyes and the grill being the mouth, giving the vehicle a personification, then this car has a sly attitude, a sensible body and comfy appeal. Build Quality: Most of the time, when only 3 yrs old, the car ran so quietly that sometimes I'd have to check my key position or feel my exhaust to determine if it was still on or not. Following the regular maintenance guild lines has made repairs stay minimal and they aren't as costly as the major repairs that regular non-maintenance up keep leads to. However, there are some known faults for this model such as the EGR recirculating tube being in too close in contact with the Plenium causing the gasket to eventually fail at a standard mileage, costing a DIY repair of approximately $500-$1500, depending on what else you determine should also be replaced while you are at it, i.e. valve cover gaskets which tend to leak oil, spark plugs if you can't clean them, and new tools when a bolt has to be tapped out because it breaks off. Performance: The acceleration is adequate enough to not have to wait to pull into traffic until the road is completely clear, for a tenth of a mile, I've done it in a third of a tenth with 3-5 alligators to spare, however I do not recommend this practice! Braking has always been tight but the ABS(anti locking brake system) seems to want to kick in at odd times occasionally where roads are clear and dry. As long as you maintain your suspension and steering you'll always feel safe with really good handling but don't try to make any hairpin turns. You'll need at least two standard size lanes to make a U turn. If you like driving, then yes, it's fun to drive.
Primary Use: Commuting to work
lilmrsjacobson

writes:
1998 Pontiac Grand Prix 4 Dr GT Sedan
Review
Pros
stylish, sexy, handling is great
Cons
everything mechanical with this car goes bad (its almost sequential)

I Love Being Noticed In It, But Hate The Build. — I am the second owner to my car. Looks sexy ( I baby the outside and inside of my car) does better on gas mileage now that I have fixed almost everything in the fuel system (not cheap). The downfalls; These cars are TERRIBLE for overheating, even sitting in idle. The thermostat takes forever to open and the radiators are prone to cracking. Be prepared; if you replace the radiator everything else in the cooling system that wasn't replaced will go bad. Has faulty sensors sometimes. If you even run the car down to E before filling up, expect to replace the whole fuel system because the car will die. I'm not impressed with this car and if one thing goes wrong...something else does. The only good thing about this car is that it is comfortable and stylish (maybe thats all GM was going for)
Primary Use: Commuting to work
Kris

writes:
1998 Pontiac Grand Prix 2 Dr GTP Supercharged Coupe
Review
Cons
Goes through windows
3.8 Liters Of Awesomeness — Just an amazing engine with lot of room for upgrades. Very fun and fast for a cheap penny. All the options that came with it are amazing as well. The only thing wrong with these cars are the window regulators. Mileage is fairly good too. i get almost 30 on the highway
Primary Use: Sport/fun (spirited driving, track racing, off-roading, etc.)
James

writes:
1998 Pontiac Grand Prix 4 Dr GTP Supercharged Sedan
Review
Pros
Extremely well handling and acceleration.....
Cons
Runs on premium only; needs better braking (upgrade), needs more quality matierals in production....
My Daily Driver Pontiac Grand Prix Gtp — This is an excellent all around veichle. It is a nice mixture of luxury and speed. It handles like a slot car, and is very responsive in any given situation. The excelleration with the supercharger is second to none; the only difference I can tell between this and a eight cylinder veichle, is that the exaust doesn't have the aggressiveness in tone of a V8. Other than that, it is exceptionally quick; handles well, and is an excellent car overall. There was some issues at the beginning when I purchased this veichle, however, warranty has taken care of it. Since the car has clicked over 100K miles, I have had issues with leaking headlight and taillight assemblies on the exterior; mechanical issues have been standard on a car used as a daily driver. Had replaced original rotors with drilled and slotted along with ceramic brake pads; definate upgrade for this car. Literally have driven this car hard for extended periods of time. Have driven it across the country, and back and forth everywhere. It has been pretty much bulletproof, and I would recommend it to anyone. Would like to retire it in the future and replace it with a new Pontiac G8.
Caleb

writes:
1998 Pontiac Grand Prix 4 Dr GTP Supercharged Sedan
Review
Power, Mileage, Safety. — Love the supercharger, slotted rotors, HUD, leather, moonroof, valve body booster, and polished aluminum wheels. Fun to drive, improvements for hopefully by next spring would be underdrive pulley, smaller supercharger pulley, cold air intake, and shift kit. I do like the look of my car other than its red. would have preferred a black or silver one. interior is great, comfortable seats, 8 bose speakers. gets good mileage, low maintenance unless i put mods on it. I would recommend a GTP to anyone.
Tiffany

writes:
1998 Pontiac Grand Prix
Review
Pros
Great handleing, good milage, sleek look
Cons
backwards under the hood, costly for repairs(when needed)
My Fab Car! — So this car handles very well and has lasted wonderfully for being 10 years old and having little checks by women who don't know about cars. When clean it looks amazing. The only downfall of this car would be the fact that under the hood it is backwards and changing anything becomes a hassle an must be done professionally.
Elaine

writes:
1998 Pontiac Grand Prix 4 Dr GT Sedan
Review
Cons
The body rusted out to quick.. and the headlights SUCK!
Blah Blah Blah — I liked everything about it except the Parts were expensive.. But other then that I loved it.. to bad the transmission went out on me.. I liked how it got up and went.. I had some problems with the inside door panels falling off but I made it work with zip screws. I also had problems with the drivers side window along with the fan for heat/ ac.. didn't work when I bought it.. Sadness.
Displaying 1 - 10 of 61 1998 Pontiac Grand Prix reviews.
Looking for a Used
Grand Prix
in your area?
CarGurus has

4,772

nationwide Grand Prix listings starting at

$1,195

.