1998 Mitsubishi Eclipse
User Reviews
Average Ratings from

41

reviews
Performance:
Appearance:
Build Quality:
Overall:
Review Highlights
Click to filter reviews below
Displaying 1 - 10 of 41 1998 Mitsubishi Eclipse reviews.
Navjot

writes:
1998 Mitsubishi Eclipse GS
Review
Michael

writes:
1998 Mitsubishi Eclipse GS-T Turbo
Review
Pros
Beautiful exterior car design, affordable turbocharged sports car
Cons
Minor to Major mechanical flaws, poor turning radius, boost leaks with OEM parts
The Flawed Dsm — Stay Away from the Mr. Car dealership located near San Diego State University, the salesman have no idea about how a vehicle works. They joy ride most of their cars from the lots and their detailers and mechanics are petty enough to steal change from your glove box or any other compartment in your vehicle. Unfortunately, the car turns like a truck. The vehicle also has a lot of boost leaks unless modified with the proper hardware. Each generation of the eclipse seem to have flaws in their production and quality of workmanship which were carelessly overlooked. The car drives decent and has fairly good pick up as it is a 2.0 liter turbo charged engine but this is going in a straight line, if it was to make sharp turns accept the car's inability to perform this feat.
thekid101

writes:
1998 Mitsubishi Eclipse GS
Review
Pros
cheap to own
many parts to add
awesome beginner car
great look


Cons
clutch needs motor mount
transmission could be upgraded
speedo sometimes goes out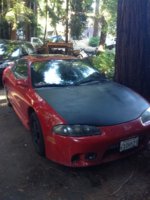 Great And Fun To Own. — We Pd 700 bucks for it 3 years ago & did minor work tires,ect basic stuff & few weeks ago the clutch went so we replaced it a bit of a job but clutch is One Piece but we did it.U find oodles of parts on Net & not expensive & just bought an 05 V6 & I'd rather drive this one w over 150k miles & have 5 cars & I'd rather drive my rocket and Std trans ride is Fun,Fun...
Primary Use: Sport/fun (spirited driving, track racing, off-roading, etc.)
icu_22698

writes:
1998 Mitsubishi Eclipse GS
Review
Pros
they look nice and aren't too bulky. plenty of room for passenger and driver all electric windows, doors, sun roof, not too hard to work on, parts aren't too expensive, I haven't had too many problems, mostly easy fixes, handles really well
Cons
rear seat don't have much room, ive had one problem with spark that I cant to the bottom of.

I Really Like This Car — ive had my car for about 2 years and ive only had minor problems for the most part except for recently my I cant get spark and cant get to the bottom of it,, but everything prior to this has been fairly simple and cheap. the hardest fix was probably replacing the water pump.. that wasn't easy but other than that as long as you check up on the oil and radiator and normal maintenance you shouldn't have much problem at all. ive only gotten complements on it.. I love the look iof the car after tinting the windows..
Primary Use: Commuting to work
Ronnie

writes:
1998 Mitsubishi Eclipse GS
Review
Pros
Fun to drive, handles well, lots of options if you want to tune.
Cons
lots of road noise in the cabin, sluggish (would have been worth the extra money to get the gs-x)
Love And Hate Relationship — The Japanese have a knack for making some thing on a vehicle nearly impossible to fix. This is happened to be the door handle that i attempted to fix. First, the handle was plastic, which was a no-no in itself and therefore easy to break when lifting it. And then when the replacement was attempted our hands were nearly too large to make the attempt without pretty much having to remove the window... Took more time than it should have.
Erik

writes:
1998 Mitsubishi Eclipse GS
Review
Pros
you always hold a special place for your first car
Cons
to make it into a proper fast car it would have taken alot of money
If You Want One It Has To Be A Gs-t Or Gsx — Perfomance 4-10 slow in the power department but brakes and handling were good quality- 3-10 the build of the car was ok but the transmission was questionable and interior was cheap apperance 9-10 those curves on the body were gorgeous
Primary Use: Commuting to work
Stevan

writes:
1998 Mitsubishi Eclipse GS-T Turbo
Review
98 Eclipse — It was fast, lost one race out of many. Needed a lot of repairs but even if I sell it, I'd get one again. Suspension isn't good either but handling is good. Exterior looks great but interior is cramped for more than two people.
Primary Use: Commuting to work
Anthony

writes:
1998 Mitsubishi Eclipse GS
Review
Pros
Fun to drive, good gas mileage, decent space in the front seat area
Good Car If Maintained Properly, — Even without a turbo, its pretty fun to drive. The naturally aspirated Chrysler engine actually has a little pep to it. Its great to commute to work or cruise around with a friend or a girlfriend. but anymore than that, your friends will have to be legless. as far as reliability goes, its a fairly reliable car. Even if it does break, its dirt cheap to fix. As for MPG, I have seen as high as 30 using premium gas. Things to look out for on this car...... Synchros in the manual trans can start grinding at higher mileage especially if it has never been maintained. Cam sensors are known to fail causing stalling or a no start. Also, the headgaskets were prone to leaking on the back corner near cylinder 4. but due to the age of these cars, most likely it has been taken care of by now. aside from that, its just the usual wear and tear. Hope this helps people. I am basing this off of my personal ownership of these cars and my 12yrs of experience in the automotive field including the 4 yrs I spent in a Chrysler dealer. thank you.
Primary Use: Commuting to work
Brittany Lyn

writes:
1998 Mitsubishi Eclipse GS
Review
Pros
looked really sporty and was fun to drive
Cons
needed a lot of work
It's Fun If You Don't Own It — acceleration sucked but the braking and handling were awesome this car needed more repairs than it was worth the exterior was pretty nice and it was sporty looking, the interior needed some work even though it was a 4 cyl. it wasn't the best on gas, and it was always needing repairs it was a fun little car
Primary Use: Commuting to work
Ryan

writes:
1998 Mitsubishi Eclipse RS
Review
Pros
its speed and handling
Displaying 1 - 10 of 41 1998 Mitsubishi Eclipse reviews.
Looking for a Used
Eclipse
in your area?
CarGurus has
1,605
nationwide Eclipse listings starting at
$1,500
.