1998 Ford Contour
User Reviews
Displaying 1 - 10 of 24 1998 Ford Contour reviews.
JimMagD

writes:
1998 Ford Contour 4 Dr LX Sedan
Review
Pros
Maintenance and parts are inexpensive
Cons
Timing belt needs replacing each 60k miles; Ford should have used a more reliable timing chain for the 2.0L engine like on later engines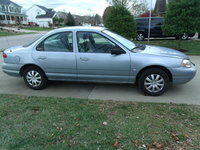 1998 Ford Contour — The car still runs good after 209k miles and 16+ years of ownership, have performed all the maintenance work myself to save the labor costs over the years. This includes; brakes, shocks, struts, bearings, bushings, alternator, belts, hoses, plus tune-ups.
Primary Use: Commuting to work
Looking for a Used
Contour
in your area?
CarGurus has

155

nationwide Contour listings and the tools to find you a great deal.
demouyja

writes:
1998 Ford Contour 4 Dr SE Sedan
Review
Pros
Good for being a town car, Can pick up speed wen needed to, Has been driven for 16 years.
Cons
Radio doesn't work, speedometer stopped working, Air conditioner doesn't work, transmission slips

Reliable To Be Driven For 16 Years — I like how it has been running for 16 years, and I like how it drives, It gets annoying though when the transmission slips, and also when the speedometer doesn't work, neither does the gas gauge, but overall it gets me from point a to point b and back, so I'm happy.
Primary Use: Commuting to work
RE

writes:
1998 Ford Contour 4 Dr SE Sedan
Review
Pros
Great acceleration, handling and comfort.
Cheap, Sporty, And Practical--what More Could You Want? — You wouldn't know to look at it, but this modest little sedan has a beast under the bonnet. The 2.5L Duratec V6 develops 170hp, which endows the car with some spirited acceleration. Brakes are responsive, linear, and adequately powerful, though I hate to see rear drums on a car that is branded as a sport model. Oh, well. The suspension gives a great balance between ride comfort and handling. It feels stable and planted in hard turns, though I admit I have yet to push it close to its skid pad rating of 0.90g. The shocks seem to be tuned for smoothing out irregularities in the road surface more than anything else; medium-to-large sized bumps can feel jarring. The interior is fairly quiet at speed, with minimal intrusion from road and wind noise. The engine can get loud at high revs, but you can't complain when it sounds this good! The exterior styling has stood the test of time well--it doesn't look as "old" as other cars from its model year. A sleek (but unfortunately nonfunctional) spoiler graces the trunk lid. The interior is a different story. Almost every surface is upholstered in soft grey fabric, which is nice to touch, but pretty boring to look at. Comfort-wise, the seats are supportive, and the driving position is perfect. Every power feature you could expect in a 1998 car is present (though buyer beware: most are options). Build quality is difficult to judge on such a young car (so far only 25k on the odometer). Suffice it to say it hasn't fallen apart yet. Gas mileage is good--wait for it!--for a V6--designed in 1993. I will just state it outright: 19 mpg city, 26 highway (my own figures). It is rated for 22/28, so perhaps driving very conservatively (and without that ice-cold air conditioning), one could do better. In any case, not a high point of this vehicle. Most importantly, though, this car is a blast to drive. The combination of power, responsiveness, and comfort is unparalleled for a car of this type. If you are looking for a cheap sporty car that is also practical enough to be a family hauler or daily commuter, look no further than the 1998 Ford Contour Sport.
Primary Use: Commuting to work
Ryan

writes:
1998 Ford Contour 4 Dr GL Sedan
Review
Pros
Well it was funny when I pulled up behind a friend and he would wonder if it was a cop cause the headlight/parking lights were similar.
Cons
It had its fair share of problems for being 12 years old but that's expected.
Good For Beginner Drivers, Make Sure To Find One With Low Mileage And Check The Tranny, Belts, Etc.. — Overall it's a good beginner's car for those learning to drive since it's small which makes it easier to maneuver and park. It has just the right amount of power and acceleration for a beginner. The handling is surprisingly decent if you're into some drifting and messin around in the snow. The quality isn't the greatest we all know what FORD stands for. The appearance wasn't bad, the interior was fine. MPG was decent maybe 25mpg hgwy. It was a fun car to drive and mess around with some times it drifted not too bad.
Primary Use: Commuting to work
Zella

writes:
1998 Ford Contour 4 Dr GL Sedan
Review
Pros
cloth seats and good stereo
Love This Car — love the ride, smooth stops, and comforty seat are cloth and nice,, good breaks and very smooth ride ,, nice stero. love the color blue with graey interior,,, fun to drive. gift from my bf,,, best car i have ever owned,,, all mine
Primary Use: Commuting to work
Italia210

writes:
1998 Ford Contour 4 Dr SE Sedan
Review
Pros
If you are poor and cant afford anything else like me.

The Car Is A Pos But It Gets You Where You Need To Go. — Just an A to B car. Car needs work but it has power windows, power locks, ABS brakes, it has a large boot, the parts are high to average priced, its roomy, smells like mildew sometimes and it gets decent gas mileage.
Ross

writes:
1998 Ford Contour 4 Dr GL Sedan
Review
Cons
Poor front coils, short timing belt life on the 2.0L.Had to find or expensive parts
Not Bad...not Great, But It Does Get Down The Road Everyday — Like it becuase it handles good, huge trunk, not bad on gas, and not bad power .Built was okay on this one. not great. in 98 it had, and still has a front appearance that i liked. Ownership has been expensive for what it is. Yes it is a fun car to drive
Primary Use: Commuting to work
Devon

writes:
1998 Ford Contour 4 Dr SE Sedan
Review
Pros
Fun, Quick, Big Trunk
Big Fun At A Cheap Entry Price That You'll Pay For Down The Line — The V-6 with a 5 speed and a decent set of tires makes this car the premier vehicle for running from the cops with 3 of your friends. It will eat any stock Japanese 4 cyl in the straight line, and can out corner all but the sleekest of coupes. It's difficult to have more fun in a vehicle for as cheap as you can buy this car now. However, things will break, and they will be expensive. This car was the test platform for such things as a new power steering rack and a radiator that gets installed from the bottom of the car. 30 MPG Hwy / never less than 24 City/racing
Primary Use: Sport/fun (spirited driving, track racing, off-roading, etc.)
Alyssa

writes:
1998 Ford Contour 4 Dr GL Sedan
Review
Pros
i cant drive it right now....
Cons
that is doesnt run right....
My Car — timing isnt set right so im only runnin on 3 cylinders instead of 4........ my fan dont work so my car overheats...... my two back windows are only tinted and not the very back cause i screwed up tinting the back window......its got a big dent in the driver side back fender..... theres only one speaker that works.....its drives alright but bogs when u first take off and when ur trying to speed up out of town and u push the gas to quick it jerks.....
Primary Use: Family transportation
Matthew

writes:
1998 Ford Contour 4 Dr SE Sedan
Review
Pros
Great on fuel, peppy, fast with the MTX
Cons
Wheel bearings go really often
Displaying 1 - 10 of 24 1998 Ford Contour reviews.
Reviews From Other Years
Contour
Well Its a FORD so its gotta be a great car the power of this cars 2.5L v6 is kinda slugish in the low RPM Range but get it wound up past 3500 and shes ready to go. I love driving this car and I would... Read More
Best Car I've Owned
I have the V6, and I absolutely love it! I average 24 mpg, and I am pretty hard on it. It is much faster than the 4 cylineder, and I have had almost no problems. Performance is great for a sedan. ... Read More
Read all

5

2000 Ford Contour reviews
Good, Depends On Who You Buy It From.
I bought it from a lady. I didn't get title. I got the car to work. It did good. There were minor problems, I blame more on the previous owner not taking care of it. Generally it was a good car. Read More
Worst Car I've Ever Had
This is the worst car I've ever had . For a 2.5l v6 the engine sucks . The dash peels back cause ford sucks and pretty much the rest of the car is freaking terrible . I can't wait till I get a new car... Read More
Read all

13

1999 Ford Contour reviews
Runs Good, Needs Some Work.
It just has a 4-banger 2.0L 65,000 miles on it. It runs alright but, we got a motor swap, same motor & tranny. the motor died at 50,000 miles. Its not to fun to drive. Runs good tho. The interior smel... Read More
An Awesome Car.
Despite being a lowly GL ATX I4, this car was fun to drive and very comfortable. The build quality was somewhat mediocre, and reliability was overall good, but the CD4E ATX seems prone to catastrophi... Read More
Read all

10

1997 Ford Contour reviews
Decent Enough Car To Recommend To A Friend.
poor acceleration of the line, but rides decent at 70 mph. decent handling even when you power into the corners. the 2.0L engine could use a few more horsepower, and maybe more torque. decent interior... Read More
1996 Ford Contour
Bought this vehicle when I lived in Kansas City so my wie could have a better car to drive. It was fuel efficient, was comfortable, but became crampt for longer trips. What I did like about this veh... Read More
Read all

18

1996 Ford Contour reviews
Great Car For Everyday And Solo Roadtrips, Would Recommend A Well-maintained One.
Given to me by my dad for college, it was great. Still today it is the best handling car I've driven regularly. The V6 DOHC was perfect for the car, great for highway driving. Not much space, howeve... Read More
Great Second Car.
Great car for the runs to the store and small trips. Dependable vehicle with minor repair being the only problems. Cramped space when working in the engine compartment. Easy to customize with your ... Read More
Read all

17

1995 Ford Contour reviews
Looking for a Used
Contour
in your area?
CarGurus has

155

nationwide Contour listings and the tools to find you a great deal.