1998 Chevrolet C/K 2500
User Reviews
Displaying all 4 1998 Chevrolet C/K 2500 reviews.
Jns295m

writes:
1998 Chevrolet C/K 2500 Reg. Cab 4WD
Review
Pros
Great for towing and hauling.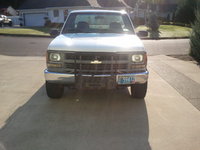 Good Work Truck. — Great truck, looks good, holds up well to wear and tear. Paint and finish also are holding up to the weather. Engine and drive train are still going strong, suspension no problems there. Steering is good. You just have to give the truck a little TLC and she there for you when you need it.
Primary Use: Utility (towing boats, transporting cargo, etc.)
Looking for a Used
C/K 2500
in your area?
CarGurus has
235
nationwide C/K 2500 listings starting at
$5,900
.
paulyork38

writes:
1998 Chevrolet C/K 2500 Ext. Cab 8-ft. Bed 4WD
Review
Pros
It is a nice looking drivable pickup.
Cons
I havent found a flaw in it yet.

We Love It And The Jobs It Did For Us. — Runs great. Easy acceleration, Brakes are good. Handleing is fine. Build quality has needed repaired is cruise control we havent got fixed yet. Has a new timing chain, ball joints, shocks, oxygen sensors. 400.00 FOR REPAIRS. Gas mileage is 18-20 on highway and 23 in town. Most the miles on it now are highway miles. it has been driven in the snow to get us around and it did great. Never got stuck and never had a problem with the 4 wheel drive. It is a great pickup.
Primary Use: Family transportation
Brian

writes:
1998 Chevrolet C/K 2500 Ext. Cab 6.5-ft. Bed 4WD
Review
Fun Truck — 7.4 litre big block three inch body lift tucking 38s great running and driving truck. could tow anything. ex fish and wildlife truck. came with spotlight. great fun to drive and comfortable for long trips. got 8 mpg highway and 6 in town
Primary Use: Commuting to work
Tom

writes:
1998 Chevrolet C/K 2500 Ext. Cab 8-ft. Bed 4WD
Review
Cons
too much rust and gas
Overall The Vehicle In General Is Perfect For Everything It Is Perfect Hd Truck — I bought it used. It was a great pick-up when it was working. it was a state owned plow truck in Nebraska. If i got it new i would be SO happy. It is an awesome vehicle :) The truck Was a Heavy Duty
Primary Use: Sport/fun (spirited driving, track racing, off-roading, etc.)
Displaying all 4 1998 Chevrolet C/K 2500 reviews.
Reviews From Other Years
Awesome
Its a great truck and i recommend it. It pulls really nice and it drives great in the snow i drive it everyday and it is very reliable i put dual exhaust on it and straight pipped it it sounds great Read More
Generally A Good Solid Work Truck.
I've had this truck since 2005, now 9 years. It has 106,000 miles on it, about 60% off-road. (Its a 2005 model, the box above wouldn't let me put in 2005.) All the light weight plastic has fallen apar... Read More
Read all

9

2000 Chevrolet C/K 2500 reviews
Chevy Trucks Are Built To Withstand Abuse.
This truck is a very dependable vehicle for me. I drive it daily even though it may have what some people call important repairs that need to be done it still pulls through everyday and gets the job d... Read More
Read all 1999 Chevrolet C/K 2500 reviews
Perfect Hauling Truck
its honestly a nice truck i love it its a tank off road its got plenty of power with the 6.5 Turbo Diesel its also got the lift gate and a 8ft fisher plow and it has never let me down Read More
Every Nice Truck.
It as a 4 inch exhaust form the trubo back. A K&N cool air intake. lots of power, gas mileage is okay, good braking, acceleration is good, handling is good, maintenance is not bad, a reliable truck ... Read More
Read all

3

1997 Chevrolet C/K 2500 reviews
C/k 2500
It is a truck that you just know that will last for many years to come. Take care of it, it will keep running for you. It has the power when you need it. It is a little hard to handle sometime when pa... Read More
Excellent Pickup
Really good truck cant complain.. bought it with 230,000 miles ruffly its still going strong. put new igniton coil on it thats it so far working on cap rotor and plug wires....Truck isnt the greatest ... Read More
Read all

3

1996 Chevrolet C/K 2500 reviews
The Chevy 5.7l Is The Best Motor Out Their For A Small Block.
I've put alot a miles on this thuck and every morning she starts up. The truck is very comfortable and has alot of room for big people. The parts for the truck are very reasonable price. My daughter l... Read More
Great Truck For Anyone Who Works, And At The Same Time Has 2 Bench Seats So Its Perfect For Friends
Acceleration is not so great, but thats too be expected. Has over 200,000 miles on it and is still running strong though so its a great quality. The gas mileage is not that great but cost of maintenan... Read More
Read all

6

1995 Chevrolet C/K 2500 reviews