Average Ratings from

32

reviews
Performance:
Appearance:
Build Quality:
Overall:
Review Highlights
Click to filter reviews below
Displaying 1 - 10 of 32 1998 BMW M3 reviews.
Iconicautoexchange

writes:
Pros
Well balanced car, great handling, great sounding engine
Cons
Could use more power

Bmw E36, A Great Driver — The E36 BMW M3 is an iconic vehicle, it handles well and keeps up with most vehicles from that era. Its great for a weekend track day or driving it around town and with the reliability of the inline six cylinder it wont leave you stranded!
Primary Use: Sport/fun (spirited driving, track racing, off-roading, etc.)
Wein1830

writes:
Pros
Reliable, fast, fun, wouldn't buy anything other than a BMW after owning this car.
Cons
BMW parts and service are more expensive than an average car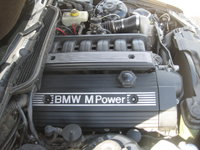 Great M3 — Car is really fun to drive, faster than the newer "muscle cars". I originally wanted a 68' Camaro, but couldn't get a standard car loan for a car older than 81'. Somehow I ended up with a 1998 M3 after looking at Ws6's, GTOs, and early 2000's Camaros. In the end, I am glad I chose this car. I haven't seen another one quite like it in the 6 years I've owned it. I also have a newfound respect for the quality of machine BMW makes. I would be hard-pressed to buy any other brand after owning my M3.
Primary Use: Sport/fun (spirited driving, track racing, off-roading, etc.)
Eric

writes:
Great Drivers Car — The M3 sedan really is a 4-door sports car. I have most of the practicality of any other sedan, combined with an amazing driving experience. The power is pretty good, but compared to a lot of newer sports cars it's underpowered. I would say the single greatest asset of the E36 M3 is the chassis. A month after I bought the car I took it to the track for an HPDE and was surprised at how easy it was to drive fast. There was a slight hint of understeer, but otherwise it was very composed and extremely fun. The M3 is actually pretty reliable, and parts can be found fairly cheap online, but don't come expecting it to be maintenance free; the key is preventative maintenance. The cooling system is known to have issues, and should be refreshed every 60k-80k miles (new water pump, check the radiator and hoses). The interior is not as good as the mechanicals though: my headliner is sagging a little bit, the little bins on the bottom of the doors aren't completely fastened in the rear, the glovebox sags a little, and if I drive over bumpy pavement at the right speed the sunroof will start to rattle. I average about 21-22 mpg with a commute which takes me up and down some pretty steep hills every day (~40 miles / day). Driving 75 on the freeway will get me about 26 mpg, and if you have the patience, you can get close to 30 mpg driving ~60-65 mph. But does any of that *really* matter when you have an M3? No...not really, just take it for a drive down some twisty roads and nothing else matters.
Primary Use: Commuting to work
Justin

writes:
Pros
the look of my car always makes me smile
You Can't Get Better Than This — this has to be one of the best cars you could ever buy even though it's 13 years old it will still out perform most of the new hot hatches without any problem. The only problems you will find is it drinks fuel and BMW dealer servicing can be a bit costly but it's well worth it
Primary Use: Commuting to work
Adam

writes:
Pros
Power, sounds great, handles very well
Cons
Expensive to maintain
E36 M3 — I love my M3. It has 130k and feels just as strong as when it had 40k and I had first purchased it. Cosmos black on black interior is sinister with tinted windows, blacked out grills and dark grey 18" wheels offset front to rear. It is lowered, with Dinan cold air intake and large throttle body, Dinan programming, AA track pipe and Borla exhaust for awesome sound. I also installed a Z4 6 speed trans for 160+ mph top speed(verified 3x). The car just fits me like a glove and always does what I expect- no surprises during spirited driving. Even though the maintenance costs are high, it is definitely worth it, very few cars combine power with handling as well as this one. Still gets compliments, too.
Brian

writes:
Pros
Performance is amazing, handles like a dream, accelerates on and on.
Cons
Eats gas (who cares?), parts can be expensive, eats tires (it's worth it).
Hold On... — I moved up to the M3 from the 328... what a difference. I have owned for a little over a year now, no problems that I haven't been able to fix myself. It will be hard to match this car. I am currently thinking about an e46 M3 maybe next summer. I don't think I would be able to go down from the M to a non-M.
Car_Man_Dan

writes:
1998 BMW M3 Convertible
Review
Pros
Everything about his car is great!
Cons
none (aside from the water pump)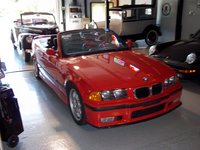 Fun To Drive, Top Up Or Down. Good Build Quality — I love this car! it was my 1st car when i got my license. I haven't had any major problems with this car, aside from the water pump issue which plagued the E36 3-Series. It still has great pick- up for its age.
Primary Use: Sport/fun (spirited driving, track racing, off-roading, etc.)
Andy-Monkey

writes:
1998 BMW M3 Convertible
Review
Pros
Fun, sexy and will make you smile from ear to ear. Plus it's a proper head turner too.
Cons
Losing your license is very probable if you can't tame your right foot
A Great Car Through And Through But Not For The Feignthearted Or Economists — I love this car because you feel very young, almost like the time when you first got into the out run game at the fair and thought you were really driving. Performance is fantastic but if you drive hard it drinks hard, very hard. Build quality is very good, it is German after all. I personally like the minimilistic look of the E36 interior but it may not suit everyone. Not as expensive to run as i thought it would be, some parts are expensive but some are suprisingly good value. for me this is deffinately a very fun car to drive but go that little bit too hard and it will bite you!
Primary Use: Commuting to work
Nick

writes:
Cons
not the cheapest unit on the road
Still Worth The Money Though Any Year M3 — u kinda have to drive one to understand, that's about all i can say, hard car to describe, but it handles well, accelerates well and doesn't look too shabby.....but you really can't go wrong with a bmw now can ya??
Primary Use: Sport/fun (spirited driving, track racing, off-roading, etc.)
Carlos

writes:
1998 BMW M3 Convertible
Review
Pros
Top down punani factor
Great Fun — Love driving top down, great acceleration, nice style and a lot of fun. I bought this car for 12,000 with 68k Miles on it. Had to buy a new suspension for $1.6k. Had a few top issues which I fixed for under 1.2k. I love this car.
Primary Use: Commuting to work
Displaying 1 - 10 of 32 1998 BMW M3 reviews.
Looking for a Used
M3
in your area?
CarGurus has
1,074
nationwide M3 listings starting at
$3,495
.