1997 Saturn S-Series
User Reviews
Average Ratings from

56

reviews
Performance:
Appearance:
Build Quality:
Overall:
Review Highlights
Click to filter reviews below
Displaying 1 - 10 of 56 1997 Saturn S-Series reviews.
Dexturn

writes:
1997 Saturn S-Series 2 Dr SC1 Coupe
Review
Pros
Sporty looks, responsive climate control.
Cons
Overall operability, challenging traffic sightlines, uncomfortable seating, limited cargo.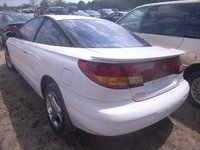 High On Looks, Low On Value — Sporty but proving expensive. Corners like a boat, parallel parking is a nightmare. Multiple blind spots due to window placements, heavy doors, low-to-ground seating. Bought this in the summer and it performs well when the weather cooperates; when winter sets in it's white knuckle driving. Owned other Saturns before so, while flaws are many it remains manageable.
Primary Use: Family transportation
Looking for a Used
S-Series
in your area?
CarGurus has
924
nationwide S-Series listings starting at
$1,500
.
Cristina

writes:
1997 Saturn S-Series 4 Dr SL2 Sedan
Review
Pros
Gets me from A to B. Barely.
Cons
That someone would be desperate enough to buy one of these.
My Little Saturd — Overall: Hate it, mostly for the fact that I had to buy this piece of crap from my dad for $500 on the same day he just had to buy a $30k SUV for my stepmom. However, I will admit, it runs and that's all I need right now. All the same, it would be nice to have something want, not just what I need. Performance/Fun Factor: This car is fun to drive if you have the same tolerance for acceleration as a small slug traveling up a window. I have about 3 inches in either direction from dead center on the steering wheel in which nothing happens. Nothing. I've never tested how long for 0-60, but I'm sure it's about the same amount of time it takes for Jeff Goldblum to finish a sentence. Build Quality: None. Appearance: Aside from the square (think Uma Thurman in Pulp Fiction) headlights, the rest of the car is groovy. The backseat is comfy if you have no legs. The front seats are just a little too deep for my liking; I feel like an old woman struggling to see over the dash unless I put a pillow under my bum. The dash really is not that bad, in some places it looks a bit like Princess Leia's helmet when she's disguised to save Han Solo from Jabba. Cost of Ownership: I could have bought another used car, a much more lovely and non-American used car, for the money that has been spent on this machine. It's on it's second engine. The transmission kicked it not long after I got it. The entire cooling system had to be replaced. I get high-mileage oil changes. New tires, will have to replace the brakes soon (not because I like the car, I just don't want to die in it, how embarassing!), and have to buy air fresheners to cover up old dog smell. MPG is fair, can't really get an accurate number since the gas gauge has crapped out on me. I can get about 290 on a tank before the light comes on.
Acadia_32273

writes:
1997 Saturn S-Series 4 Dr SL2 Sedan
Review
Pros
You're desperate for a set of wheels.
Cons
It's a piece of crap.
Only Buy It If You Really, Really Need A Car. — The handling makes me nervous to drive in slick conditions. The gas mileage is annoyingly low for a saturn. This car is not fun to drive at all. It sucks to drive this thing. It looks okay, I guess, kinda.
Primary Use: Commuting to work
sciteacher

writes:
1997 Saturn S-Series 4 Dr SL Sedan
Review
Pros
Good on fuel, sunroof
Cons
Hard to drive manual in the city.

Simon

writes:
1997 Saturn S-Series 2 Dr SC1 Coupe
Review
Lol — not too bad and economic for fuel no rust, really cool to drive this car is pretty awesome to drive on high way or in the city good handling, good performance, good braking when you have good tire ;) lol . really funny
Primary Use: Commuting to work
Ron

writes:
1997 Saturn S-Series 4 Dr SL2 Sedan
Review
Pros
-Great gas mileage, even with age
-Simple engineering
-Keep after it and it can reach half a million miles
-No rust problems on the body
-Still has dealer support, you can always get parts if you need them
Cons
-Performance not that great
-Engines use oil as the miles pile up
-Interior is a little bland
-Early (pre '95) models have 'active restraint' seatbelts, the kind that slide forward when the ignition is turned off. These often fail and get stuck in the off position, making the car unsafe
-OBD means you better have some type of code reader if you want to fix it yourself
No Rust, Great Mileage, Simple — For me, the Saturn SL2 has been the closest modern equivalent to my Beetle; with a 1.9 liter engine it's by no means a speed demon. But much like Toyota's, Honda's, and many other imports, these cars seem to run forever. I received this car from my mother two years ago when she bought a new car; at that time it had 107k on it and wasn't worth selling. Or at least we didn't think it was; i recently checked blue book value and it's actually pretty good. One thing you'll never have to worry about with these car's is body rot; this car was the 2nd to last or last year for Saturn's cars being unique, which meant that had the dent resistant panels. Kid you not, at age 12 i walked across a door in a dealership and the panel popped and bowed, but didn't dent. The whole body, with the exception of the roof, trunk, and hood are plastic. Obviously the internal structure is steel, but you'll never have to worry about body rust. Rust on the unibody you might, but as long as you keep after the car it will last a long time. At the time of this writing, this very Saturn has 135k on it and is still running strong. As stated above, with only a 1.9 liter 4 cylinder, this car isn't exactly a pocket rocket like modern cars, but then again who races a Saturn? And with an automatic tranny behind it, you wouldn't want to really stand on it; i've had to do it a few times and the tranny hasn't been very happy, hunting between gears as i was trying to accelerate. gas mileage is great; even 11 years on the car still pulls in 34 - 36 mpg in mixed driving. It used to get around 40+, but the miles are starting to add up and are taking their toll. One caution i will add is that Saturn engines like to use oil as the miles start to pile up; they don't burn it, it just disappears. The oil control rings on the pistons start to stick as the engine gets older, and oil begins to seep into the combustion chamber and be burned. Not enough to produce blue smoke, but enough that you start to use oil; you have to check these cars every week to see how the fluid is. It's not uncommon for Saturns to reach 200k miles and up, but at that stage they start using oil like gas; consumption over 1 quart for ever 1000 miles is not uncommon over 200k, and even at 130k the cars can use some. Mine hasn't (matter of fact it's using almost none; last oil change i went 3000 miles and used a half a quart of oil) Overall, a good first car for highschool or college kids, and can even last you into the years after college until you can afford something better
shi98013

writes:
1997 Saturn S-Series 4 Dr SL2 Sedan
Review
Pros
MPG and handling. 227,000 miles and still going.
Cons
small, gutless, over time burns oil

Reliable Commuter — I have enjoyed driving this car. It has been reliable. Once around 200,000 miles started to top off oil when refueling. only issues is sometimes hard to start, 1 power window periodically fails, 1 electrical short, and now tends to run hot. Other expected maintenance, replace alternator, starter, battery, tires...
Primary Use: Commuting to work
J Hackett

writes:
1997 Saturn S-Series 4 Dr SL2 Sedan
Review
Pros
Good on gas. Reliable. Small and light. Room enough in the trunk for two sets of golf clubs and a normal sized cooler. Good road-holding. Fun to drive.
Cons
My first gear is hard to manage, but it's only mine. Other I have driven don't have the problem. Burns oil like it's cheap. Interior plastic and radio ARE from the discount bin, but they've got character that I have grown to love. The alternator goes out once ever 120,000 miles or so. The AC isn't ice-box cold. If the front passenger and driver aren't 5'6", the back passengers need to be little people. None of this matters to me for two reasons: I'm always the driver; and I'm getting 30mpg when gas is $3.80
Reliability, Reliability, Reliability. — I just rolled over 170,000 miles and am still getting 30-32mpg. The roof, hood, and trunk are steel, everything else is plastic. I have hit two deer (and one hit me), and the only damage is a missing fog-light port cover (I don't have fog lights), and a broken marker light cover (the light still works!). the seats are "cloth," but somehow waterproof. If I leave my windows open and it rains, all I have to do is wipe the seat off with my hand and poof, dry seat. It's a quick little car once you get up to the power-band (in my old engine, about 3500rpm).
mpmied

writes:
1997 Saturn S-Series 4 Dr SL2 Sedan
Review
Pros
Above average acceleration; excellent fuel economy; easy maintenance; great commuter car
Cons
Troublesome audio systems; get an after market unit!

Love Those '97 S-series Saturns — This is the second '97 Saturn I own. My first was an SL1 that my son drives to college now. I missed that car and bought an SL2 as my commuter. I get above average acceleration and good fuel economy (26-city; 35-highway)for the engine and transmission combination (DOHC with 4-speed automatic). It has 90,000 miles and has used up about half a quart of oil to date. Classified as a compact car, it's just what I need. I'm a teacher and an amateur violinist. The trunk is big enough to fit four music stands and there's more room when you lower the rear seat backs, enough for a cello, a viola, and two violins, plus the four music stands. What do I love about this car? Cold air conditioner (needed in South Texas), easy to park, easy to service (I do my own), inexpensive up keep, inexpensive parts (when needed), and best of all: it was made in the good ol' USA. The SL2 has better seats and better handling with bigger, wider tires compared to the SL1. I don't have any complaints about the '97 S-Series Saturn and they make great in-city runabouts. I do take exception to their audio systems. The CD player is not the best out there.
1st_Mitsubishi

writes:
1997 Saturn S-Series 2 Dr SC2 Coupe
Review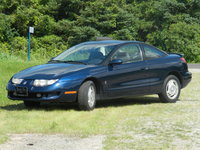 Surprised By This Fun Little Car. — I never really looked at these cars before but after buying this one to flip, I'm pretty impressed with the style. It doesn't have much for power but it is still fun to drive. Nice and low to the ground. If it doesn't sell I won't be upset and will likely end up driving it. Better gas mileage than my truck.
Displaying 1 - 10 of 56 1997 Saturn S-Series reviews.
Looking for a Used
S-Series
in your area?
CarGurus has
924
nationwide S-Series listings starting at
$1,500
.