1997 Pontiac Grand Am
User Reviews
1997 Pontiac Grand Am Review Ratings
Average Ratings
from 51 reviews
Performance:
Appearance:
Build Quality:
Overall:
Review Highlights
Click to filter reviews below
Displaying 1 - 10 of 51 reviews
Chris

writes:
1997 Pontiac Grand Am 4 Dr GT Sedan Review
Pros
Reliability, Cost, Fuel Economy, Avalible Parts
Cons
Performance, Commoness
Bullet Proof Piece Of Sh*t — Pretty good car for what i paid for ($2000). Takes a lot of abuse (trust me). Takes a corner well, acceptable amounts of bodyroll for car, tires slip like none other, but that can be fixed. It has significant amounts of oversteer, and some torque steering. Decent performance with the 3100 V6, 155 HP/150 ft-lbs. 0-60 in my own test averaged about 9-9.25 sec, slightly slow then new, but what do you expect with over 100,000 miles on it. Fastest I've gotten it is 115mph, dont know the top speed. Gas mileage is about 21 in mixed driving with lead foot. I've never replaced any part on this car with the exception of the stereo (aftermarket) and bulbs. Body is decent, it looks ok from a design stand piont, but it has tons of hail dents. If you ruin any part of the car you can easily find parts to fix it due to the extreme amount of them built.(i.e. mirrors, altenator, panels, interior parts, motor) The dual exhaust is neat, along with the 16" low-pro wheels and tires. Interior is good with ample space for tall people (i'm 6'4), back seat sucks for anyone. Plastic everywhere on the interior. At night the gauges and panels have red glow, pretty sporty. The stock stereo is good. It has two 4x6 speakers in the front doors, two 6x9 speakers in the rear deck. The head unit is a AM/FM/Casette/CD that has equalizer switches. The volume knob has a mind of its own though. Over all this car is a pretty good car, decent performance, still modern and sporty exterior, and ok interior. I would recomend this car for anyone looking to get a first car or something you would want to build into a sport compact racer, it works well for both.
Looking for a Used

Grand Am

in your area?

CarGurus has

2,922

nationwide Grand Am listings starting at

$1,295

.
whitegrandam

writes:
1997 Pontiac Grand Am 4 Dr SE Sedan Review
Pros
Reliable, good on gas, decent power, can make it through winter well, cheaper vehicle, solid engine, cruise control, comfortable seats, can rack up miles, great for trips, sporty look.
Cons
Steering, corners, eats through break pads, like to heat up on you, long hood, not much space, small back seats, small passenger seat.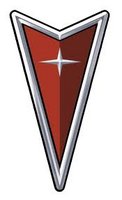 Solid Car Overall, Gets The Job Done! — I own the 2.4L v-4 automatic edition. She has 162k+ miles. Have owned her since 15. Now 20. I have fixed many different things on the car. Nothing more than once, minus the brakes. Not a bad look. Pretty proud of my grand am, keep it cleaned and well maintained and it paid off. This car has a lot of power left. I think it will rust out before it dies. Upstate NY winters aren't fun for that aspect but I find if you are safely driving you can make it in some tough snow/ice. For a 2.4L it picks up and goes. I'm still able to max out at 115. It never leaves me stranded. Only twice, my starter went, and my ignition wouldn't give me my key so I had to leave the key in it causing the battery to die needing a jump. Pretty simple car to park. A bit longer than others. If your buying this car know that you will eat brake pads. Be sure to solve any issue/noise right away as this keeps the car at it's maximum potential. I don't like the handling. Taking slow turns is a must. My steering wheel always goes off to the right or left. Avoid pot holes at all cost.Small back seats make it not a family car. Passenger side is such a small area. Back seats don't go down. Bumpy ride. My transmission is in pretty good shape, little pull but nothing major. I do suggest this car to people. Be sure to maintain and it will give you the ride of your life.
Primary Use: Commuting to work
Amber

writes:
1997 Pontiac Grand Am 4 Dr GT Sedan Review
Pros
I loved the awesome black interior with the red accents and "wild cherry" accesseries.
Cons
I dont think that there was anything that I hated about this car.
Bottom Line- Great Car — I love the interior and the exterior of the car. Its performance was very good, as well. Cost to own this vehicle was very affordable. I also love to drive this car because it was a good looking car with a pretty good engine under the hood.
Primary Use: Commuting to work
Ethan

writes:
1997 Pontiac Grand Am 4 Dr SE Sedan Review
Pros
Above average quality in every aspect
Cons
Not made to last more than 200,000 km
Imo — For a first car, I really enjoyed my grand am. The overall performance of it was pretty well up there but needed a lot of work done to the wheels for brakes and such. Gas mileage wasn't too bad, only had to fill up once I reached Calgary. It was my daily driver and it did the job well. Overall comfort wasn't too bad, cup holders weren't that big but I don't usually have pop or juice when I am driving so I am not complaining. Bought the car with 192,xxx km on it and the car was wrecked in a car accident from extreme weather conditions after owning it for about a year. I made the car my own by replacing the audio system with aftermarket hardware and added some extra bass in the trunk. All in all, I wished that I still had that car because it was a car that fit my personality.
Primary Use: Commuting to work
Nick

writes:
1997 Pontiac Grand Am 2 Dr GT Coupe Review
Red Rita — After my Neon experience, I began looking to a manual transmission. My red Grand Am GT was perfect (except for the 2DR style). It handled great and lasted forever. Upon my return from Iraq, the A/C shot craps and I had to decide if I wanted to fix it or trade it in. It was low maintenance and fun to drive
David

writes:
1997 Pontiac Grand Am 2 Dr GT Coupe Review
Pros
its american made everything is good. when you drop hammer it goes. when you have to turn fast it throws you around a turn.
Cons
if you mess something up it will take out other things as well. everything is linked together closely. like if the dog bone (torque damper) goes your output shaft goes then your front end alignment is jacked.
Reliabilty, Speed, What Else Coule You Ask For — from day one the car was an awesome sports car. with very little work to the suspension it corners like a dream. 80+ on almost a ninety degree and the car just rips apart the turn with just sport springs and a set of traction ta tires. with a pair of performance mufflers its give that low growl from the pipes that reminds you of a muscle car firing up. put an air intake on it and it gets real throtty on the low end and increases and already great throttle response.
physix101

writes:
1997 Pontiac Grand Am 2 Dr SE Coupe Review
Pros
This has been a very reliable car, with low maintenance needs.
Cons
The paiint job isn't that great anymore

Great Runner — Until this problem with the lock cylinder, the care has been great . It only needs work occassionally and gets good gas mileage. The suspension has been good despite it's age. Recent maintenance has included front brakes, tires, battery, plugs, and MAP sensor.
Primary Use: Commuting to work
sandy1015

writes:
1997 Pontiac Grand Am 2 Dr SE Coupe Review
Cons
AC does not work, issues with windows being off track, not a good looker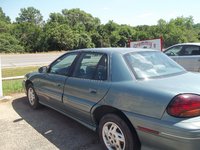 Cheap Work Car — This is a 1997 Pontiac Grand Am, cheap work car, has new AC compressor however, still does not work, someone said something about an expansion valve? Have issues with the windows getting off track, however if you need an inexpensive vehicle to drive back and forth to work, it will get you there.
Seán

writes:
1997 Pontiac Grand Am 4 Dr SE Sedan Review
Pros
Fast, easy to drive, 600 km's/tank
Cons
Cheap interior, cramped driving position
Decent For A 15 Year Old Car — Fast, but very plastic-like interior. Decent on gas. 2 months of owning this car and very low maintenance cost. Overall car is practical. Easy to drive as it is very low to the ground. Would recommend to anyone. Keep the pontiac spirit alive!
Primary Use: Commuting to work
Carrie

writes:
1997 Pontiac Grand Am 4 Dr SE Sedan Review
Pros
Still rockin' the cassette tapes
Cons
It's got a lot of work ahead of it
It's Good For The Time Being... Great First Car... Can't Wait For A New One Though! — Braking needs a lot of work done to it yet. I've been having problems with the rear drum brakes locking up when I barely press on the brakes. The front rotors must be warped because there is definite shake-age. I have had more repairs into this car than you can imagine. It now has a new fuel filter, fuel pump, starter relay, I believe the 3rd relay is now replaced, new battery, ground wires had to be re-done and there is a shortage somewhere that I'm about to get looked at, It is now burning oil. I have had issues with the RPMs spiking and then the car shutting down. The car looks fairly good. No vanity rust but the clear coat is peeling off at the edges especially. Gas mileage is about 20 MPG. Typical maintenance. The car is fun to drive on back roads. Things get really interesting when ya pull the e-brake at night... headlights turn off... found that by accident. Good times!
Primary Use: Commuting to work
Displaying 1 - 10 of 51 reviews
Ask CarGurus about the 1997 Pontiac Grand Am
Average response time:
8.5 hours
,
# of Pontiac Grand Am owners:
5,516
Looking for a Used

Grand Am

in your area?

CarGurus has

2,922

nationwide Grand Am listings starting at

$1,295

.