1997 Mazda Protege
User Reviews
Average Ratings from

14

reviews
Performance:
Appearance:
Build Quality:
Overall:
Review Highlights
Click to filter reviews below
Displaying 1 - 10 of 14 1997 Mazda Protege reviews.
LJWolfs

writes:
1997 Mazda Protege 4 Dr LX Sedan
Review
Pros
Gas mileage, easy to park, fun to drive, comfortable, reliable.
Cons
Not a lot of power (especially when the AC is on), 2WD is a bummer in Seattle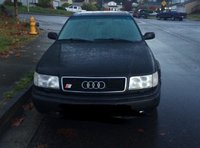 Great Daily Driver. — I easily average 30mpgs even in Seattle rush hour, and for being a pretty small economy car, it's actually pretty fun to drive. I have the 5-speed manual, and the gears shift smoothly, and even with it's under-100hp, I still find myself yawning at the cars in front of me on an onramp to hurry up and get to 60 already. Fairly easy to service for the most part. The inline 4 is a piece of cake to change the plugs on. The seats are comfy (at least for me, a 5'7" female), and the controls simple and intuitive. The trunk is roomier than it looks, too. It's a small car, but I've been able to move at least medium furniture (dressers and the like) while in college. All in all, a great little car. I did have a phantom check engine light for several years that would come on and off intermittently without throwing a code. It drove me nuts. Of course, it turned into "the light that cried engine," and I ended up ignoring it for probably a lot longer than I should. Eventually it turned out I needed to replace the catalytic converter, of which there are TWO. Why such a small, high mpg vehicle needs two is beyond me. It cost probably more than the value of the car to replace them, and that was with a colleague that cut me a deal. Now that the catalytic converter(s) and the spark plugs were replaced, though, it runs like a dream.
Primary Use: Commuting to work
Rahul

writes:
1997 Mazda Protege 4 Dr LX Sedan
Review
Pros
If you are looking for something cheap,fun to drive, with good mileage.
Cons
no gadgets, shabby exterior looks
Its Worth The Money You Spend On It .... Long Lasting Too — Thou the car doesn't have neither striking looks or gr8t specs... but its worth the money you spend. i own a manual gearbox one, its fun to drive with a reasonable acceleration and top speed of 105 mph. Interiors are a pretty decent, doesn't have any exciting gadgets to play with. Mileage: City: 23-26 mpg Highway: 30-34
Primary Use: Commuting to work
sunbee

writes:
1997 Mazda Protege 4 Dr LX Sedan
Review
Pros
nice looking car (I have one with a spoiler & tinted windows), good size car, great on gas!
Cons
The transmission & whatever else my car has going wrong. Oh and the cup holders really are a joke!

Great Millage On A Tank Of Gas. This Car Pulls Way To Slow! — I bought my car when it was only 5 years old had it now for 8 years and it has had a lot of trouble already. Pretty much right from the beginning I had engine problems, the car turned off during driving and split seconds and on again than it just keept driving. Also many times brought it to check the computer never found anything. My car just seamed to have a ghost in it. Now it just jerks me to the front whenever it feels like it. It's an automatic and the shifting is pretty bad. I like my little car but I hate it that it does this. I think I might have got a lemon. Nobody seams to know what the problem is. I have had to move over to the shoulder to park my car and turn it off to make the problem stop. My car would change itself to nutral on the dashboard but not on the stick itself. How rediculos is that!!! To fix this problem I had to turn off the car and wait than turn it back on!!! It happen many times on the highway and during busy traffic in the city!!! I am thinking of buying a different car now but not sure what yet. So I still put up with this how pathetic is that?
Primary Use: Family transportation
Tom

writes:
1997 Mazda Protege 4 Dr LX Sedan
Review
Its Awesome — its a great car no doubt...its got great accleration and braking it handles well at turns it is just like a dream car the interior is groegous . the emergency brake works perfectly the shitfting is fine the transmission is perfect no slipping or anything the gas milage is perfect also
Shawn

writes:
1997 Mazda Protege 4 Dr LX Sedan
Review
Cons
If you're a big person it will be somewhat crampt
Go For It — Got very nice gas mileage, and got out of its own way pretty nicely. I can't say too much beyond that because 8 days into owning it I swurved into a guard rail on a rainy day. Oh, well. Life goes on.
Primary Use: Commuting to work
slelgan

writes:
1997 Mazda Protege
Review
Pros
solid build, quality make, good acceleration for the size
Cons
nothing, seats could be more comfortable but can't complain as I've put 140,000 on the car

Great Car — Had it for 7 years and put 140,000 with no issues other than changing out brakes and batteries. Great car. It is a comfortable car that has needed little maintenance. I've been waiting for the clutch to go out, but it just keeps on going.
Nick

writes:
1997 Mazda Protege 4 Dr ES Sedan
Review
Pros
She's economical and gets you from A to B without any trouble.
Cons
Rust and winter driving.
Fun Wheel Drive — •Performance - acceleration is satisfactory, braking is weak but satisfactory and handling is incredibly good. •Build Quality - doesn't need any repair besides your usual maintenance (oil, filters, tires, etc.) but as for any cheap japanese car, the plastic interior rattles when you turn up the volume of the radio. •Appearance - simple, easily accessible and repairable interior and exterior components. Looks good overall. •Cost of Ownership - very economical car (about 40-42 MPG) and maintenance can be easily done thanks to it's very accessible powertrain components. •Fun Factor - this car shouldn't be quoted as a "Front Wheel Drive" but as a "Fun Wheel Drive".
Primary Use: Family transportation
Keenan

writes:
1997 Mazda Protege 4 Dr ES Sedan
Review
Pros
its a car that works and is reliable
My Mazda — its alright very slow but likes to be revved the engine is quite peaky and has no bottom end. the suspension does a good job on a variety of surfaces including gravel at high speeds. The brakes work well once warm just like any other breaks. If coaxed properly the rear end will hang out rather nicely and as long as the driver wants it to hang out. The shifter isnt very good and the shift gates are very close together. The trunk provieds aduquate room for a car this size. The car is comfortable and is good on gas. With a good set of snow tires like the ones that I have on it right now it is a tank in the snow and is lots of fun.
Displaying 1 - 10 of 14 1997 Mazda Protege reviews.
Looking for a Used
Protege
in your area?
CarGurus has
379
nationwide Protege listings starting at
$1,500
.