1997 Mazda MX-5 Miata
User Reviews
Average Ratings from

22

reviews
Performance:
Appearance:
Build Quality:
Overall:
Review Highlights
Click to filter reviews below
Displaying 1 - 10 of 22 1997 Mazda MX-5 Miata reviews.
David

writes:
1997 Mazda MX-5 Miata Base
Review
Pros
gas mileage, great feel, practical design (for class), inexpensive
'97 Miata — My 1997 Miata was a dream. It handled well, had plenty of pickup for it's class, and was a thoroughly designed car. My only sour experience (besides eventually driving it off the side of a mountain) was the plastic rear window. My hand went straight through it one winter while brushing the snow off! Otherwise the car was a dream to own.
Robert

writes:
1997 Mazda MX-5 Miata Base
Review
Pros
Extremely fun to drive.
Cons
Needs a little more omph.
America's Favorite Little Roadster — Althought the Miata has under 150hp that doesn't mean it can't be fun! The Miata has a nicely tuned suspension that allows you full control of the car. (The one I drove had a Racingbeat sway bar). Its exhilirating to run the little roadster through its five speed gear box and feeling the breeze of the cruise.
Ray

writes:
1997 Mazda MX-5 Miata Base
Review
Pros
Fun, Reliable, Easily personalized.
Cons
Too easily personalized, standard suspension is pretty much ready for replacement at 30k miles.
You Can't Stay Mad Driving A Miata — Great car in either stock form or modified. This is my second Miata. I went from a 1.6L (1991) to a 1.8L (1997) which is supercharged and I dont' know how I lived without the extra power even though the 1.6L is plenty enough to cause some trouble. Good for running around town or an all day excursion though your favorite mountain roads.
John

writes:
1997 Mazda MX-5 Miata Base
Review
Pros
fun zippy convertible
Cons
2 seats, its a convertible
I Like It And It's A Great Deal For The Money I Paid — I enjoy the car, mechanically it hasn't given me hardly any trouble and I've taken it on a 2000 mile road trip. It gets good gas mileage and the power isn't terrible, but isn't anything to brag about either. I would like to upgrade the suspension and replace the top, as they are both getting a little worn after being used for close to 14 years. Altogether though a great little car, corners great and would be an amazing driving experience with some serious money put into the engine (perhaps a supercharger or v8 swap?).
Primary Use: Sport/fun (spirited driving, track racing, off-roading, etc.)
Sam

writes:
1997 Mazda MX-5 Miata Base
Review
Pros
Convertible, Asian reliability, blast to drive
Cons
Automatic transmission, just your and a friend
This Is The Classic Sports Car To Own, Love, And Drive For Years And Years. — There isn't a whole lot more to say about the Mazda Miata that hasn't already been said, but you haven't heard it from me! I purchased my Miata from a dealer with 50,500 miles in 2008. CarFax listed the car as having 3 previous owners: 1 year lease, dealer-owned for 2 years, sold to a private owner who put 10,000 miles on it in 7 years. At time of review (11/2010) I have 75,0XX miles. My Miata is a bit more uncommon because it has an automatic transmission. This eliminates the stunning manual transmission the Miata is famous for, and the acceleration suffers greatly from it. It will not be winning any drag races any time soon. However, this is never what the Miata was about. It was always meant to be the small, top-down roadster that had disappeared from the landscape. It handles very predictably, and changing tires from a Grand Touring to a Summer performance tire has payed in dividends. Performing a panic swerve at 65 mph to miss a deer on the freeway at night with little more than half a second notice can only be done in this car. It's almost like driving a go-kart. The same goes for braking. With discs at every corner, it comes to a stop quicker than most everything else on the road. My car does not have the optional ABS, but the pedal is so responsive, that you know exactly how far you can push until they lock. Mazda has been known for much better than average build quality, and the Miata is no exception. I have had no major repairs on the car, other than regular wear-and-tear items. There have been minor, non-essential electrical issues, but it's to be expected with it's age. With an automatic transmission, 87 octane gasoline, K&N air filter, summer tires, and synthetic oil, I am averaging around 25 mpg. This is mostly urban highway driving, and it changes with AC usage and temperature change. The 1.8L enging is very sensitive to change, and it will let you know, good or bad. Another misnomer is that it is too small to be functional. I am 6'1" and I drive this car daily. I also managed to pack an amazing amount of things into it for a two-week road trip through the Rockies. Pictures to prove it!
Serge

writes:
1997 Mazda MX-5 Miata M-Edition
Review
Pros
Cheap, cheerful, discreet, reliable and fun. Try getting that in any other roadster. Next best driving experience to owning a motorcycle.
Cons
Cowl shake (when you get one, you'll understand). Lack of uber fast straight line performance. No factory roll bar.
You Want A Reliable European Open Top Roadster? Buy A Miata. — Performance - out of the box these cars are ready for a great deal of street fun. Older Miatas are plagued with heavier add ons like Power Steering, Air Bag, and Air Conditions. Most of the accessories serve a good purpose and you can still improve handling by getting a coil over kit and sway bars that will make it an instantaneous fun track car. NA engine is weak for muscle car enthusiasts but plenty powerful for sharp cornering. Brakes are great, racing pads and SS lines make them even better. Build Quality - It's a Japanese car, however because Miatas were supposed to be the affordable British roadster, things like the mirrors hood and exhaust shield vibrating are very common. Appearance - Styled to mimic the old Lotus Elan, the Miata looks awesome in every color. Plus the huge market of aftermarket parts makes it very easy to customize and any Miata's appearance. Cost of Ownership - With mid grade gas and averaging 28 mpg, the car is surprisingly economical for something people take to the track. Parts are available, there are a few common mechanical issues that pop up at different mileages but overall, if you keep a Miata properly maintained, it should outlast a lot of newer cars with more ECU guided systems. Fun Factor - It has it.
Primary Use: Sport/fun (spirited driving, track racing, off-roading, etc.)
ptrip6

writes:
1997 Mazda MX-5 Miata M-Edition
Review
Pros
great gas mileage, feels like a go-kart when driving. Makes me want to go fast, and with the color being red, attracts cops. So far no tickets though, just got to be aware of johnny law.
Cons
currently having overheating issues. need to fix headlight motor issue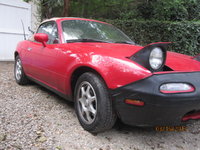 Outside Off Feeling Funny With 2 Guys And Top Down, Maybe Because Its Red — seeing I am 6ft, tall, its tight getting into and somewhat uncomfortable. Once I removed the footrest on the drivers side, that made a world of difference... For those that are tall and have not done so, you might want to try this. I have a luggage rack on the trunk of the car and have managed to haul a lot of stuff with this rack. Also have a small trailer for this car and it actually pulls easily with no problem. I realize this is not meant for that but it works for me.
Primary Use: Sport/fun (spirited driving, track racing, off-roading, etc.)
George

writes:
1997 Mazda MX-5 Miata Base
Review
Cons
Can't take the whole family
Love The Car — Better than an MG. never. let me down in terms of fun factor. Top is easy to take down in an instant. One of the best cars which I have owned for the longest period of time. Easy to work on and very affordable and very available.
Primary Use: Sport/fun (spirited driving, track racing, off-roading, etc.)
Shayne

writes:
1997 Mazda MX-5 Miata Base
Review
Pros
This car is downright fun to drive! Very easy to regain control when having fun.
Cons
super small, no room for the kids
Poor Man's Real Deal Sports Car — No room for anything, but you and your partner and that's even limited. Hop in, drop the top and escape from all your real world problems. Daily commutes turn into adventures that have you smiling ear to ear as long you don't mind wind blown hair!
Primary Use: Commuting to work
ADude

writes:
1997 Mazda MX-5 Miata STO
Review
Pros
Great ride, very fun to to drive and looks very cool.
Cons
At 15 years I bought it with a lot of maintenance issues, but the fun part is that I am learning about the cars.

Fun — I really like driving the car. Wind in your hair, tight turns, quick acceleration. For $4500 its a fun ride, but unfortunately I bought it at a point there it needs some work - flushing all fluids, replacing all emissions components, etc. Nonetheless its a fun ride and hasn't broken the bank yet.
Displaying 1 - 10 of 22 1997 Mazda MX-5 Miata reviews.
Looking for a Used
MX-5 Miata
in your area?
CarGurus has
2,715
nationwide MX-5 Miata listings starting at
$2,495
.