1997 Ford Thunderbird
User Reviews
Average Ratings from

24

reviews
Performance:
Appearance:
Build Quality:
Overall:
Review Highlights
Click to filter reviews below
Displaying 1 - 10 of 24 1997 Ford Thunderbird reviews.
exposures

writes:
1997 Ford Thunderbird LX
Review
Cons
They don't make them anymore.

Rocketship — Takes off like a rocket, there's a reason why they put these engines in police cars. Bought this new in 97 and the body style still looks great. The factory spoiler completes the look. Maintenance is more than reasonable. Put the best speed rated tires on this and in your rear view mirror watch whoever tries to keep up with you on the turns slide off the roadway. Comfortable Leather seats make long rides a joy. Reliable, easy on gas 23mpg overall and a trunk that can hold a boatload of stuff. This car is still going strong at over 200,000 miles. I think I'll keep it.
Primary Use: Family transportation
John

writes:
1997 Ford Thunderbird LX
Review
Pros
The last year of the Thunderbird
The Last Of The Great Thunderbirds — Performance - Same engine as a Mustang GT of the same year but since it is a heavier car and the engine is detuned some it does not accelerate as quickly. Build Quality - Car has the standard suspension rattles of a 130,000 mile car. Appearance - One of Fords sleekest designs that has aged well. Cost of Ownership - 17-19 MPG city/24-26 MPG highway. Relatively low maintenance costs. Fun Factor -I love driving this car
Primary Use: Commuting to work
Cale

writes:
1997 Ford Thunderbird LX
Review
Pros
good looks from the outside. runs very good for a 4500# car. for $350
Cons
air bags deployed due to deer damage but all is repaired but the airbags
T-bird....(thunderchicken) — good car for 350 bucks. runs good with the 4.6l v8 engine option. sets you back in your seat even with 2.73 gears in the rear end. gotta give it credit i guess for having 139,000 miles on the modular v8. it should have quite a bit left in it. ...well maybe. i need to go a little easier on it if i want it to last. my ram air hood is my favorite part of this car. it gives it the agressive looks..so much for a sleeper grandma looking car
NIXOTIMO

writes:
1997 Ford Thunderbird LX
Review
Pros
Smooth ride, strong acceleration, reliable, and low repair cost.
Cons
Rear wheel drive, long pointy front end.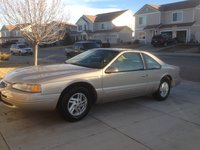 Great Car For A Cruiser Or Commuter Car. — I really enjoyed the comfortable ride quality when driving this car. The interior is nicley set to be user friendly and the seats you could fall asleep in. Front end is too long and pointy. Rear wheeldrive tough in snow.
Primary Use: Commuting to work
Charles

writes:
1997 Ford Thunderbird LX
Review
Chalky — I like the look and the power the vehicle has. Very fun car to drive (V8!!) but there are leaks and electrical issues that ford was aware of when the sold this make and model (check the Internet ) It's still one of my favorite Cars when it works
Primary Use: Commuting to work
Vwags

writes:
1997 Ford Thunderbird LX
Review
Pros
These cars drive great, plenty of power, reasonable gas mileage and very sporty.
Cons
The back seat is tight to get in and out of.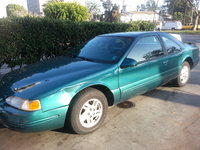 Great Car — This car is a joy to drive. The style is very nice and it has the power and handling to support the style. The car gets surprisingly good gas mileage for a V8. I would think long and hard about getting it if you have to get in the back seat on a regular basis.
Primary Use: Commuting to work
97TBirdOwner

writes:
1997 Ford Thunderbird LX
Review
Pros
Reliable, fun to drive automobile. Four wheel independent suspension rear wheel drive. Disc brakes front and rear. Excellent fuel economy. Quiet and comfortable to drive. Low cost to maintain. Routine maintenance easy to do. Well built.
Cons
Hard to get some of the parts you might want from Ford - it is 18 years old, and they have dropped some parts you might be looking for. But I am confident that I will be able to locate most everything I need through the internet.

Impressive — The Ford Thunderbird in this generation is a very nice mix of performance, luxury, and style. They can be relatively inexpensive if you look around and get lucky. I drive this one daily, and as mentioned before it is fun to drive, comfortable, and gets excellent fuel economy all things considered. I do all of my own "routine" maintenance, and do it with basic hand tools and several specialized tools I have either built or purchased. Costs for most parts such as spark plugs, belt, idler pulleys, starter, alternator, radiator, filters, plug wires, are all within reason.
Primary Use: Commuting to work
Zach

writes:
1997 Ford Thunderbird LX
Review
Pros
Mustang 4.6L V8, Sport Suspension Package, Leather, Roomy for a 2 Door
Cons
Gas, Ignition problems, Not so great condition i.e. rust,dents,scratches!!
1997 Ford Thunderbird Lx Sport V8....my First Car — This car means alot to me and i plan on restoring it one day. I have rode in this car since i was 10 years old and i never thought i would actually own it one day!! It was my aunts car and she passed away from cancer in 2005. I was 14 and 2 years away from my license!! I remember being so excited that i might actually get to drive it!! My dad used it as a commuter car for those 2 years and put just over 25,000 miles on it.(when he got it it had about 75,000 miles) So after i got my license it was mine and i have been loving those Mustang V8 ponies ever since. The car isnt perfect with a big rust spot on the wheel well and the rocker panels are rusting as well. There are multiple dents and scratches. (NONE CAUSED BY ME) Both bumpers (front and back) arent in good shape. One of the cruise switches is broken off but it still works!! Overall the car has been reliable besides an ignition problem, roll bar problem (CAUSED BY ME DOING PWERSLIDES IN MY MIDDLE SCHOOL PARKING LOT...LOL) and a possible valve problem. This is a car i will hang on to forever and someday restore it to what it once was but for now nothing is planned. It is fast thanks to the Mustang V8 and coners well thanks to the Sport Tuned Suspension but its less than appealing from the outside, in the condition it is now!!! FUN CAR TO DRIVE AND PAMPERS YOU LIKE A BABY!!! DID I MENTION ITS REAR WEEL DRIVE....HAHAHAHA GREAT CAR!!
David

writes:
1997 Ford Thunderbird LX
Review
Pros
It's a Mustang without the name.
Cons
Very little bottom-end torque.
A Great Car For First Time Drivers Wanting A Little Speed Out Of Their Machine. — It's a solid car. Under the hood, it packs a 4.6L fuel-injected V8 that, when it was made, put out around 205hp and 290tq. Luckily for me, it's not stock. The best estimate is that it's churning out close to 210hp and 300+ tq, thanks to a cold-air intake, true-dual Flowmasters exhaust, and Superchips Performance programming. It cost me about $2300 when I got it, and has since cost me over a grand in performance parts and maintenance. It sucks gas if your foot is in it.
Primary Use: Sport/fun (spirited driving, track racing, off-roading, etc.)
Brian

writes:
1997 Ford Thunderbird LX
Review
Pros
V8 Really fun to drive!!!!
Displaying 1 - 10 of 24 1997 Ford Thunderbird reviews.
Looking for a Used
Thunderbird
in your area?
CarGurus has
806
nationwide Thunderbird listings starting at
$6,995
.