1997 Ford Explorer
User Reviews
Average Ratings from

37

reviews
Performance:
Appearance:
Build Quality:
Overall:
Review Highlights
Click to filter reviews below
Displaying 1 - 10 of 37 1997 Ford Explorer reviews.
Randy

writes:
1997 Ford Explorer 4 Dr XLT AWD SUV
Review
Pros
Decent work truck, wish it wasn't so rusty.
Cons
Crappy gas mileage. 14 on a good day, 11 in a head wind. I used to drive a Suburban with a 454 that did that...
97 Ford Explorer — Crappy gas mileage with the V-8, has full time 4WD. B.F. Goodrich All Terrain Radial T/A's on it, darned expensive tire, nearly $200 each. Finish wearing off aluminum alloy rims, not impressed. Has moonroof, has leaked, headliner all stained. No rust. Only 85,000 (supposedly) miles. Very rusty undercarriage (New York car)Added a leaf in each rear spring, saggy butt. Welded a crack in the catalytic converter shut, dumb thing has 4 catalytic converters at $200 each, and two mufflers. Over $1000 exhaust system on a $3500 truck. Leather interior nice, has the AM/FM/Casette/6 CD changer radio, crappy AM reception. Wish it had posi-trac like the last one I had.
Primary Use: Commuting to work
Looking for a Used
Explorer
in your area?
CarGurus has
46,689
nationwide Explorer listings starting at
$999
.
StarCruiser

writes:
1997 Ford Explorer 4 Dr XLT SUV
Review
Pros
Everything about it.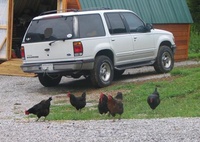 Love Our Explorer! It's The Best!!! — [Original Review: 01/17/09] This is my wife's vehicle. It has 245,000 miles and just keeps on going. Very dependable. She is the original owner and has had no trouble with it. She purchased the extended warranty and never had to use it. It still has the original tranny and engine. As far as maintenance, all we've done is change the oil and rotate the tires every 3k to 6k miles. With high mileage comes some replacement of parts, but they have been minor things like a new voltage regulator or an O2 sensor, but all things considered, you have to expect something to go wrong! Gas mileage is not bad at all, paint finish is good except we had to repaint the black strips between the windows. It's been a wonderful vehicle and we look forward to many more miles and many more years without a car payment!! [UPDATE: 08.06.2014] The Explorer is no longer our primary vehicle but it still gets used quite a bit. Originally it was used for EVERYTHING: commuting to/from work, hauling trailers full of home construction stuff or motorcycles, vacations in excess of 1500 miles, etc. Now it's used for errands and commuting to work when it's raining out. We've got about 700 miles to go to break the 300k mile mark on the original transmission and engine! The heat and air still work perfectly! The gas mileage isn't bad considering the age of the vehicle - gets around 13mpg around town. The compression is reduce but still has some pretty good "get-up-and-go." The only issues that have developed are the electronic door locks are screwy, the hydraulic cylinders no longer hold the back window up, and the lumbar support no longer holds air on either seat. An anti-sway bar, u-joints, shocks, and radiator have had to be replaced; however, we've not had a car payment in so long that it's all worth it! The Explorer still runs great! We call it our "Rescue Vehicle" because it's so dependable and trustworthy, and always available to bail out one of the kids when they break down and need a vehicle temporarily. We still love our Explorer!
Primary Use: Commuting to work
gigglepig

writes:
1997 Ford Explorer 4 Dr XLT 4WD SUV
Review
Pros
they can be had for cheap and are reasonably reliable.
Cons
plastic parts break constantly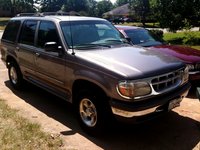 There Is Nothing Special About This Vehicle — It handles well for an SUV and is well powered. High marks for reliability and fuel economy. The exterior is nothing special and the interior is sparse. Off road the car is enjoyable but boring on road. Ride quality is nice but not excellent.
Primary Use: Commuting to work
zerotap

writes:
1997 Ford Explorer 4 Dr XL 4WD SUV
Review
Pros
Great Value as long as you get one that has been maintained. Expect to put some money into it with replacing worn parts and what not, but if you find a well maintained rig a great bargain.
Cons
Like any used car, avoid ones that need excessive amounts of maint at time of purchase. My general experience when buying used rigs with over a hundred k is expect about 2 grand worth of work in first couple years of ownership, anything over that is something to avoid.

Be Smart Before You Buy, And Make Sure It Won't Need More Than 2 Grand Of Work. — Performance- Stock V6 is kinda ho' hum on acceleration, but then again a SUV is not a racing car. I am eventually gonna do a superchip, cold air intake, and exhaust to get another 20hp or so. Build Quality- The used 97 I got is pretty damn good overall. I need to do a couple minor things for the interior, but those I can find at the junk yard pretty cheap. As far as squeaks and rattles, just the normal on suspension, road noise is OK, but not really loud, and handling is pretty good for regular driving. I haven't done any off roading on it yet. Appearance- I would say the interior of the used 97 I got is a 9 out of 10. There are a couple of little things I need to do, but for a car that is over 10 years old it's very clean. Cost of Ownership- When I bought the car I knew I would have to put some money on top of what I paid for it. So far nothing unusual. It needed new brakes, Rea Sway Bar work, and some new lower ball joins. I have to point out that this rig has 122K on it, so over all not bad. Just normal wear and needing to replace a few things. Main thing is the eninge and transmission is still in tip top shape, running and idling like new. Cost of Ownership- I just got it, but I can allready say that gas milleage isn't that great. Maybe 14-15 city, around 20 hwy. Then again it's an SUV and a heavy rig to boot. So I didn't buy the rig expecting to get 20-30 mpg. Fun Factor- Car is awesome to drive. It handles well for city driving as long as you don't treat it like a wannabe race car, and I can't wait to see how it does with a bit of off roading when I stiffin up the suspension, and chasi next year.
Primary Use: Commuting to work
Joel

writes:
1997 Ford Explorer 4 Dr XLT 4WD SUV
Review
Pros
nice handling, decent interior, good cargo room, spacious front seats, suv-looks
4wd
Cons
wimpy giddiup on steep hills, center of gravity not low enough, needs more ground clearance, very aggressive tires needed for snow
Not Bad For A Truck, But It Could Use More Power, And A Lower Center Of Gravity — i think it's a nice vehicle overall. but due to a high profile and narrow stance, it does like to lean on fast turns. it has a decent-sized 4.0 v6 which is pretty good on acceleration for a truck but requires quite a push going up steep hills. the interior has well placed switches and a good display of gauges.
Ridge

writes:
1997 Ford Explorer 4 Dr XLT 4WD SUV
Review
Pros
over all so far its a good suv in my mind
If You Can Keep It Up To Date Its A Good Car Im Tryin My Hardest So Git R Done — i have a 1997 ford explorer xlt 4x4 with very few complaints so far knock on woods ladies and gents it is a ford after all and we all know the multipal things ford stands for. so all togeather its a grate off road and winter car
Primary Use: Utility (towing boats, transporting cargo, etc.)
Darren1410

writes:
1997 Ford Explorer 4 Dr XLT 4WD SUV
Review
Pros
to many pluses and minuses but overall would i buy another one and yes i would if could have a aftermarket motor or the 5.0
Cons
if you are a anxious driver or hammer down driver you wont like it , this will leave you on your roof
On A Score Of One To Ten(ten Being Best) I Will Give A Overall 5.5 (this Is Opinon Now) — dont waste time on aftermarket parts, 4.0's are a allaround bad motor (design and reliability), like the braking, handling is tippy but sticks to the road for its weight, I do like the appearance (inside and out)! Gas mileage in the 4.0 is about the same weather pulling or not(stay out of od in hilly places) if you do intend on pulling invest in a trans temp gauge. Fun factor i do enjoy it but i can pull a wrench.
Primary Use: Family transportation
Rafael

writes:
1997 Ford Explorer 4 Dr XLT SUV
Review
Tonka Craftsman!!! — the best well spent 3000 bucks!!! I bought this used in 2007 and it worked great. Given the circumstances that it seems that it was crashed and fixed before selling it to me, It was very durable and trusty. I sold it a week ago... almost cried, hopefully next owner will restore her and have some fun.
Primary Use: Commuting to work
David

writes:
1997 Ford Explorer 4 Dr XLT AWD SUV
Review
Pros
If you are looking to have a good suv in the snow here it is.
Cons
If you are looking to not spend a lot of money on gas.
Its A Snappy Suv And Thats About It. — This suv is an ok vehicle to own. Its acceleration is great i smoked a Dodge neon with it lol. It is good in the snow and will go anywhere you want it to but i guess thats because it has all time AWD. Having the all time AWD makes it very bad on gas and it weighs 4500 lbs.
Primary Use: Commuting to work
Displaying 1 - 10 of 37 1997 Ford Explorer reviews.
Looking for a Used
Explorer
in your area?
CarGurus has
46,689
nationwide Explorer listings starting at
$999
.