1996 Toyota RAV4
User Reviews
Average Ratings from

13

reviews
Performance:
Appearance:
Build Quality:
Overall:
Review Highlights
Click to filter reviews below
Displaying 1 - 10 of 13 1996 Toyota RAV4 reviews.
JHarrison123

writes:
1996 Toyota RAV4 4 Door
Review
Pros
It hanles well. Decent gas for the size. A lot of room inside! Rear seats fold foward and you have a LOT of room! also rear seat reclines all the way back, so you can easily sleep back there. a lot of head room. Low maintenance
Cons
Power is ok, Gas is good for a SUV but not as good as a corolla or civic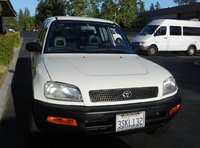 Toyota Rav4 Older And Still Going — Great car all around. I believe it is built on the corolla chasity, so has a car soft easy ride feel to it, but has a lot more room as a SUV. Can even camp in it. Parts a easy to come by and are not that much to maintain. Reliable car, fun to drive, plenty of room inside which is nice since i am about 6'3'' Would recommend this car! Even older ones still see on the road, they just keep on going!
Primary Use: Commuting to work
susanbusch

writes:
Pros
I love this car. Easy to drive and its at a good height. Its easy to get in and out of. Being a full time 4wd its good in the snow and Ice around New Zealand.
Cons
Sucks the petrol a little especially driving around town. When you go to the supermarket to get groceries you have to put the back seats down due to a lack of space., but for me this is ok as its just me and my son in the car.

Awesome Big Little 4wd — I love the look of this car. Looks small from the outside but once you are in its there is plenty of space. Its handy with the cup holders near by, Its comfortable to drive. My son loves the car as its easy for him to view the other cars and scenery outside. I have only had it in the garage a few times cambelt was one job, but nothing major. I do feel safe in this car and its really fun to drive. It does seem to go through the petrol.
Primary Use: Family transportation
emilyanreed

writes:
1996 Toyota RAV4 2 Door AWD
Review
Pros
Compact, go anywhere, great cargo space
Cons
Only two back seats, I use it for a service vehicle so the carpet in the back gets dirty fast

Great Little Suv — This is an awesome vehicle that works really well for me to work out of as I do maintenance and repair work. I love that the back door opens out that way I have extra head room when working out of the back. It will go anywhere and it is super reliable.
Suzi

writes:
1996 Toyota RAV4 2 Door AWD
Review
Pros
Very good for short trips and for driving on snow packed roads.
Cons
Not good for long trips or extreme 4 wheeling.
It's A Tiny Suv For Girls Who Want To Get Around Safely On Snowy Roads. — This car is pretty fun to drive around town, especially on snowy roads. It's noisy at higher speeds so that takes alot of the fun out of highway and freeway driving. I put Michelin LXT's on it to cut down on the road noise but it didn't help much. It's kind of unique in appearance, it seems to be the last 2-door Rav4 left on earth. It has over 100,000 miles on it and burns a little oil, gas mileage is a bit more than 20 mpg. Recently the check engine light came on and tests indicated the vacuum switch valve that controls the egr valve had failed. It is hidden behind and under the intake manifold and is very difficult to replace. It handles pretty much like a car but it sits a little higher for a nice view of the road. It's just the right size for me.
Primary Use: Family transportation
Stefan

writes:
1996 Toyota RAV4 2 Door AWD
Review
Pros
Off-road performance, Utillity spce, Reliability, Charm
Cons
Brakes, Tail-happyness
The Kalahari Ferrari — The onroad performnce is nothing special. Goes between 160 - 170 km/h. Keeps up with most 1.4 hatchbacks in terms of accelaration. The brakes are not good and lock up easilly, although it may have something to do with the All Terrain tires that are fitted. The handling is satisfying, although it is worse than a normal sedan or hatchback's handling will be. The ride, espescially in the back, is quite hard. But I gave it a good rating due to it's off-road abillity and performance witch is amazing for a soft-roader. It's comfortable on even bad gravel roads, although it has a tendency to flick out its back when you decelerate aroud bends. The trick is to decelerate before the bend and then lightly accelarte through it. Very few 4WD pick-ups can keep up with it in sand (it is a pleasure to drive in the dunes) and still copes when the big 4X4 engage low-range, which it lacks and rarely need. I used it a few times to drive up the large mountains surrounding Windhoek ( on farm tracsk). I lock the 4WD (with a button) and stay in 1st gear and stay away from the cluth, and I can forget about it breaking traction. On road would have liked it to have more torque, but driving up mountains on rocky and uneven paths it copes with almost anything at just above idle speed in first gear. The engine gets a little ruff at higher revs. My Rav has 106 000km (About 65 000 miles). I had to replace the bracket for the rear differentail at about 90 000km, which is a common ailment for first generation Ravs. I had a custom, better quality bracket made, which will hopefully last the life of the car. That is the only real "repair" I had to make. The lids of the interior storage compartments next to the rear seats rattle at about 4000r/min And the plastic caps infront of the front seat rail.s tend to come off. Further on everything is stil fine and show littlie sign of wear. The engine used to consume a small amount of oil, but this was rectified by switching to Castrol Edge motoroil. People tend to think it's slightly cute with its mighty mouse appearance. But its not overtly so and suits drivers of all genders. The interior plastics are very hard but durable en easy to maintain. All switches are easy to reach due to their high positioning.It has one of the best air-conditioners I have ever experienced and Namibia (my country) is a hot desert. It can easilly accomadate four adults and a little luggage (like the average hatchback) or two adults and an amazing amount of luggage. The car is very cheap to maintain. Servicing is about as cheap as it gets and if something goes wrong (which it almost never does) spares are also on the cheap side. I get 10liters/100kilometers. On the tar roads it is fun, and almost nothing beats the pleasure of taking your nimblie everyday car off-road on almost any terrain without second thought.
Primary Use: Commuting to work
Jared

writes:
1996 Toyota RAV4 4 Door AWD
Review
Comfy Car To Drive — This is a reliabable car that is compy to drive and is 4wd so good for going up the mountain. I like it cause it has 5 doors which is good for taking people places compared to my old car which was a 2door
Primary Use: Commuting to work
Travis

writes:
1996 Toyota RAV4 4 Door AWD
Review
Cons
not for highway driving
Not Bad For Cruising Around The City. — A little underpowered. The top gear needs to be longer to be comfortable at highway speeds. 4wd seems to work well. i haven't had many other issues with it. I drive the car like a mad man, and it keeps up with me. i wouldn't recommend it for highway driving
Primary Use: Commuting to work
Anthony

writes:
1996 Toyota RAV4 4 Door
Review
Solid And Dependable; Cargo Roo, — *Performance - acceleration - terrible, braking - pretty good, handling - don't go around a curve too fast * Build Quality - has it needed repairs? no - other than an 02 sensor; squeaks/rattles - well it is 10 years old but it is not to bad * Appearance - both interior - solid and functional and exterior styling - looks like a dune buggy * Cost of Ownership - gas mileage - good, maintenance - low * Fun Factor - is this car fun to drive? wouldn't say fun. just a daily commuter to keep miles off my other car and something to haul things in
Primary Use: Commuting to work
Jheanelle

writes:
1996 Toyota RAV4 4 Door
Review
Great — This car is just fab acceleration, braking, handling never better n if i was not a girl n a boy was briveing it they will this like "WHAT" the bestest this car is more than fun image me a girl behind a stick shiff doing my thing JUST AWSOME
Sam

writes:
1996 Toyota RAV4 2 Door
Review
Cons
He gets very thirsty!!!
Minxy's Motor — For his age the Rav is a solid and reliable, has never let me down (This better not jinx it) and gets me form A to B in one piece. really fun to drive you feel on top of the world until a (real) 4x4 pulls up next to you!!!
Displaying 1 - 10 of 13 1996 Toyota RAV4 reviews.
Looking for a Used
RAV4
in your area?
CarGurus has
32,368
nationwide RAV4 listings starting at
$2,495
.