1996 Toyota Camry
User Reviews
1996 Toyota Camry
Review Ratings
Average Ratings from

48

reviews
Performance:
Appearance:
Build Quality:
Overall:
Review Highlights
Click to filter reviews below
Displaying 1 - 10 of 48 1996 Toyota Camry reviews.
Ben

writes:
1996 Toyota Camry LE
Review
Pros
Reliable, Comfortable, Excellent Outward Visibility, MPG, Large crusing range
Cons
4cylinder Accerleration, Handling, Ride over 70MPH, Suspension,
Toyota Orginal Flagship Model, The Camry — 3rd generation camry was produced from 1992--1996. It was Toyota Flagship vehicle at the time in 1992. It has been said that the 3rd generation camry was very detailed and meticulous combed over that some thought it was overkilled. In fact, to this day, the 3rd generation Camry proves to be one of the best Toyotas ever built due to quality assurance involved. The 4cylinder engine in the LE model is adequate at best. It does it best to move the 3200 lb vehicle around. For 1995 and 1996, revised headlights, tailights, front and rear bumpers were introduced as a refresh, slightly improving the looks of the Camry. The camry is rather bland and unoffending when viewed by strangers. However, it is extremely reliable with very few parts breaking pre-maturely and it is well constructed for its time.
Looking for a Used
Camry
in your area?
CarGurus has

77,987

nationwide Camry listings starting at

$1,395

.
Reginald

writes:
1996 Toyota Camry LE
Review
Pros
Reliable
Good on the pockets (gas prices)

Cons
Interior felt a little cramp
Did not have incredible speed
Great First Car, Low Maintainence — Vehicle 1996 Toyota Camry 4 Dr Collector Sedan Review Very well built (much better than most new cars), incredibly reliable. The V6 is very smooth and quiet but it lacks low end torque and seems to bog if you step on it. Ride is very smooth but floaty and needs to be more controlled. Steering is not very sharp. Tranny shifts well most of the time, but short shifts in normal mode and hangs on to revs too much in power mode. Quality of materials and build is awesome. Leather is excellent quality but front seat padding is hard and pinches the thighs. Overall a very good car with some minor shortcomings. Favorite Features Reliability, build quality, smooth and quiet, up to 37mpg (imp gals) on the hwy, feels like it will last forever. Suggested Improvements None.
Michael

writes:
1996 Toyota Camry LE
Review
Pros
Reliable, feels safe/solid, roomy and great gas mileage.
Cons
Leaks oil, plain body styling.
My Camry — My camry is an ugly green color with a very plain body style. It's comfortable to ride in and easy to drive. Visibility is superb and handles well for a larger vehicle. Huge trunk and ample cabin room. It's been the most reliable car I've owned to date. Gas mileage is terrific, although it leaks oil. It's no sports car, but has some get up for a four cylinder.
Gary

writes:
1996 Toyota Camry LE
Review
Pros
looks,performance,reliability,gas mileage
Cons
shocks,noise in right front area(possibly shocks,wheel,brake)Engine light just came on with "EVAP" code which is just a smog problem that could be a tube or tiny part??
Sporty Sedan — A good looking sporty sedan with all power and good looks! With a little work and money this will cross country back and forth numerous times....hell, even now it will cross the country...(bet on it!)haha........TRY IT!
Primary Use: Family transportation
muggit

writes:
1996 Toyota Camry LE
Review
Cons
air conditioner no longer works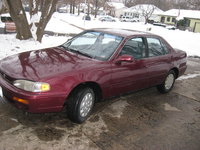 Camry - My Car — I love this car. It handles great in all road conditions. It is fun to drive, easy to handle, has required little repairs. I've kept up with dealer suggested maintenance. Gets great mileage and lives up to the Toyota reputation. Great roomy backseats. backseats fold down to extend trunksize. Safe car.
Primary Use: Family transportation
Marc

writes:
1996 Toyota Camry LE V6
Review
Pros
I beat a Camaro once
Cons
Can't shift it yourself: get a '97- V6 for that
Faithful, Frugal Fun ... For Five! — Its appearance belies its performance--with the V6, the Camry is quick off the line and sounds great. The electronically-controlled four-speed is easily the best automatic I've ever had the pleasure to use. Handled reasonably well. Four-wheel discs are great; not having ABS was often exciting. Good, clean design, looks great in white and even better in black, and it was often mistaken for a Lexus. The '96 V6 specifically has front axle issues, and a leaking steering rack was replaced, which is perfectly understandable at 120000 miles. Fuel economy was around 19 mpg in the city, and this is under very hard driving. Extraordinarily comfortable, as well. VERY solid car; only a manual transmission could have made it better!
Primary Use: Sport/fun (spirited driving, track racing, off-roading, etc.)
Zach

writes:
1996 Toyota Camry LE
Review
Pros
Gas Milage, Pretty Good Radio
Cons
Slow, No AC, 4cyl & FWD
Moms Car...a.k.a "betsy" — Well its a Toyota with 180,000+ miles on it so its very reliable. Its quite SLOW however with its 4 cyl. making only about 140 hp. Good gas milage and repairs arent anything too major. Not a fun car to drive since its FWD. If ur looking for performance go elswhere...if ur looking to be laughed at since u drive a little econobox then by all means be my guest!!!
Anthony

writes:
1996 Toyota Camry DX
Review
Pros
This car is reliable and cheap, perfect for a student or someone who is on a budget
Cons
to loud, not very flashy
It Is A Good Buy And A Perfect First Car For Someone — *The car is a very reliable vehicle * it gets great gas mileage and has not needed a repair yet, * the brakes work well and are quiet. * the front seats are good but if you are over 6' tall you are going to have a little bit of a leg cramp issue, * the interior is nice looking and the back seats are roomy enough for the average person. * the car is not a very safe vehicle. * most of the car is plastic and it is a very light car a decent gust of wind will move the car a fair distance out of your lane on the highway. * Speaking of highways the car is loud as crap once you get to 60 mph the wind noise combined with the high rpms that the engine runs at a somewhat slow speed is very annoying. * the camry is a decent looking little car there is nothing special or outstandish on the car so you probably will not get pulled over as much but it isnt exactly a eye sore either *this car get great gas mileage and parts are cheap to get and easy to find *the car is not really that fun to drive the only exception to that is that it is a smaller car and can get through traffic quite well.
Primary Use: Commuting to work
Sofyan

writes:
1996 Toyota Camry LE
Review
Boring First Car — I drove this car from 2005-2009 and it was my very first car. IT was reliable and never really left me stranded even though it had 150k when i sold it. Performance was downright slow. The 4 cylinder engine only had 125hp and still used a good amount of gas so that was a double whammy. Its styling was just bland and very dated, gas mileage was terrible for a 4 cylinder with a lack of power. In the city i got like 21mpg and 28mpg highway. My new V6 accord with 200hp matches the mileage and it quick and fun to drive. However, this car was just plain boring as with all other toyotas.
Primary Use: Commuting to work
skipk

writes:
1996 Toyota Camry LE V6
Review
Pros
power, build quality, reliability, fun to drive

Love It. What A Bargain — I bought my 1996 camry LE with the 6 cyl engine brand new. it has 220,000 miles. get 28 miles in mixed driving, and 30+ on highway. I change the oil myself and it does not burn a drop of oil in the 3,333 mile oil change interval. original engine and transmission. i want to see if it'll last till 350,000 miles. It's been a great car, very much like the 1987 celica I owned for 12 years and traded with 142,000 miles, a trade I still regret.
Primary Use: Commuting to work
Displaying 1 - 10 of 48 1996 Toyota Camry reviews.
Looking for a Used
Camry
in your area?
CarGurus has

77,987

nationwide Camry listings starting at

$1,395

.