1996 Nissan Pathfinder
User Reviews
Average Ratings from

6

reviews
Performance:
Appearance:
Build Quality:
Overall:
Review Highlights
Click to filter reviews below
Displaying all 6 1996 Nissan Pathfinder reviews.
Timothy

writes:
1996 Nissan Pathfinder 4 Dr LE 4WD SUV
Review
Pros
bumped like crazy. and a beast
Cons
not fast. ate gas i think about 12 miles to the gallon..
Patty Pathfinder — extremely comfortable inside along with a comfortable ride. could blow your ear drums out. heavy as hell but could still power slide it like crazy. best part it beastes garbage cans, small animals(almost got a person one time lol), curbs, grass, deep mudd and portapotty's lol o and fits six- 7 ppl comfortably.. except for the person by the subs
Primary Use: Sport/fun (spirited driving, track racing, off-roading, etc.)
Andy

writes:
1996 Nissan Pathfinder 4 Dr SE 4WD SUV
Review
Pros
I can feel the road I am driving on
Cons
I wish the mileage was a little better
I Love My Truck — I like that it is black. The mileage is average, I get 19 mpg on the highway and 15-16 mpg in town. It is a very tough vehicle. It has a 3.3 Liter V6. I can hear the rumble of the exhaust.
Primary Use: Commuting to work
Joshua

writes:
1996 Nissan Pathfinder 4 Dr LE 4WD SUV
Review
Nissan Pathfinder 1996 4dr 4wd Le — Performance: the 3.3L V6 is a little underpowered but it gets out of its own way. It brakes really quick so be careful, and the 4wd can handle the trails out here, they get pretty bad too, mud up to the top of your rims sometimes gets you stuck. Build quality: Its held together well, If you use 4wd a lot you will need to replace the axles at about 200,000 miles but only the front 2. Its quick breaking means it eats pads. Appearance: It looks okay nothing special, the inside is also pretty average, it had a center console with the shifter, which I like better than column shifters. Cost of ownership: Its gets 19mpg on low grade and 22-24mpg on mid grade. Parts are relatively abundant and low cost. Fun Factor: This car is very fun to do a little trail running with. Its not meant for mudding but it can hold its own going on that camping trip.
Charlie

writes:
1996 Nissan Pathfinder 4 Dr SE 4WD SUV
Review
Pros
Go-anywhere and handle-anything abilities, very reliable, looks awesome, and of course, it's paid off.
Cons
Slightly underpowered engine that takes premium fuel.
This Truck Can Handle Anything!!!! — My dad bought this Nissan new at Rothrock in Allentown on May 24, 1996 right before we moved to California. He has kept all the service records since he bought it, and Nissan must have done something right because we have owned it for almost twelve years, the longest we have ever owned a car. It has a little under 110,000 miles as of today, and aside from a few dents and dings, and rust spots, and a little crack in the windshield, it is in perfect shape. Everybody who has seen it cannot believe it is a 1996 because it is in such good shape. Everything in it works perfectly and all it has ever needed is routine maintainance, and my dad just put several thousand dollars into replacing the suspension, muffler, tires, brakes, etc. It is like a brand new truck again. Handling is okay for an SUV, and the ride is comfortable, but it is not as comfortable as the van. It has heated leather seats, power sunroof, keyless entry, Bose sound, off-road package (basically adds sporty blackout trim and beefed up suspension), and all the power options. Features I have added include a K&N air filter, an Alpine CD player, and the Navy wings license plate on the front. The fog lights and the sharp alloy wheels are factory. Sweet eh? I only wish it had a little more power under the hood. Under the hood is a dependable 3.3 Liter V6 making about 167 horsepower. It has plenty of torque, and that is where it really shines. It accelerates well on the highway and is very comfortable. The K&N adds about 10 horsepower, and the new exhaust probably helped a little, but another annoying thing is that the engine requires premium fuel, and this Nissan, like most SUVs, is a gas-guzzler. It gets at the most maybe 17 around town, and sometimes it gets 20 or more on the highway.
Walter

writes:
1996 Nissan Pathfinder 4 Dr XE 4WD SUV
Review

rustedhorse

writes:
1996 Nissan Pathfinder 4 Dr SE 4WD SUV
Review
Pros
It's built in Japan, good torque,
Cons
Rough ride, unibody,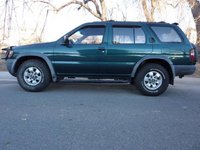 Solid Good Looks In The Right Size Package — Update! The Pathfinder unexpectedly threw a rod at 196,000 miles resulting in a total loss of the engine. This engine was whisper quiet, I had replaced the timing belt just 900 miles ago only for this to happen. When I went looking for my first smaller SUV I had compared driven a 5 speed Pathfinder before I bought my 97 Grand Cherokee. I was impressed with the R50 pathfinder but the Jeep name, solid front axle, and 5.2 liter v8 sold me on the Jeep. In hindsight I wish I had gone with Nissan. Before I had reached 120K I had replaced all four of the axle shafts in the Jeep, the rear bearings twice and the water pump. The Jeep was fast, handled good, looked great, but I hated that ZJ. It always had roar from the crappy oddball aluminum center section Dana 44. It never ever got better than 14.2 MPG. I almost forgot to mention the notorious death wobble that will almost jerk the wheel from your hands when you hit a bump in the road at 45 mph. The Nissan handles great but rides rough, I suspect that with 196K the shocks, springs, and struts need replaced. I'm just waiting because I intend on going with a 2 inch lift and 31-10.50 mud tires. The Pathfinder is more roomy inside than the Jeep because the spare is located under rather than inside the vehicle. One note on the Pathfinder, replace the timing belt at or before 105K and 210K. The 3.3 is an interference engine and breaking the belt will destroy the engine. Expect to pay around $600 for parts and labor which should include all belts and a new water pump.
Primary Use: Sport/fun (spirited driving, track racing, off-roading, etc.)
Displaying all 6 1996 Nissan Pathfinder reviews.
Looking for a Used
Pathfinder
in your area?
CarGurus has
18,774
nationwide Pathfinder listings starting at
$2,250
.