1996 Mercedes-Benz S-Class
User Reviews
Average Ratings from

13

reviews
Performance:
Appearance:
Build Quality:
Overall:
Review Highlights
Click to filter reviews below
Displaying 1 - 10 of 14 1996 Mercedes-Benz S-Class reviews.
Waiel222

writes:
1996 Mercedes-Benz S-Class S500
Review
Pros
need snow tires for winter snow
Cons
wish it was 4Matic as four wheel drive save you from changing tires summer and winter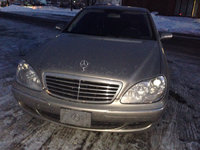 Nice German Made Car — it looks and handles great good boss stereo and on board or steering wheel control good reliable car with costly maintenance as expected from Mercedes never take it to a mechanic shop except Mercedes taken the older Mercedes to mechanic shops and ask me for bad experiences one stals your spare from trunk other might sell your parts at craigs list when it is parked for service other will damage what is working or pay hefty service fee at dealer but you relax from repairing it again
ivansbenz

writes:
1996 Mercedes-Benz S-Class S320 LWB
Review
Pros
Perfect for long trips. Smooth, stable ride, super quiet, has most features installed in the tody's expensive cars (dimming mirrors, two-side air conditioner, seat/wheel adjustments, etc.). Vacuum door closing assistance is something I love and you can't find in many other expensive cars. Ever lasting exterior and interior design. It will always look pretty, massive, luxurious. 13-speaker Bose audio makes you feel like in a concert hall. Large headlights convert the night into a day infront of you, even without xenon bulbs.
Cons
Body is quite heavy for the engine, which affects some how the gas consumption in the city. Mine doesn't have the ASR, which I wished to have.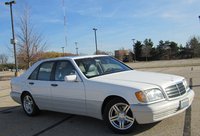 Comfortable, Elegant, Reliable, Safe And Stable Yacht On The Road — I own this beautiful Mercedes for more than two years and I love it. I bought it used, 74K miles in October 2010. The previous (and only) owner has kept it in their garage under a cover. The car looked literally "brand new". Everything worked and still works fine. For 14 years it had 74K milesonly. I made another 20K for the 2 years I have it. It was not driven in the winter. With all-season tires you can't move this car on a snow road. Well, after I installed premium winter tires on it, it runs like a tank on the snow. The traction control helps a lot if you drive responsibly of course. I've been dreaming for a Mercedes car for years and now I am happier then ever. Once I touched that S-class, I wouldn't go to anything less than that. Trust me, when you drive that car you wouldn't like to get out of it. I installed a Garmin GPS integrated into the ash tray door, which fits like an original. A Sony CD player with bluetooth and usb port brings the car to a new level of the modern electronics world, without spending thousands $$ for packages, etc. Simply, if you offer me a brand new C-class MB, I would rather keep my 17-year old S320, really.
Primary Use: Family transportation
Bledar

writes:
1996 Mercedes-Benz S-Class S320 LWB
Review
Pros
# 1 Luxury car in the world.
Cons
Consumes a lot of gas.
My Preferred Car To Ride On. — Build like a tank. This is a PIMPs car. Great looks. All government ministers and prime-minsters all over the world ride on this car, queens, kings, presidents etc. Everything is great, stability, comfortably, ride quality, you don't feel nothing from the outside world, all electronic, memory seats, mirrors, etc. The only problem is that this 2.6 Ton car with 100 liters tank needs a lot of gasoline to move and is only good for USA. In other countries unless you are a statesman, businessman, or mafiozo it will cost either half or the whole paycheck in gas to ride this car. The Mercedes S class is the best value for the buck in Luxury class. This car has more status than any other luxury car. And you get more looks than any other car. A word from a gangsta in USA that told me : With this car you don't only get the girls you also get the boys.
Primary Use: Commuting to work
alwinla932

writes:
1996 Mercedes-Benz S-Class S320 LWB
Review

Great By All Means — My first BIG Mercedes. I loved it. All of the grand features of the 430 and 500 but with a little better gas consumption. I had my car for 13 years and was recently rear-ended and the car was a total loss. I pray that I will find another for purchase with a good history. Bless those who have these WONDERFUL cars!
Primary Use: Commuting to work
Ajay

writes:
1996 Mercedes-Benz S-Class S320 SWB
Review
I Like It — like my cars look ..... accelaration.....mileage... the interior is superbb.... the performance for this car is awesome and great..... the smoothness is outstanding.... its needed some repairs.... handling cant telll yaar its hmmmmm.... u tell me... the car is superb to drive and its like a aeroplane..!!!!!!
Primary Use: Family transportation
Noel

writes:
1996 Mercedes-Benz S-Class S600
Review
Cons
Don't drive it if you can't afford to maintain it.
The Best! — A georgeous well built 6600lb automobile with a V12 motor. Drives like you are riding in a living room. Gas mileage isn't a big issue to me, I like the saftey of this Mercedes. You have to drive it to appriciate it.
Primary Use: Commuting to work
aldoriggio

writes:
1996 Mercedes-Benz S-Class S320 LWB
Review
Pros
Braking, handling appearence, style, class, built.
Cons
Little gas hungry when pushed, but well, little price to pay for the thrill.

Josef

writes:
1996 Mercedes-Benz S-Class S500
Review
Pros
crazy fast, stable, quality quality quality
Cons
heavy, no cub holders.
My Mercedes — very heavy, but its a luxtury car so its expcted. engine is a bomb, once u accelerate, it never stops. very solid, great build, high quality interior and exterior. spare parts reasonable, labor is insanely expensive if u do at the dealer or "stealer".
Lance

writes:
1996 Mercedes-Benz S-Class S600
Review
Pros
Great safety, brilliant handling, great interior
Mercedes S600... Refined Monster — The Mercedes Benz S600 is the ultimate in luxury in the min 1990s. And it's still a great car, to be driven around in. You can purchase one in the middle east for as little as US$ 4000... since most of them are being sold because they are old, not because they lack anything. Great handling, great power... from 3.4l to an awesome 6l V12... delivering a whopping 400hp... what more could you ask for? In safety, nothing could compare to an Mercedes.
Graham

writes:
1996 Mercedes-Benz S-Class S320 LWB
Review
Pros
Climate Control, full leather interior, all electric, excellent power, effortless drive, infinitely adjustable memory electric seats.
Cons
Fuel consumption when putting your foot down hard, can be a bit unpredictable in icy conditions.
Luxury Vehicle For Peanuts! — When these cars came out they were the flagship Mercedes vehicle. Can't fault anything about the car, it has everything you want, and you can get these for silly money these days. They are really eye catching and have a kind of gangster-chic look. I guess they are not particular frugal cars to own these days, but who cares? It's a fantastic car to drive, and the miles fly by! It's one of those cars you just like to take out for no reason at all but to put a smile on your face. Just don't look at the MPG counter too much! It's a proper bird-pulling vehicle.
Displaying 1 - 10 of 14 1996 Mercedes-Benz S-Class reviews.
Looking for a Used
S-Class
in your area?
CarGurus has
7,880
nationwide S-Class listings starting at
$1,900
.