1996 Honda Civic
User Reviews
1996 Honda Civic
Review Ratings
Average Ratings from

73

reviews
Performance:
Appearance:
Build Quality:
Overall:
Review Highlights
Click to filter reviews below
Displaying 1 - 10 of 73 1996 Honda Civic reviews.
besthondabuy12

writes:
1996 Honda Civic EX Coupe
Review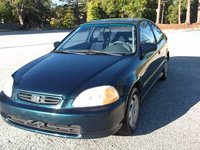 Honda Is Always A Great Choice — This car has been a very reliable for the years I have owned it. I really likes the 5 speed. Very low cost to own. Very conservative, but overall a fun car. Great college student car or first car for teenager!
Primary Use: Commuting to work
Looking for a Used
Civic
in your area?
CarGurus has

65,600

nationwide Civic listings starting at

$799

.
Autumn

writes:
1996 Honda Civic DX Hatchback
Review
Cons
none, well except.. i dont have ac right now
I Love My Car! — great car. fun to drive. gas mileage is amazing. preformance is great, needs more work in my opinion. has a lot of money put into it. my first and only car, and wouldn't have it any other way :) :) ♥ honda girl
Primary Use: Sport/fun (spirited driving, track racing, off-roading, etc.)
Gonçalo Sonny X

writes:
1996 Honda Civic LX
Review
Pros
Very reliable, drives like a dream. Preety good looking.
Cons
Sort of a gas-guzzler in the city.
Perfect Toy — Awesome acceleration, since it has good horsepower and is very light, good brakes, and perfect handling with the proper set of tires. Very well built, tough, and very good looking and confortable. Does burn quite a bit of fuel when driven in the city traffic, but hardly consumes on the freeway. It's one fun thing to own.
Primary Use: Sport/fun (spirited driving, track racing, off-roading, etc.)
Michael

writes:
1996 Honda Civic DX Coupe
Review
Pros
Great gas mileage and it's fun to drive!
Cons
It's always getting hit and scratched by morons in NYC. It's the people that suck!
Very Reliable And Fuel-efficient Car! — This car has been absolutely great! Very reliable and it performs very well for a small 4 cylinder motor combined with the 5-speed manual transmission. Also, the design of Hondas is timeless. This car doesn't look anywhere close to 14 years old! I love it and would highly recommend Hondas to anyone.
Primary Use: Commuting to work
Daniel

writes:
1996 Honda Civic DX Coupe
Review
Pros
Fairly smooth transmission, easy to add aftermarket accessories, comfortable interior, usable back seat, good size trunk.
Cons
Sloppy suspension/handling from the factory, very poor acceleration, no power steering, manual windows and door locks.
Great Project Car! — I have wanted a Honda Civic since 1999 when the Coupe Si came out. I would consider myself an import tuner hobbyist. I like to take little 4-cylinder cars and make them go fast and drive like slot cars, it is one of my many passions in life. I have had my 1996 Civic DX Coupe since August of 2008 and I still love driving it. That is saying a lot from a guys who has also owned a 1992 Prelude Si, a custom turbo-charged 2002 Mazda Protégé5, a 2005 Subaru Impreza WRX and a beefed up 2005 Subaru Legacy GT. It is a 4-cylinder, underpowered, 5-speed, "my soda bottle has more liters than that", fun little tuner car. Before I start let me just point out that my Civic is not factory. I have invested heavily in the suspension, so much so that there are very few original suspension pieces left on the car (maybe a control arm here and there). I have KYB AGX Adjustable Shocks all around mated to Tien S-Tech springs and an Eibach Anti-Roll kit in front and back. Rear Skunk2 lower control arms, Skunk2 lower tie bar in the back and a rear disc swap from a 1997 Integra. I have power slot rotors all around with race spec brake pad and stainless steel braided brake lines. I have also added power door lock actuators for my Python alarm and Kenwood 5-way speakers in the rear deck with 3-way Kenwood's up front. I have also added a factory CD player accessory that I got in my many trips to Alma Imports (Junkyard) here in Mesa, AZ. The interior is comfortable with plenty of room for my 6 foot 5 inch frame. I have plenty of leg and head room, and my knees are not constantly knocking against the dash. The radio is quaint, but still sounds good going through the Kenwood speakers. There is plenty of visibility all around and the mirrors cover the car very well. The seats are okay, they don't hold me in as much as I would like but that will be remedied soon. Overall the interior is functional but bland. The exterior on my car is silver and a mess. There is a small impression in the roof, a dent in the passenger door and passenger rear quarter panel, the headlights have yellowed and are faded, the front passenger quarter panel is black, and there are various pits and dings all over. It needs a good once over from a body shop and some new paint and bumpers. The wheels are factory and bald as all get out. The engine is a D16Y7, maybe 115 HP when it was new, feels more like 90 – 95 now. It's slow and can barely get out of its own way. The transmission is smooth and responsive. Overall driver feedback in the car is excellent. You can really get a feel for every aspect of the car when driving it. Overall it is everything that I thought it would be, I was expecting to get a very slow 2-door coupe with plenty of potential for improvements all around. Parts are really easy to get and the aftermarket selection is awesome. Probably not a car for everyone, good car for learning about car repairs and maintenance, and for getting into tuning. Oh yea, it has over 125000 miles and still runs strong.
Seefer

writes:
1996 Honda Civic EX Coupe
Review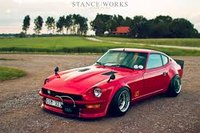 Never Though I Was Gonna Have A Honda — Really i was thinking on a Fairlady or a Silvia but this came out from heaven...a beauty, dinamic, easy to drive, fun, so much, that i can´t take it away from my wife.....guess i have to consider another car....
Primary Use: Family transportation
Joseph Anthony

writes:
1996 Honda Civic EX
Review
Pros
Durable chassis, still a good run for a 15 year old car...
Cons
kinda old, lots of problems with cooling, gears, AC and suspension...
sometimes hard-to-find parts are just fabricated and after-markets installed...
Good Overall Performance — Street Tuned for a little edge against road rage drivers, slow folks and ricers... it was resurrected after a freak accident and all the tuning and fabrication was done for 3 years, all the little details slowly but surely done because of a tight budget and limited availability of some parts...had a few problems but i guess it's part of the scene..there has been a lot of trial and error processes especially with the engine..considering the fact that a less powerful engine was swapped with the stock D16Y7 (swapped in a a D15B w/c has better rod and compression ratio) and most of the parts were fabricated... fun factor? OH YEEEAAAAH!!! On the more technical side, the modifications seemed to have made the Civic hungrier for fuel with an average of 15km per liter (40 liter tank). This is somewhat unusual for an earlier version Vtec engine's fuel economy versus the much more powerful DOHC Vtec. And the McPherson Strut upgrade at the front end seemed to have stiifen the ride too much while the stock rear multi- link wishbone really took its toll and gave in, so a modified tortion strut bar was fitted in to lift the suspension a little and give it more "movement" even with a loaded rear end...A/C still runs like new because of a newer system and compressor. Audio works well with the stock head unit (Fujitsu Ten) which is already obsolete, also surprisingly the only downside was the exterior appearance because the dents and loose bumper/ fenders were'nt really fixed. new upgrades: OEM/AEM Fuel Rail, Grounding Kit, Platinum Spark Plugs, Aestethics, Brake PAds, Intake Port, Vtec Bypass...
Primary Use: Sport/fun (spirited driving, track racing, off-roading, etc.)
Matt

writes:
1996 Honda Civic EX
Review
Pros
Bodywork, complete look, sound, engine
Cons
engine was conversion and there were teething issues...
My Sedan — I loved the whole package, bodywork and engine work was superb - a real one of a kind EK Civic Sedan for NZ! H22a engine which gave that extra grunt Miss this car soo much - as i put so much time, effort and money into it.. unfortunately cars move on... as do we.
Colin

writes:
1996 Honda Civic DX Hatchback
Review
Pros
Good on petrol, looks good, qiute nippy and is so easy to customise
Cons
Sometimes scrapes on the back wheels when I go over bumps
My 1996 3 - Door Honda Civic 1.5 V - Tech — Performance - Quite quick, got induction kit and exhaust system. brand new brake pads so brakes are sharp and solid, handles very well. Build Quality - Honda - Japanese cars are always built solid. Costs - Paid £1000 for it and it is very good on petrol, £20 has lasted me over a week before and I was driving every day. Fun Factor - Love driving it, makes a nice sound from the exhaust and the sub woofer in the back....
carGrrl

writes:
1996 Honda Civic EX Coupe
Review

Great Little Car — I owned 1996 Honda Civic from June of 1996 to June of 1998. I loved it. I had the EX trim and a standard transmission, and it was really very peppy. I liked taking it up mountain roads. It didn't have the engine or horsepower of a more powerful car, but it barely weighed anything so flew. I could pass much faster cars in it. I had a spoiler factory-installed; that might have been what gave my little car the speed! The only problems with this car were that it hydroplaned very easily and the seats were not very comfortable. It barely had to be raining, and I would skid over puddles like they were lakes. After driving long distances, my back would be much more sore than when driving other cars. Overall, I would recommend this car in a heartbeat. I wonder who has mine now...
Owner for 2 years, 0 months
Miles Driven per Year:12,000
Displaying 1 - 10 of 73 1996 Honda Civic reviews.
Looking for a Used
Civic
in your area?
CarGurus has

65,600

nationwide Civic listings starting at

$799

.