1996 Honda Accord
User Reviews
1996 Honda Accord
Review Ratings
Average Ratings from

47

reviews
Performance:
Appearance:
Build Quality:
Overall:
Review Highlights
Click to filter reviews below
Displaying 11 - 20 of 47 1996 Honda Accord reviews.
Damian

writes:
1996 Honda Accord LX
Review
Pros
Customizeable body, quick accel, dependable
Cons
interior could use some work, the a/c blows...selectively.
Fun To Drive, The Exhaust Sounds Mean, And It's Easy On The Wallet. — This car belonged to my bro JP, I cleaned it up, installed a touch screen flip out Monitor, added limo tints, fixed some body damage, replaced the V-Tec Solenoid, changed the throttle, fixed the cold air intake, and prepped for a turbo manifold. the car gets about 30 to the gallon, and can pull about a 10 on the strip. Solid Black, Vallory.
Looking for a Used
Accord
in your area?
CarGurus has

81,659

nationwide Accord listings starting at

$2,000

.
Ebbe

writes:
1996 Honda Accord EX Wagon
Review
Pros
Engine, equipment, build quality, ride
Cons
Thirsty, expensive spare parts
Honda Accord Aerodeck - Rock Solid Cruiser — I needed a cheap wagon and this is one of the most stylish in the lot. Engine is quite torquey, and it has loads of equipment. It feels rock solid on the tarmac, and build quality is excellent. The suspension is advanced, and gives a perfect touch, but spare parts are rather expensive. Very recommended
Amber

writes:
1996 Honda Accord LX
Review
Pros
It's great on gas milage!
Cons
needs body work, and it's gettin old
It's A Good Work Car..... — Cost of ownership- gas mileage is great and oil change like 1 every 3 months for 20 bucks- heck yeha! I have been in a couple accidents with it and am looking for parts for the front. I love driving this car... It's my first car and I still have it...
Harry

writes:
1996 Honda Accord EX V6
Review
Pros
HIDs, nice deck, comfortable and V6 power without V6 fuel consumption
Cons
Small dents, high mileage, minor problem with power locks
My 96 Honda Accord Ex-l V6 — Got the car this year in Feburary. I just needed a car to driving to classes and hospitals for the next 3 years. Car's performance is very good, it's the highest trim level and it came with a $700 deck and HID lights so i can't complain. It's got minor problems but for a 12 year old car it is definitely holding up well. If i had the money i would get the 2008 Accord coupe V6 because of this car.
Brandon

writes:
1996 Honda Accord LX
Review
1996 Honda Accord. 123,000 Mi — Accelerates well for a 4 cylinder. Transmission shifts rough like all Hondas.. The drivers window shifts to the side a little going up so the seal on the outside is off. Stereo system is great for a stock system. Gets about 28mpg pretty much no matter how I drive it. Looks good. No rust.
Zachary

writes:
1996 Honda Accord LX
Review
Pros
reliable, large enough to be useful, not bad mileage for a midsize sedan
Cons
mileage not great, not incredibly agile
Gimparoo

writes:
1996 Honda Accord EX V6
Review
Pros
Good power with a 2.7L V6 that I have added some power addons. Brakes are excellent, with Brembo drilled and slotted extra thick discs. Upgraded calipers and Kevlar pads, steel braided hoses. Handles ok, larger sway bar added, but did not give as much help than I expected.
Cons
Too much body sway for cornering at a fast rate, better than stock, but not up to competition.
Would be nice if there were more available parts for engine upgrades. I have about all can add, and boosted power only about 25%. Fuel mileage is fair.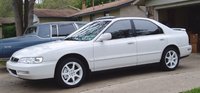 Very Well Done With What Is Available, And Keeping Cost Below Value Of Car. — Could have a body kit for it, but never found one I liked that was cost effective. Suspension upgrades would do wonders for this car, but here we go again, cost was a factor. Spending the money on this car and keeping it in ratio to worth of the car was fruitless. If I want a Hot Rod, buy a car designed for, and has the parts available for, would be the answer.... for what I paid for on addons and the price of the car, I did a great job.
Primary Use: Commuting to work
Mom2Dano

writes:
1996 Honda Accord LX V6
Review
Pros
Dependable, reliable, comfy, nice ride
Cons
Hasn't had ac in over 5 years, right now doesn't have a horn or passenger blinker or wiring harness

Wonderful Car! — I've owned this car for about 5 years now. It had over 200,000 miles on it when I bought it. I have had to replace the master cylinder, radiator, and alternator. I love this car! The air conditioner hasn't worked since I bought it but the heater works great..lol. I live in Texas, so air conditioner would be awesome! I usually just refill the freon and it lasts for a while. I'm pretty sure it has a bad hose or something, but I'm not sure. I have driven this car over 200,000 more miles since buying it. It has been to several different states and through rain, snow, sleet, desert, and everything you can think of! I recently blew out the front passenger side tire which ripped out my wiring harness and busted out my blinker. I rigged the headlight to the driver side light and so it works but still haven't been able to replace the harness or get a new blinker. The car still runs and gets me back and forth from taking my kiddo to school everyday. Luckily it's not that far. lol. It has recently developed a harsh idle which goes up and down while in park or neutral. Not really sure what's going on there. But it still works for what I need it for.
Primary Use: Family transportation
Jesse

writes:
1996 Honda Accord EX
Review
Pros
Does not break down + cheap to fix if it does
Cons
Terrible on icy roads
Good For The Money — Gets great gas mileage, does not brake down ever, have 225,000 miles and still not much for issues, be careful in winter it like to slide around like crazy. Acceleration was okay, I cant speak for the auto version but the manual tranny was a breeze and very forgiving. overall its a good car for getting around, you wont win any races with it or make any heads turn, but for a cheap car you cant get something much more dependable and cheap to drive.
Primary Use: Commuting to work
Displaying 11 - 20 of 47 1996 Honda Accord reviews.
Looking for a Used
Accord
in your area?
CarGurus has

81,659

nationwide Accord listings starting at

$2,000

.