1996 Chevrolet Cavalier
User Reviews
1996 Chevrolet Cavalier
Review Ratings
Average Ratings from

47

reviews
Performance:
Appearance:
Build Quality:
Overall:
Review Highlights
Click to filter reviews below
Displaying 1 - 10 of 47 1996 Chevrolet Cavalier reviews.
Ken

writes:
1996 Chevrolet Cavalier LS
Review
Pros
Economical, decent styling, suprising handling
Cons
It's a Cavalier, under-whelming power, few visual design flaws
It Does The Job. — Here's what it comes down to. This is a mid-90's econo-sedan that was not meant for great things. It was designed with cheapness in mind, and while they tried to make it look "snappy" (I believe thats an appropriate 90's slang term), they didn't successfully draw enough influence from their target audience. Luckliy for them, the older section of the market was looking for a cheaper car that had a sporty look, thats why you see many people over 50 on the road in these cars. I got mine from my grandmother. But honestly, I couldn't ask for a better car. I'll break it down like this: Performance, Mantinance, and Looks. Performance: This is an interesting vehicle to drive, as it handles relativley well flexing in curves in appropriate spaces. Times where I pull one wheel in the air (yes, it happens with a stock suspension) are in turns of 30 plus mph, but I doubt many people turn at these speeds. Given the torture it endures, it pulls through and always gives me plenty of grip, and I must say, it really only has minor understeer. The engine is underwhelming (it's equped with the 2.2L 134 ci, single cam. Roughly 120 bhp at the crank). I've timed 60 in 9.3 with the 4 speed auto, not really that bad for an econo car that nets me 27 mpg with driving arround town and some minor highway use. The brakes are fairly good, but the ABS leaves alot to be desired. Actuation is slower than if I was to actually pump the brakes myself, but you get used to it and learn to break a little more ahead of time to avoid drama in slicker situations. Build quality: What I've had to replace: brake lines (blew them out in traffic, lines on the frame rails, both sides of the car. Corrosion was the cause. Watch that. Besides that, it's held up. Motor runs clean, the tranny shifts fine, and it pulls when it's called upon. I replaced the air filter and put on new rims and tires, new front rotors as well. She's built fine. Appearance: Cavaliers have always been interesting cars from a design standpoint, as they were meant to convey "I"m sporty, yet economical." The body lines flow well with the car, and from the front doors up, the car curves well and (especially on the hood) is pleasing to the eye (at least, to mine). Pass the B pillar, head aft, I don't think it's a great look. The doors, while keeping the lines, compress to a fatter, less steep bank to the deck lid which is, frankly, about 4 inches too tall. The tail lights are too rounded for a car that is rounded enough. Also, the rear bumper has two small rounded-rectangular bumps arround the liscence plate that don't seem to fit with any other lines on the car. It's my first car, I have to love it, but still, I don't mind complaining about it. It's a strong runner, hasn't really failed me (minus brake lines, BEWARE!!!), and I plan to keep it. Who knows, some body work and some engine work, I may have this thing lapping Porsches.
Looking for a Used
Cavalier
in your area?
CarGurus has

1,710

nationwide Cavalier listings starting at

$1,000

.
SMOKEinWYO

writes:
1996 Chevrolet Cavalier Z24 Coupe
Review
Pros
easy maintenance, good brakes, great gas mileage, ample size trunk, turns on a dime at 30 mph without touching the brakes
Cons
automatic trans, terrible stereo

More Pro Than Con — At first glance I wasn't very thrilled with the looks of this car. After looking at it for a while it grows on you, for me it took over in no time at all. When i first drove my Cavalier I wasn't the first owner, I was the fourth; and the first three was not kind at all to it. The engine was out of oil, plugs were way off gap, brakes were gone, transmission was slippy and there was leaky gaskets all over the place. I can remember pushing the gas pedal and counting to 5 before i started to move. Surprisingly enough i was able to get all the parts i needed to make it roadworthy and i still paid my rent and didn't starve. Repairs or replacing parts is so simple, aside from the usual front wheel drive headaches. A few months after I got it running, I was also able to upgrade most all of my suspension components without much modifications or complex knowledge. I'ts almost as if Chevy seen all the after market goodies, then planned a car around them. Aside from it being a fwd car (for now) it has plenty of pep, handles like a dream, after about $500 on sway bars, shocks, bushings, etc etc, but with scheduled maintenance and three better drivers before me, it might not have been that terrible of a car for me to start on
Primary Use: Commuting to work
Casey

writes:
1996 Chevrolet Cavalier Base Coupe
Review
Cons
Fuel Pumps go out quick and are expensive
It A Great Car But Repairs Are Expensive — It's a great traveling car, not really much space. It doesn't have the best speed in the world, but gets good gas mileage. I paid 600 dollars for the car, so it was a great price for what its worth. It is a great car to drive going place to place, but I would love to have something better!
Primary Use: Commuting to work
Kris

writes:
1996 Chevrolet Cavalier Base Coupe
Review
Pros
gas milage, drivability, trunk space
Cons
gas cap on wrong side, dash squeaks, a/c out, seats don't track well
The Used Cavalier: The Friend To The Economically Challanged — The dash squeaks at road speeds, and the gas cap is on wrong side. Good power, handling, visibility. Very reliable for a car with over 190,000 miles on it. I do wish the air conditioning still worked. I hope to keep it long enough to teach my kid to drive with it. It's good on gas; about 26 to 30 mpg. It's a decent driver. The seats don't move smoothly, though, and it's a bit tough to get the oil changed. The exterior has held up well.
Bill

writes:
1996 Chevrolet Cavalier Base Coupe
Review
Buy One — this car took the worst beating out of any of the cars I've owned. Ask anybody that knows me, they've all been for a ride in the cavy, that thing went more places off road than most peoples trucks have been, it had been off of many jumps, everything you can think of doing to a car this car had done, and it took a tree, sideways at 70mph to kill it
mycarforsale

writes:
1996 Chevrolet Cavalier Base
Review
Pros
Runs good on gas, Exterior paint in great condition. Low miles are true original miles.
Cons
CAR HAS BEEN SOLD AND IS NO LONGER ON THE MARKET FOR SALE.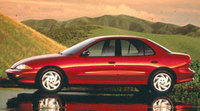 Great Car — I love this car!! It runs good on gas, great handling on the street and highway driving. Car handles great in the rain and snow. Very comfortable ride. Pull down seat in the back allows you to transport boxes and things with ease. It is a great car overall.
Primary Use: Family transportation
carajo114

writes:
1996 Chevrolet Cavalier LS
Review
Pros
fuel-efficient...very
Cons
Unless you want to repair this thing every month or so...

Good First Car...lesson Learned For Me. — I bought my 96 cavalier when it was 14 years old for $1600. For being 14 and having 150K + miles, she ran alright...for about two weeks. We took her on a 2 hour road trip and on our way back, she over heated...BAD. I say bad because it wasnt just a cooling fan or something. It was my water pump. Unfortunately for me, my mechanically inclined father could only diagnose the problem. He didnt have the tools or time to do the job for me. I paid 800 bucks right off the bat for that repair. I've had brake problems with it almost the whole time. My glove box won't shut, my horn wont honk, wipers stay stuck in up position, a/c broken, had power window problems, just replaced an alternator after having to have the wires fixed previously, replaced the muffler, which can be expected on any car thats 14 years old, and every time that I look under my own hood, I see wads of electrical tape and all kinds of things that just dont look good. I think I may have a small internal oil leak somehwere because there's oil all over the spark plugs when we change them. I could go on and on and on. Overall, this car has been reliable to get me to work and back everyday, and I've definitley put my fair share of miles on her during road trips. I would have to say that for my first car, I do love it and i have gotten my $1600 value out of it, but considering all that I've put into it, and all the trouble she's given me, NEVER AGAIN WILL I EVER BUY A CHEVY CAVALIER!!!!!!!!!!!!!!!!!!!!!!!!! NO MATTER WHAT THE YEAR. I've had some good memories, but I think this time it might be the end. The engine is knocking....
Primary Use: Commuting to work
Kelsey

writes:
1996 Chevrolet Cavalier Z24 Coupe
Review
I Love My Car! — Cheap on gas, not much maintenance needed. Exterior looks great, interior is pretty good for an older car. Fun to drive and easy to fix when something goes wrong. Looks very nice and very sharp. Cheap little car all around.
Primary Use: Commuting to work
alafslm

writes:
1996 Chevrolet Cavalier Base
Review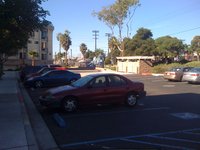 Displaying 1 - 10 of 47 1996 Chevrolet Cavalier reviews.
Looking for a Used
Cavalier
in your area?
CarGurus has

1,710

nationwide Cavalier listings starting at

$1,000

.