1996 Buick Roadmaster
User Reviews
Average Ratings from

9

reviews
Performance:
Appearance:
Build Quality:
Overall:
Review Highlights
Click to filter reviews below
Displaying all 9 1996 Buick Roadmaster reviews.
JRD425

writes:
1996 Buick Roadmaster 4 Dr Sedan
Review
Pros
Ride, handling, ease of controls. All around comfort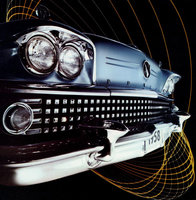 Last Great Buick? — I bought the Roadmaster to replace my 70's big Buicks that I drove daily. I did lots of research and found these last year rear wheel drive cars to be free of any major recalls and coveted by many owners. After driving one for 4 years now I have to admit, they're about as perfect as you can get in design, ride and comfort. The LT-1 engine provides great power and the transmission is a perfect match. Ride is about as smooth as you can get. I've had people compare it to being in an airplane. The interior is designed for Buick's target audience of 60 and up so the controls are easy to see, use and well laid out. Seats are super comfortable and if you have the heated seat version, you also have additional power seat settings. Back seat room is great as I've had three adults back there during long road trips and they all said they were very comfortable. The only weak spot in the the interior is the fake wood trim on the doors. They tend to break and have a cheap look to them. All in all this may be the best car I've ever owned and shows that GM can build big cars better than anyone. It's similar to the Cadillac Fleetwoods but not as expensive. The LT-1 came out in '94 so it was available for three years. I really believe that these cars will ultimately become collectors and start to go up in value. Low mileage examples are already bringing top dollar as they begin to dry up.
Primary Use: Commuting to work
Harry

writes:
1996 Buick Roadmaster 4 Dr Limited Sedan
Review
Pros
I would buy another one of these plush rwd gms, this time maybe a caprice or a caddy.
Cons
The back seat for such a big car was surprisingly not as comfortable as one might think, i also was disappointed it had such a simple gauge cluster, only mph, fuel and temp.
Big Powerful Luxury Sedan — This was my fathers car and after he passed away my mothers but then i started driving it mostly. This car was a huge boat with plenty of power thanks to the corvette 5.7 lt1 v8 under the hood. Fully loaded plush leather seats, huge trunk what is not to like? It had a leak when we first got it and we fixed it but it just kept coming back. It needed a starter twice and finally the power steering pump went so my mother had enough and we got rid of it
Primary Use: Commuting to work
DanR63

writes:
1996 Buick Roadmaster 4 Dr Estate Wagon
Review
Pros
Love the power of the LT1 very smooth and strong. moves this 5000 lb car up to speed much faster than one would expect. very roomy and comfortable ride like stitting on your living room sofa!
Cons
this car while very relible all cars need work now and then. the car has many tight spots that even the tinyest hands can't fit and the mix of sae size and metric make it so one has to pull out the entire tool box to work on it.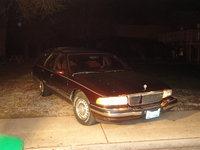 Safe/reliable/comfortable To Drive (not Bad Looking Either) — Overall these are great cars to drive and with 20-24 MPG from and very powerful LT1 engine it is like having your cake and eating it too! as these cars are now aging they still provide us with a great car to teach my kid's to drive and I know they will be safe. The greatest down side of this car is the fact that they will rust to death (midwest cars)! We are not just talking about a hole in a fender but the entire body substructure just totally corrodes to the point where repair would be impossible.
Primary Use: Family transportation
Tnoyes

writes:
1996 Buick Roadmaster 4 Dr Estate Wagon
Review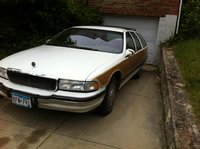 The End Of An Era — I have owned several full size GM models during my life, my Roadmaster is by far the best of what Detroit had to offer. Buick got it right when they designed the Roadmaster, I am constantly amazed at the power, comfort and reliability.
Primary Use: Family transportation
bigdogprice

writes:
1996 Buick Roadmaster 4 Dr Estate Wagon
Review
Pros
Great performance , Smooth driving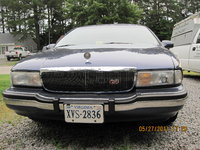 One Bad Ass Wagon — I love this car , it has power and drive like new. Drives down the road like you can not belive . Fully optioned with leather seats and american racing mag wheel , which set off the car . Ijust tinted the windowes last week , I still need some trim pieces but they are coming soon.
Primary Use: Sport/fun (spirited driving, track racing, off-roading, etc.)
Steve

writes:
1996 Buick Roadmaster 4 Dr Estate Wagon
Review
Pros
Comfortable ride and good gas mileage.
Cons
Just try finding good white walls for it--what a pain.
Excellent--if I Could Find Another One, I'd Add It To My Collection. — What a fantastic car! Comfortable, fast, and good on gas ( well, on the freeway it gets 24 mpg, in the city, ehhh more like 12-15 mpg). It's got such nice lines for a wagon and you can't beat a wagon with an LT-1 Corvette ( although it's de-tuned to 265 hp).
Primary Use: Sport/fun (spirited driving, track racing, off-roading, etc.)
3 of 4 people found this review helpful.
You don't find this review helpful
Clint

writes:
1996 Buick Roadmaster 4 Dr Estate Wagon
Review
Pros
great car, looks good, it s a real sleeper and head turner, and gets good gas milage and is a great performance car
1996 Buick Roadmaster Estate Wagon Limited Editoin Collectors Edition — my 1996 buick roadmaster estate wagon in great i love these cars and i plan to alwasy have one ther performcae is great, the braking could be better if it was all four wheel disc instead of drum in the back but you can switch it out. the handelingis great esecially with LCA's and a front and rear sway bar. the build quality is awsome its a GM what more could you ask for. i think the apperance is great esecially if you get some ss wheels and window tint it just gives the car a mean look. the cost of ownership is great and the value will only go up these are collectors cars and will some day be in great demand alot of the caprice wagons are already getting really hard to find. and i last but not least i love this car it is awsome to drive and you can load the people in it. it is nice and roomy for road trips and it just great to see people faces when you beat them in a woody station wagon. B-Bodies for life!
sapper77

writes:
1996 Buick Roadmaster 4 Dr Limited Sedan
Review
Pros
Big car with lots of power and comfort
Cons
It's not for everyone

Retro Bucik Before Retro Was A Trend — A traditional big RWD luxo-boat. The car floats on highways and handles well for its size. The LT1 delivers amazing power and moves the 2+ ton car with a purpose. Fuel economy is decent (14/23) and braking is okay. The styling is unique with touches of old-school Buick (and Hudson) and is much more attractive than the Caprice/Impala SS. Interior is spacious with good leg and headroom. Trunk is large but shallow and full size spare eats a lot of room. Car is solid and very well built-I've had no issues aside from replacing power-seat motor. Electronics are a huge upgrade from previous GM models. Car is fun because it can comfortably haul five people and their stuff on long trips and can still embarass a Mustang at a traffic light.
BuickBeliever

writes:
1996 Buick Roadmaster 4 Dr Limited Sedan
Review
Pros
Since it was what we wanted, the list would be long.
Cons
Do not mind the low miles per gallon.

Am Not Sure If There Has Ever Been A Better Performing Great Value Automobile. — We first got a 1993 Buick Roadmaster from its 1st owner in early 2001. After 6 &1/2 years we started looking for a 1996, since it was the last year they were made. There were no call-backs from notes left on windshields asking the present owner if they were interested in selling ! Finally we got really lucky & bought one with 61K miles !
Owner for 0 years, 6 months
Miles Driven per Year:5,000
Displaying all 9 1996 Buick Roadmaster reviews.
Looking for a Used
Roadmaster
in your area?
CarGurus has
68
nationwide Roadmaster listings and the tools to find you a great deal.