1995 Toyota Camry
User Reviews
Average Ratings from

44

reviews
Performance:
Appearance:
Build Quality:
Overall:
Review Highlights
Click to filter reviews below
Displaying 11 - 20 of 44 1995 Toyota Camry reviews.
Nick

writes:
1995 Toyota Camry LE
Review
Pros
Reliable, easy to drive
Cons
Not much power, does look very "cool"
1995 Toyota Camry — Reliable car, will last forever if you treat it well. It is a 4-cylinder so it has a limited amount of pick up, but it has plenty of power for city driving and has good gas milage. The car is easy to drive, it is an automatic with good power steering. It has 151k miles and I have never had a problem starting it up, especially on the coldest mornings in the winter time.
Looking for a Used
Camry
in your area?
CarGurus has
72,016
nationwide Camry listings starting at
$995
.
Trevor

writes:
1995 Toyota Camry LE
Review
Pros
Perfect commuter car, low maintenance costs, easy to fix.
Cons
Underpowered and ugly.
Great Car, Just Not To Look At — This is the prototypical Camry. Will last forever, but doesn't have any bells or shiny whistles and is definitely nothing too exciting to look at. That said I wouldn't trade this car for the world. It has gotten us through so much with it's dependability. You can always trust a Camry.
Primary Use: Commuting to work
addi77

writes:
1995 Toyota Camry DX
Review
Cons
its not a sports car lol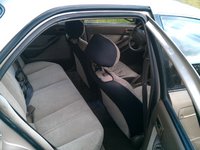 I Love This Car.. Its Very Good On Gas — im a real fan of this far its very durable. very good on gas and can stand up to any weather. you wouldnt regretting a car like this one. its a nice car to hand down to your kids as a first time car too.
Primary Use: Commuting to work
Vince

writes:
1995 Toyota Camry LE V6 Wagon
Review
Its A Nice Wagon. — Inherited it from my dad. Its an old model and its not the most attractive, but it has held up very well over the years and has needed few repairs. The V6 provides good acceleration, and still runs like new despite the 150k miles on it. The car is cost efficient, holding up to 7 people and getting 28 mpg highway and is inexpensive to maintain. The positive to owning a wagon is the additional space it provides. Overall its a good functional car.
JustinDurham

writes:
1995 Toyota Camry LE
Review
Pros
Great car with no engine problems. Great fuel economy. Low maintenance cost. Interior up-holstery in great condition. Low-mileage for a 1995 vehicle. Very reliable vehicle and brand is well-known for running forever.
Cons
Does have a few minor cosmetic issues. (Small scratches, dings.) Is a 1995 vehicle, so not a new looking vehicle.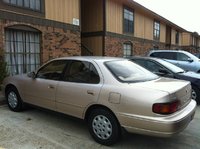 Very Reliable Vehicle — I like the low mileage for the year of the vehicle, and the great gas-mileage! A few cosmetic dings, but it is a '95, and you cant get one of those in perfect condition looks wise. Its the way it runs, and the small amount of gas it burns that really counts!
Primary Use: Family transportation
Hugo

writes:
1995 Toyota Camry LE
Review
Pros
Comfortable, ages well, roomy
Cons
Boring, slow, brakes always warp, burns oil, choppy ride, expensive to buy and fix
It's Pretty Much A Generic Car... — After I started commuting in rush hour traffic, I sold my cavalier and got my mother's car; her 1995 Toyota Camry. After putting around 2000$ of repairs into it, it runs fine for an old car. It doesn't feel like it's aged, but, of course, suffers from problems like any old car. It's very dull to drive, it has "O.K" comfort, O.K performance for daily driving, O.K fuel economy, etc. It's a generic car. It's a bit hard to start during winter with a new battery. I take my Chevette more often. It's my first Japanese car and it's been an O.K experience. The biggest improovement over my past, american cars is on the build quality. The camry doesn't have rattles like my other cars had, the plastics are good quality and well assembled. I haven't noticed any improovement on the reliability side. I've had a bit more problems with the american cars I've owned, but they were always easy to fix and CHEAP! This one costs an arm and a leg to fix, and when something breaks, it's something "big". Yes, it's nice to have a car that doesn't rattle and stuff, but I also paid much more for that car than the other ones. Bottom line: It's far from being a bad car! Gets the job done, runs great etc. but I wouldn't pay that much again for a used car for the little difference it makes on quality and reliability (the value is pretty much the same as the 2004 Cavalier I owned). Update: Car keeps leaking all fluids on the ground and various components broke down in 2012
Mario

writes:
1995 Toyota Camry LE Wagon
Review
Pros
Drive this car to save mileage on other cars
Cons
Avoid this car if you are looking for a date
Waginski — I like that we can haul stuff in it. I like that we can park it anywhere and not worry about door dings and stuff like that. The car is stable even at 85 mph! Pack this waginski to the max and it still gets 35 mpg!! It should last at least another 30K miles.
Primary Use: Commuting to work
Acadia_1214

writes:
1995 Toyota Camry XLE V6
Review
Pros
Acceleration, Luxurious interiror, Quality
Cons
Handling, Fuel economy
Japanese Quality — Performance- The car accelerated very quickly, you wouldn't expect it coming but, this car took off at red lights and I left people behind. The braking in this car wasn't exactly good, it took a while for the car to slow down. Handling was sub-par, it has a wide turning circle and sharp turns aren't suggested. Build Quality- The car had only a few flaws. I had to repair a power steering fluid leak and the exhaust manifold. Appearance- Just like most family sedans in the market, it tends to blend in with the crowd. Interior styling isn't anything to brag about. However, it had a lot of great features that many upscale sedans offered. Cost of Ownership- Maintenance was no problem. As long as you take care of the car and do your oil changes, and regular service, you won't encounter trouble. Gas mileage was a pain. My car averaged 17 mpg with a mixture of city and highway driving. I usually drove with the "PWR" button on. It increased gas pedal sensitivity and raised the RPM's. Fun Factor- There's not too much fun involved. The car struggles if you try to push it too hard, it wasn't designed for the track obviously.
Primary Use: Commuting to work
Dana

writes:
1995 Toyota Camry LE
Review
Pros
Lots of room inside the cabin. Large trunk space, and its pretty good with gas mileage compared to new cars.
Cons
It seems to get dents and stuff easily. If u even get in a minor accident it shows quite a bit of body damage.
Its Still A Great Car To Drive And Own. — I think that this car is still a good car to own today. It is a reliable car, and is also pretty safe. This car does not have ABS so the brakes are not fantastic but are still ok. The body of the car does get dented easily. Also since this car is old you can find one for cheap. The gas mileage is good, it is not a gas guzzler and is very reliable. This car as been in my family since 1995 and we have never had any major issues with it at all!
Primary Use: Commuting to work
Travis

writes:
1995 Toyota Camry DX
Review
Pros
Great on gas, easy to maintain and reliable.
Cons
Cheap Plastic parts used on the body.
Super Reliable Car That Can Take A Lick And Keep On Ticking. — This car is not made primarily for performance. The car performs weel, it is primarily to be used as a commuting car. The car cost very little to maintain and is ideal for a first car. the appearance of the car is mediocore it is no meant to something that imeadiatley grabs the attention of others. overall the car is great and reliable.
Primary Use: Commuting to work
Displaying 11 - 20 of 44 1995 Toyota Camry reviews.
Looking for a Used
Camry
in your area?
CarGurus has
72,016
nationwide Camry listings starting at
$995
.