1995 Toyota Camry
User Reviews
1995 Toyota Camry
Review Ratings
Average Ratings from

43

reviews
Performance:
Appearance:
Build Quality:
Overall:
Review Highlights
Click to filter reviews below
Displaying 1 - 10 of 43 1995 Toyota Camry reviews.
Shambockadee

writes:
1995 Toyota Camry LE
Review
Pros
The car is easy to work on.
Reliable
Strong Integrity
Fuel Economy
Lumbar Support
Pretty Luxurious
Cons
Wiring to power locks and windows break and short
Suspension is noisy even after mechanic work

Solid Car, But Here Are Some Things To Watch For — With the help of a mechanic I bought this car for 1500 dollars 8 years ago and rebuilt it. The car is engineered like a Russian Submarine - solid, tight tolerances, and nice intelligent touches. The appearance is somewhat ordinary - like a 87 Tauras. The performance is average except the luxurious feel of the car. Here are some informative tips that will give anyone happy motoring if the buy a 92-96 Camry: When you replace the timing belt replace everything around the timing belt- the water pump, the tentioners, pulleys, oil pump seal, etc. Just save youself the headache and get it all done. It will save you big bucks in the long run. If you climb in the car one day and it turns over but will not fire it is 90 percent of the time the distributor with this Camry from 150 to 200 thousand miles. Supressors, capacitors, and coils tend to go bad inside of the distributor. Also, don't forget to change the AM2 fuse.(the fuse box by the battery, 30A fuse). When a part in the distributer goes bad the fuse blows when you turn on the ignition. The wiring to the power locks and windows breaks and shorts.The fuse is under the dash to the right of the steering wheel (Difficult to get to and difficult to replace). You can grab this fuse and wiring harness out of a junk yard to save bucks. Otherwise, if this car is regularly maintaned it is a great reliable point A to point B car. Hope these lessons Ive learned helps someone. Happy Motoring!
Looking for a Used
Camry
in your area?
CarGurus has

78,226

nationwide Camry listings starting at

$1,500

.
rickbo

writes:
1995 Toyota Camry LE
Review
Pros
Reliable and looks great.
Cons
No negatives about this car.

A Very, Very Good Car. I Wouldn't Hesitate To Buy Toyota Again. — I really love this car. My '95 has 247,000 km now and is totally reliable, and is a pleasure to drive. Holds the road so well, especially on corners. I have only had minor repairs and they are infrequent. With the 4 cyl. engine I get 35m/gal. or 8.4Km/100km. Lots of power too. I even tow a large utility trailer with it. This car is so good, I find it hard to justify getting rid of it to purchase something new!
Primary Use: Commuting to work
Nick

writes:
1995 Toyota Camry LE
Review
Pros
Reliable, easy to drive
Cons
Not much power, does look very "cool"
1995 Toyota Camry — Reliable car, will last forever if you treat it well. It is a 4-cylinder so it has a limited amount of pick up, but it has plenty of power for city driving and has good gas milage. The car is easy to drive, it is an automatic with good power steering. It has 151k miles and I have never had a problem starting it up, especially on the coldest mornings in the winter time.
Alex

writes:
1995 Toyota Camry DX
Review
Cons
family sedan, not built for performance
95 Camry — Great car overall. Well built, can withstand anything. Big interior, very roomy. Handling and performance are top notch. Never had any problems. Just do regular maintance and it will go on forever. Fun to drift in, well built suspension. Great Car.
Hugo

writes:
1995 Toyota Camry LE
Review
Pros
Comfortable, ages well, roomy
Cons
Boring, slow, brakes always warp, burns oil, choppy ride, expensive to buy and fix
It's Pretty Much A Generic Car... — After I started commuting in rush hour traffic, I sold my cavalier and got my mother's car; her 1995 Toyota Camry. After putting around 2000$ of repairs into it, it runs fine for an old car. It doesn't feel like it's aged, but, of course, suffers from problems like any old car. It's very dull to drive, it has "O.K" comfort, O.K performance for daily driving, O.K fuel economy, etc. It's a generic car. It's a bit hard to start during winter with a new battery. I take my Chevette more often. It's my first Japanese car and it's been an O.K experience. The biggest improovement over my past, american cars is on the build quality. The camry doesn't have rattles like my other cars had, the plastics are good quality and well assembled. I haven't noticed any improovement on the reliability side. I've had a bit more problems with the american cars I've owned, but they were always easy to fix and CHEAP! This one costs an arm and a leg to fix, and when something breaks, it's something "big". Yes, it's nice to have a car that doesn't rattle and stuff, but I also paid much more for that car than the other ones. Bottom line: It's far from being a bad car! Gets the job done, runs great etc. but I wouldn't pay that much again for a used car for the little difference it makes on quality and reliability (the value is pretty much the same as the 2004 Cavalier I owned). Update: Car keeps leaking all fluids on the ground and various components broke down in 2012
CamryHog

writes:
1995 Toyota Camry LE
Review
Pros
Takes a beating, reliable, good power for a 4-cyl family sedan
Cons
body roll, could use the 6-cyl power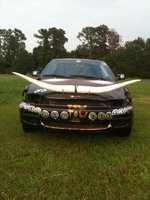 While Not A Racing Car, It Can Hold Its Own — We converted a 1995 Toyota Camry LE into a 24 Hours of LeMons car. The braking is excellent with OEM parts (althought we do chew through pads). Acceleration is good for a 4 cylinder. The automatic transmission has held up to some extreme beating. The car has over 200k miles and we're revving over 6k regularly. I know Toyota would laugh, and deservedly so, but this car consistently finishes in the top half of the field competing against old Mustangs, BMWs, Miatas, and just about everything else you could think of.
Primary Use: Sport/fun (spirited driving, track racing, off-roading, etc.)
Mario

writes:
1995 Toyota Camry LE Wagon
Review
Pros
Drive this car to save mileage on other cars
Cons
Avoid this car if you are looking for a date
Waginski — I like that we can haul stuff in it. I like that we can park it anywhere and not worry about door dings and stuff like that. The car is stable even at 85 mph! Pack this waginski to the max and it still gets 35 mpg!! It should last at least another 30K miles.
Primary Use: Commuting to work
Acadia_1214

writes:
1995 Toyota Camry XLE V6
Review
Pros
Acceleration, Luxurious interiror, Quality
Cons
Handling, Fuel economy
Japanese Quality — Performance- The car accelerated very quickly, you wouldn't expect it coming but, this car took off at red lights and I left people behind. The braking in this car wasn't exactly good, it took a while for the car to slow down. Handling was sub-par, it has a wide turning circle and sharp turns aren't suggested. Build Quality- The car had only a few flaws. I had to repair a power steering fluid leak and the exhaust manifold. Appearance- Just like most family sedans in the market, it tends to blend in with the crowd. Interior styling isn't anything to brag about. However, it had a lot of great features that many upscale sedans offered. Cost of Ownership- Maintenance was no problem. As long as you take care of the car and do your oil changes, and regular service, you won't encounter trouble. Gas mileage was a pain. My car averaged 17 mpg with a mixture of city and highway driving. I usually drove with the "PWR" button on. It increased gas pedal sensitivity and raised the RPM's. Fun Factor- There's not too much fun involved. The car struggles if you try to push it too hard, it wasn't designed for the track obviously.
Primary Use: Commuting to work
Amir

writes:
1995 Toyota Camry DX
Review
Pros
relaible and very comfy
Cons
avid 4cly Auto, very very slow!
Like It, Good Car To Get Around In — very good build quality, love the relaibelity and drives well for its age. only problem was the 4Clynder Auto transmission was very very slow. but still dont mind have another one. cost of ownership is very low considering you can pretty much fix everything your self DIY.
Primary Use: Family transportation
Matthew

writes:
Pros
Gas mileage; solid; very reliable
1995 Toyota Camry Le — This car is great for just getting around. Obviously, it can't touch a sports car in terms of performance, but it does what's necessary. I've gotten in a couple fender benders, and each time, it's been relatively unscathed. There is a little oil leak that I've been neglecting , and there are only 2 windshield wiper settings (the 2 fastest), but that's all that's really wrong with it. Interior is very nice. The exterior looks a little on the generic side, but what can you expect?
Displaying 1 - 10 of 43 1995 Toyota Camry reviews.
Looking for a Used
Camry
in your area?
CarGurus has

78,226

nationwide Camry listings starting at

$1,500

.