1995 Pontiac Firebird
User Reviews
1995 Pontiac Firebird
Review Ratings
Average Ratings from

39

reviews
Performance:
Appearance:
Build Quality:
Overall:
Review Highlights
Click to filter reviews below
Displaying 1 - 10 of 39 1995 Pontiac Firebird reviews.
gtwildfire

writes:
1995 Pontiac Firebird Convertible
Review
Pros
good car for the money. Great styling, handling. Very fun to drive. Low cost for parts. Not too hard to work on.
Cons
Not a good car to neglect. It's a sportscar, so it's noisy and cramped. Want quiet and space? Don't get a sportscar.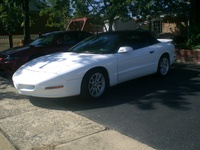 Inexpensive To Buy, Fun To Drive, Looks Great And Not Hard To Work On — I'm 42 years old and have owned 27 cars and 3 motorcycles. I've bought and sold cars for just about every reason imagineable, alhough I only drove 2 to the grave. My latest acquisition was a 95 Firebird Convertible. It had a couple issues and I bought it at a dangerously low price of $2100. Well, after only a few hours I fixed what was wrong with it for about $30 and detailed the car completely. The car is now worth almost 5 grand. I read another review, complaining that it's noisy. Well, it's a sportscar. They're noisy. As far as a towncar handling better? highly unlikely. The laws of physics pretty much rule that out. My review: The firebird's body is made up of a lot of plastic or fiberglass. Unlike metal bodys, there can be more flex if someone is careless and pushes too hard. When this happens, the paint can crack. On the upside, the majority of the panels don't crack and better yet don't dent or rust. Paint, also looks better longer on composite than on metal. The 3.4 engine was surprisingly far back under the hood, likely improving weight distribution. Space under the hood with the 3.4 V6 is slightly cramped by still workable although some components may be difficult to get at, requiring disassembly of other things to gain access. This can drive up the cost of a repair. Parts, on the other hand are surprisingly affordable for the firebird and 3.4 V6 in particular. Even a replacement roof to match the original can be gotten for $450, including the glass back window with defroster. The ride is surprisingly smooth when compared to a newer 350Z, which gave my kidneys the ride of their lives. The firebird, on the other hand smooths out medium bumps in a well-tuned manner. Handling? Well mine came equipped with new 11-inch wide Goodyear F1 tires. Cornering feels like a cranival ride. This car can take lateral G's that will leave a big Ford sedan for the jaws of life to open. The convertible top is nicely fitted, and is raised/lowered with hydraulic rams. The mechanism seems to be well-designed and the fit-and-finish is excellent for any convertible top. The interior, well sure you need either an amputee or half-pint kids back there. If their lack of footspace bugs them, open up the roof and they'll be entertained. NOTE: A kid's car seat will NOT fit, at least not with a kid in it, BUT the rear seats are practically kid seats anyway. They epitomize "bucket seats". In the front, especially for the driver, the inside is all sportscar. The middle console is high, the shifter is in a nice placement, the gauge cluster has all the gauges expected, the air conditioning vents are durable, nicely directional and visually nice. When the roof is up, there is a blind spot just behind the passenger door window, a wedge mirror applied to the passenger RV mirror can eliminate that blind spot, I install them on all my vehicles. My interior is dark grey leather, the steering wheel is wrapped in leather and has a surprising amount of stereo controls. The driver's seat has an adjustable lumbar and other controls. The stereo has poor bass response. I plan to swap out the speakers, which are in the doors (2 each) and on the sides in the rear. The dashboard is a vast plain, but that is because the windshield is so shallow, it's about 4 feet from the front (bottom) edge to the roofline. A benefit if having such a shallow windshield, aside from aerodynamics, is that over the life of the car it will encounter fewer permanent pits (ever see all the imperfections in your high-mileage windshield when the sun is low?) less of that with a firebird. Oh, and the wipers work well. The center console boasts a covered storage bin and a cupholder. The shifter has no gear display at the steering column in the gauge cluster, only at the middle console (unlike my Grand Prix GT). The front seats are comfortable and there is ample leg room for a 6' tall man such as myself. There is a hump in the passenger-front floor (probably for the catilytic converter), but it dosen't seem to cause much trouble except to get the floor mat to conform well to that part of the floor. Visually, this car is stunning. It's bold. It's sleek. It has attitude. Sure, it's not a corvette, but for what it is and what I paid for it, I am extremely satisfied.
Owner for 1 years, 2 months
Miles Driven per Year:15,000
9 of 9 people found this review helpful.
You found this review helpful
Looking for a Used
Firebird
in your area?
CarGurus has

681

nationwide Firebird listings starting at

$2,988

.
jeweldave

writes:
1995 Pontiac Firebird Base
Review
Pros
With this modification done it stops traffic its definatley a head turner!
Cons
Dont ever wash the engine without covering the electronics!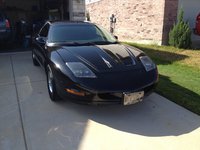 Enjoy It Is My First Ever Restoration — The compliments I get are worth all the patience and money invested. There are alot of Mustangs,Cameros out there and very few Firebirds an Formulas and Trans Ams. I just wanted something diffrent. And with the small V-6 its great on gas milage.
Primary Use: Sport/fun (spirited driving, track racing, off-roading, etc.)
Samson

writes:
1995 Pontiac Firebird Base
Review
Pros
I like that it has potential to look amazing.
Cons
I hate that the car has horrible wheels and no passenger window.
I Wanna Keep This Car Over All Others I Have Had. — My car is great at acceleration. The braking is not as great. The handling is horrible, it has no power steering. It needs a new passenger side window, a windshield, tune-up, starter, clutch, pressure plate, and throwout bearing. The interior is decent for the car sitting for 3 years. It has 2 small dents and needs new rims. The gas mileage is great for 5 speed and I have not had to do anything to it yet. The car is very fun to drive. I love dropping the clutch and spinning the tires off.
Primary Use: Commuting to work
Tony

writes:
1995 Pontiac Firebird Base
Review
Pros
Great performance and looks, and costs of ownership are very minimal
Cons
Entrance and exit is difficult and often results in eventual wear of the leather on the side of the seat.
Fantastic And Fun, Yet Practical Sports Car — I absolutely love Firebirds, and this one is a prime example. Though it is a V6, it is still powerful and has great performance overall, while maintaining an astounding average of around 24 mpg. The T-tops are an excellent feature, combining the positive aspects of a sunroof and a convertible into one. The interior is well styled, providing a comfortable ride, although the "hump" on the floor on the passenger's side is quite a bother. The car sits low to the ground, which, although it does making entering/exiting marginally difficult, allows the car to feel incredibly stable around corners and provides for a fun drive. As for the looks, there is nothing i can say that the car doesn't say for itself. The Pontiac Firebird is an absolutely stunning car. I have had no repair costs in 3 years other than routine maintenance.
Ben

writes:
1995 Pontiac Firebird Base
Review
Pros
Fun to drive
Looks great
Good gas mileage
Cons
VERY low to the ground
Rough suspension
No room for rear passengers.
An Overall Nice Car. — Great car! It's reliable, and looks great. The only real thing that's wrong with it is that it needs a new air compressor. Besides that, the only bad thing is that the suspension is really rough when it comes to bumps. Otherwise, it's a really good vehicle to drive.
Primary Use: Commuting to work
X_Factor

writes:
1995 Pontiac Firebird Trans Am
Review
Pros
A lot of bang for the buck.
Cons
I could do without the stigma attached to muscle cars like this one.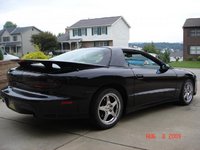 An Inexpensive Toy. — This is Corvette without the repair bills or insurance rates. It has the optional factory-installed Corvette LT1 engine and Corvette 6-speed manual transmission (T56). I have installed a C5 Corvette front brake upgrade. It's a blast to drive with the LT1 engine and it sounds like a V8 should.
Primary Use: Sport/fun (spirited driving, track racing, off-roading, etc.)
Josh

writes:
1995 Pontiac Firebird Formula
Review
Cons
not a very affordable daily driver
Amazing — amazing handling and power... its a blast to drive if you can afford the gas... t tops are a plus and a must the all around feel of the car is great and if you know what you are doing you can make the car do anything you want... like drifting on and off ramps on the highway at 65 or 70 haha... or make between 11 and 13 second passes on the strip depending on whats under the hood...
Primary Use: Sport/fun (spirited driving, track racing, off-roading, etc.)
Rory

writes:
1995 Pontiac Firebird Base
Review
Pros
handles well, looks god damned sexy when cleaned up, good gas mileage with sporty looks and power.
95 Pontiac Firebird 2dr Standard Coupe Auto Transmission 3.4l V6 — This car is my first car, but i cant see myself having another one unless i still have this in my driveway. I bought it for 2900 with 116000 miles on it. It drives like its new. grips the road very well, very smooth turning very stable, handles higher speeds very well, its only a 3.4L V6 but that is all you need good gas mileage, 25 mph city about 28 highway, and even better when you can control your rpms. The only cons to this car are some cosmetic defaults that were probably done by the person who owned it before me, which probably didnt treat this car right, the cigarette burns in the vinyl tell me this, just cosmetic problems, which will be a pain to fix, but even with out fixing it, just vacuum it out armour all the dash and vinyls, wash it up and wax it, and its gorgeous in my opinion. Other than that the other cons are that this car should not be driven in the snow due to its powerful rear wheel drive, other than that i see no problems that irk me.
Dmars140

writes:
1995 Pontiac Firebird Convertible
Review
Cons
small cargo area and back seat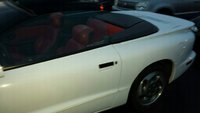 Fun Fun Fun — the firebird handled great and was very good on gas. the preety white with the white top looked great! the intioror was very different. the engine only had 64,500 miles on it and it purred like a kitten. when you got in this car you thought you were on vacation
Aaron

writes:
1995 Pontiac Firebird Base
Review
Pros
Fuel mileage is excellent since it's a V6. I probably average around 28 MPG combination. Kind of quick to and has a 5 speed manual transmission.
Cons
Needs some body work and very little interior work.
Displaying 1 - 10 of 39 1995 Pontiac Firebird reviews.
Looking for a Used
Firebird
in your area?
CarGurus has

681

nationwide Firebird listings starting at

$2,988

.