1995 Lexus SC 400
User Reviews
Average Ratings from

9

reviews
Performance:
Appearance:
Build Quality:
Overall:
Review Highlights
Click to filter reviews below
Displaying all 9 1995 Lexus SC 400 reviews.
G.A.

writes:
1995 Lexus SC 400 Base
Review
Pros
Great engine, lots of power, silky smooth, looks great, very comfortable
Excellent Daily Driver, Perfect Highway Car — There's very little not to like about an SC400. The rear legroom is very small. I would save the backseat for your friends that owe you money. The car has decent trunk space and gets great mileage for a V8 engine.
Primary Use: Commuting to work
Josh

writes:
1995 Lexus SC 400 Base
Review
Pros
She sure has get up and go.
Cons
Gas mileage is terrible but what do you expect from a v8?
Not Too Bad For A Daily Driver Besides The Gas Mileage But It Is A V8 So Its Expected. — The Lexus sc400 is a very fast, very well handling sports car with plenty of power to back up its sleek look. It is a luxury car so naturally its rather expensive . Over all I love driving it and wouldn't want to give it up minus the gas mileage.
Primary Use: Commuting to work
jv93

writes:
1995 Lexus SC 400 Base
Review
Pros
very fast and good looker.
Cons
not much space for new additions to a family.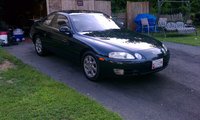 Good — i love this car they have many after market parts to modify to ur own taste and the performance is great for a stock vehicle of the 90's.it hurt to let my toy go but in need of something bigger need moooooorre room.
Primary Use: Commuting to work
Robert

writes:
1995 Lexus SC 400 Base
Review
Pros
lot of bang for low funds
Drive One Thats Been Adjusted — there is nothing i can find fault with only the fact not much for after market pieces have to custom make everything unbelievably fast with some unmentionable modifacation hard car to drift with but its possable with a little persuasion
Primary Use: Sport/fun (spirited driving, track racing, off-roading, etc.)
gcrookston

writes:
1995 Lexus SC 400 Base
Review
Pros
Affordable instant classic to drive and enjoy

A Most Wonderful Car To Drive And Own. — The timeless design, the quality of build and the wonderful assembly of this car make it an instant classic. Reliable, fun to drive and very affordable. I highly recommend to those fortunate enough to find one. It's a real winner.
Primary Use: Commuting to work
Vaughn

writes:
1995 Lexus SC 400 Base
Review
Pros
sleek look and well balanced
Cons
a bit heavy at first but after removing a few things she handles like a dream
With The V8 Taken Out And A 2.5twin Turbo Straight 6 Dropped In With A Manual Gearbox — I must say it took a while but after some modifications and a few after market parts this bad boy is ready for the track. it beats the crap out of your everyday preludes and mustangs easy. it runs down the all wheel drive SUBARU STI, and MITSUBISHI EVO and with
Glenn

writes:
1995 Lexus SC 400 Base
Review
Pros
beautiful, comfortable, excellent build quality, somewhat rare
Cons
wish it had a supercharger
Elegant Power. — It's 13 years old and it still turns heads. I'd rather have an old Lexus than a new Kia. No mechanical problems other than a siezed idler pulley bearing. Has oabout 135k on the clock. I plan to keep this car until forced to get a larger Lexus, probably a pre-owned LS430.
Grant

writes:
1995 Lexus SC 400 Base
Review
Pros
Everything, Body, HP, handling, I LOVE THIS CAR
Cons
Heavy, Could be faster, The car is a boat untill you invest a little in it
Sc400, Lightly Moded — The car is overall an amazing work of art, The body lines are like nothing on the road today, The car is older, yet still looks like a modern sports car. Engine is Tight and has great response and amazingly gets decent MPG even with its 4L v8 With a a little less the $2000.00 us dollars invested this car has turned into a luxery sports car that rivals models that are 5X its price I bought this car for a little over $5000.00 us dollars Spent about 1500.00 on tein SS coilovers with the EDFC controller for dampering force, along with $300.00 worth of polyurethane bushings. Then a set of Supra TRD big brake kit. The handling is INSANE! i can easily take off ramps and on ramps at around 90mph, it carves the corners like nothing iv ever driven, Has 280HP behind it to bake it up. Its a quick snappy little number that will throw you back and wishing for more. you Turn it on and it will return the favor. Not to mention you are riding VIP style in the full leather interior with all the motorized goodies you can get. Mod list" -Supra big brake kit (front and rear) -Tein SS coil-overs -EDFC controller and dampers -Lextreme polyurethane bushings all around -Jic-magic upper and lower control arms -Custom strait exhaust with Maserati Muffler and split strait magnaflow tips -Black out tail lights and running lights
Alex

writes:
1995 Lexus SC 400 Base
Review
Pros
The sound of the car starting up can make your hair stand on end.
Cons
I HATE THE SIZE OF THE TRUNK! You really can't fit anything in it with any room to spare.
Pow — The car is amazing, it is underestimated and ignored far too much. This car could be one of the most outrageous cars i have ever driven. They are quite cheap to come across and they are fairly common. Parts are a little expensive but used parts are easy to come by, not a good family car due to the two door sports car design.
Primary Use: Sport/fun (spirited driving, track racing, off-roading, etc.)
Displaying all 9 1995 Lexus SC 400 reviews.
Reviews From Other Years
Classic Beauty
Still the best looking car on the road. Don't expect roomy back seats. First class service. Luxury all around few modern features. Read More
Read all 2000 Lexus SC 400 reviews
A Future Classic
I have a '98 SC400 that is in perfect showroom condition, inside and out. Pearl white with all the options. It is a joy to drive and reeks of quality. The design is elegant and timeless. I have a 99 R... Read More
Read all 1998 Lexus SC 400 reviews
If U Like Luxery But Still Want To Be Sporty This Car Is A Must
sticker price is $62k in 1997. only 2048 made. premium fuel only. in 1997 they changed the body style a little to make it more modernized. has real 23k gold badges, antenna trim, and muffler tips t... Read More
Kick Asssss
Its a V8 - 4 lt Monster. Being a Lexus, its throws all the goodies at you while the engine thumps enough power to fool the speed cams. The Max I have clocked is 183 kmph. But it can go till 280 kmp... Read More
Read all

5

1997 Lexus SC 400 reviews
It's Modern Today Because It Was So Far Ahead Of It's Time!
This is the second SC400 I own, and it's even better than the 1992 model I own. As with my first review, the "One of the best cars ever built" line still applies, maybe even more so! This car set the ... Read More
Brilliant
Wow. Nice looking motor! I would recommend this car to anyone so long as they don't mind spending a tonne of money on fuel! 4.0 ltr V8 but ooh it does sound nice... It's 15 years old and has a touch ... Read More
Read all 1996 Lexus SC 400 reviews
Get A Good Example Of This Car And You Have A Great Car For Many Years To Come
Best car ever even after 17 years of abuse and 200K miles put on her. This car is rock solid and still pulls 150mph. The car gets a modest 20mpg and has a decent ride. The car handles like a GT of t... Read More
Sporty For Younger Peoples That Can Afford Gas Money
-Interior is really small -exterior is wide and long -car runs on a v8 engine -heavy doors -sporty -very bad family car due to lack of space -fun to drive for younger peoples due to high performance ... Read More
Read all

7

1994 Lexus SC 400 reviews
Looking for a Used
SC 400
in your area?
CarGurus has
66
nationwide SC 400 listings starting at
$3,399
.