1995 Jeep Cherokee
User Reviews
1995 Jeep Cherokee
Review Ratings
Average Ratings from

27

reviews
Performance:
Appearance:
Build Quality:
Overall:
Review Highlights
Click to filter reviews below
Displaying 1 - 10 of 27 1995 Jeep Cherokee reviews.
RoadKnight

writes:
1995 Jeep Cherokee 4 Dr SE 4WD
Review
Pros
Engine
Very Tough
Safe
Off-roading
Dependable
Ride Comfort
Do It Yourself Ease (4.0 IL not 5.2 I'll explain later)
Towing
Cons
Looks
Cheap Interior
Gas Mileage
Chrysler Bad Design Ideas
Road Noise
Can need a lot of Maintenance
A lot of small things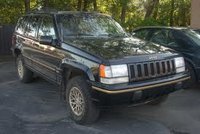 It's A Jeep Thing — It's a legendary brand with some very good things about it, but at the same time, you can't help but shake the feeling that if it wasn't for some dumb Chrysler design shortcuts it could have been a perfect truck. First the best parts about it: it has a strong, durable, reliable, and smooth Engine (I have had both the 4.0 Inline 6, and the Meaty 5.2 V8). Those two engines are just about impossible to kill, and provide ample power. This shouldn't be confused with speed, these engines are tuned almost exclusively for torque. But what really hinders the potential is a completely dumb transmission gearing. For some reason Chrysler decided to gear this car like bus. It's geared very low (especially the 5.2) which is good for towing and off-road, but terrible for acceleration, fuel economy and noise. Driving 70MPH baseline weight in my 5.2 limited and it's ruining 2500rpm with overdrive on! A very dumb design flaw. It is one of the toughest SUV's that exist. There are things that have been done with my jeeps that would demolish most other SUV's, and it didn't even slow it down. I once had the driver's front wheel break off (it was the tire shop's mistake) while going 80MPH, and I never lost control. Other then some cosmetic damage and some sheared studs on that wheel, nothing else was wrong with the truck (steering, engine, suspension). Numerous drops into ditches, ruing over curbs to name a few other abuses. The truck is basically a steel box, and will protect you quite well in an accident. It's un-moded off road capabilities is very good (thanks to it being heavy, with a strong engine, and a short wheelbase). The torque happy engine provides plenty of power to the good limited slip 4WD. Unfortunately the 5.2 comes with the full time T-Case, that has a viscous coupler (4WD torque allocator) that is almost guaranteed to fail (the 4.0 selectable case is solid). It gives a very smooth ride with full independent spring suspension, and with a very modern disc brakes (very ahead of it's time). But it is very noisy. Poor aerodynamics and very little sound padding, you won't feel the road, but you'll defiantly hear it. Unfortunately there are many small problems that really take it away from it's glory: The interior looks and feels cheap (even the limited). Easy to break plastic everywhere, drab style, the rear seats are uncomfortable, and even though it's a SUV, it lacks storage space in the rear. Jeeps can take so much abuse, but Chrysler's bad designs sabotage the reliability, which makes most stuff breaks on it's own. The electronics, AC systems, and various non essential parts are very prone to failure. The transmission's are not very reliable for this year either. General maintenance in the 4.0 is a breeze, but the 5.2 is a horror show. The engine bay is so tight and cluttered on the 5.2 just changing the oil filter takes a lot of time. Good news most of the parts are cheap, and there are no strange tools or methods for repairs on these trucks. Overall it's such a give and take when it comes to the ZJ line. What it does right, excels beyond all expectations, but those nit-picks hurts. Now it is defiantly much better the the early 2000's jeeps (which were so bad almost killed the jeep line). Personally, in my opinion, the best years to buy are the 1996-1999 models (which fixed the interior, transmission, some electrics and T-Cases in the Limited). I love my Jeep though, If you need a really tough dependable multi-function SUV, not afraid to get your hands dirty with some maintenance, and your not really concerned with bells, whistles or looks; look no further.
Primary Use: Family transportation
pseudopop

writes:
1995 Jeep Cherokee 4 Dr Sport
Review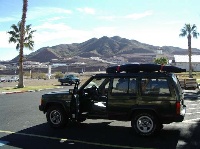 Jeep Jeep — I bought mine for under four grand about 4 years ago. I have about 155,000 miles on it and it's still runs and looks great. Like the wrangler this jeep has a look that will last for years. The 4.0l inline six is also a very manageable and maintainable engine. I have had little issues with the car here and there but nothing major. In the bang-for-your-buck category this car has to be a top contender. I still get between 17-22 mpg depending on what kind of driving I'm doing. Even though it is 12 years old I'm VERY happy with my Cherokee. Things to look out for: - Front rotors warping - Neutral safety switch
Owner for 4 years, 2 months
Miles Driven per Year:16,000
WHMac

writes:
1995 Jeep Cherokee 4 Dr Sport 4WD
Review
Pros
It runs like a stripped ape, handles and corners well. Will go anywhere it wants in 4 WD.
Cons
Electrical weakness in connections, especially blower motor, the relay, fan and switch. Plastic dash is hard to repair and keep together after having had dash out a few times.

It Gets The Job Done Day And Day Out. — I like the handling of the vehicle. It has been reliable and durable. Starting to show its' age though with electrical problems cropping up. Have had to replace the HVAC speed switch, relay and harness two times in the past year. But, to have had the vehicle 15 years, bought it used, and to have spent less that $1,000.00 on it for parts, not bad overall. Plastic is just a weakness all vehicles have. Chrysler needs to improve the electrical connections and use bigger gauge wire on several of their circuits.
Primary Use: Commuting to work
Greg

writes:
1995 Jeep Cherokee 2 Dr Sport 4WD
Review
Jeep Cherokee — more high end speed than low end torque but still gets up and goes, loud ride not super comfortable but gets the job done very tough and very fun to drive usually cheaper to buy great for offroading and onroading? ha
Primary Use: Sport/fun (spirited driving, track racing, off-roading, etc.)
Kevin

writes:
1995 Jeep Cherokee 4 Dr Sport 4WD
Review
Pros
Handling, and capability
Its Good — I like it, it good in New England. Good ole' American engineering. It good in the winter, and pretty good in the summer. Automatic, window and locks make it a safe car for its time. Some problem spots but over all my jeep and I love each other. Good job Jeep.
Matthew

writes:
1995 Jeep Cherokee 4 Dr Country 4WD
Review
Pros
Exterior Size, Offroad Capability, Style, Easy Maintenance, Fast, Inexpensive
Cons
Brakes, Fuel Economy, Cramped Interior, Numb Steering
Great Suv For City Driving & Offroading/towing, But Not So Much A Distance Driver. — This is probably one of the easiest vehicles to drive that there is. It's high enough up to see over a lot of stuff and get a good view of the road, but it's dimenions are tidy enough to make it extremely easy to park and place in traffic. The 4.0 I-6, especially with a manual, is a wonderful engine with great torque, but it's rather thirsty for a small SUV. Being a Jeep, off-roading is very good, as is towing. However, the brakes are terrible, and the tidy dimensions on the outside translate into cramped passenger space on the inside.
Donovan

writes:
1995 Jeep Cherokee 4 Dr Sport 4WD
Review
Cons
Oil leaks everywhere!
Cheap 4x4 — I liked the jeep, but it had problems. Even with the problems, it ran! Simple little 4x4, no accessories, plastic floor liner. But it had a "fun" vibe to it. Got stuck very easy, maybe 270k miles on the diff wore it out?
Primary Use: Utility (towing boats, transporting cargo, etc.)
Cody

writes:
1995 Jeep Cherokee 4 Dr Country 4WD
Review
Pros
Its a jeep, great off road, great in parking lots.
Cons
condition, it leaks, its rusty.
Great Reliable Little Jeep. — Great 4 wheel drive suv. interior is a little cheesy with the plood(plastic wood) overall works great and doesn't quite. hauls the dog around with no poblems. not great for spirited driving, windows leak, but its a jeep. they do that.
Primary Use: Commuting to work
Michael

writes:
1995 Jeep Cherokee 4 Dr SE 4WD
Review
Cons
nothing besides i dont have it no more
Yeeeeeep — lots of funn to drive the drive was rocky but nice and ran great gas was decent it went many places and went the distance appearance was great underneath rust and inside was clean well kept in my eyes word
Primary Use: Sport/fun (spirited driving, track racing, off-roading, etc.)
Matthew

writes:
1995 Jeep Cherokee 2 Dr SE
Review
Cons
leaks power steering fluid
Displaying 1 - 10 of 27 1995 Jeep Cherokee reviews.
Looking for a Used
Cherokee
in your area?
CarGurus has

40,178

nationwide Cherokee listings starting at

$1,400

.