1995 Buick Roadmaster
User Reviews
Average Ratings from

7

reviews
Performance:
Appearance:
Build Quality:
Overall:
Review Highlights
Click to filter reviews below
Displaying all 7 1995 Buick Roadmaster reviews.
sweetpotato

writes:
1995 Buick Roadmaster 4 Dr Limited Sedan
Review
Pros
Gets 25mpg on highway and runs way better than any other similar sedan (ford,Lincoln,Etc.) of the period.
Cons
the trunk will leak, original suspension sucks, and it is vulnerable to dings and scratches in most parking lots-oh the door pull straps are pretty weak too. Minor points.

Best That Gm Had To Offer In 1995- Balance Of Performance And Comfort — I have had this car for over a year. I bought the car with only 41K on the odometer! Fortunately the car has some nice options: Hard top (no Vinyl)Trans cooler,dealer sunroof (still works) and G80 postraction. Interms of performance: The LT1 and postraction combo make for some accelation. Climate control is great-much better than the chill or roast options you find on standard caprice heater controls. power steering and suspension have a lot of potential. (i'll discuss later) The power sets and rear seat are nicely designed and give a comfort and space reminiscent of the old late '60s rivera's or le sabres. I even like the otherwise tacky LIMITED sidelights. They look distinct now. Here are some flaws: the stock suspension seems designed for elderly fragile drivers- as well the disc drum brake combo is effective but forces one to drive with restraint. As well, I had the touring suspension which seems utterly worthless except on flat highway driving in straight lines. The quick fix- disconnect the air compressor, replace with cargo coil springs and gas charged heavy duty shocks up front and 9C1 coils up front with same shocks. in other words spend a few hundred bucks and the buick drives like a stock impala SS! By the way keep the 15 inch wheels and buy some 235 70 15's with T or V rating and you are golden! You will have all the handling you will need plus some durability for potholes etc.This simple combo helps at high speed.
Owner for 2 years, 0 months
Miles Driven per Year:10,000
sundeck270

writes:
1995 Buick Roadmaster 4 Dr Limited Sedan
Review
Pros
Very comfortable, nice ride.
Cons
Hard to see out the back window when backing.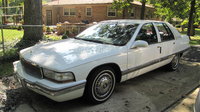 Great Car For Anyone Who Loves Big Luxury Cars. — This car is big, luxurious, and safe. It is the kind of car that some people dreamed of owning. It has always been very reliable. It sat in the garage during the week, used only on the weekend. It is too big for my own personal use.
Primary Use: Family transportation
Anthony

writes:
1995 Buick Roadmaster 4 Dr STD Sedan
Review
Pros
Amusement park like fun
Cons
Too Big for some, lol
A Beauty Above All — Has the Corvette 1995 LT1 Engine so u already can imagen acceleration for this big boat sedan is crazy good, could use beefier braking for those fast speed situations, handles ok for a sedan of this size just be afraid if an sway bar link brakes then ur really on a boat. been good up to about 195,000 miles then of coarse things gonna be braking, Always and forever love this car fun but can still take the family on a road trip, but beware best have bundles of cash to fuel this beast can't have all positives without a negative or two u know. all in all best car need more made like it in 2010 and so on.
Primary Use: Commuting to work
sbloomer

writes:
1995 Buick Roadmaster 4 Dr STD Sedan
Review
Pros
Buy it for power, comfort, safety and styling...
Cons
The rear doors could've been made with a larger opening..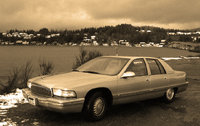 It's A Fun Car To Own And Drive. — I purchased my Roadmaster in August 2010 with 82k original miles and nearly flawless interior/exterior. I've done a tune up, replaced fuel pump and sending unit. It's a fast, fun and comfortable car to drive. The LT1 scoots and so far I've averaged 18mpg. I look forward to my next long road trip!
Primary Use: Family transportation
Samarpan

writes:
1995 Buick Roadmaster 4 Dr STD Sedan
Review
Awesome To Drive If You Ve Got A Pocket Too Large For Gas — Its a decade old buick..... n its the classic american car.... has a bit of everything... but personally performance have been compromised for the luxury.... its a great drive though!!!!! oh n yeah you ll never find a place to park it in this day n age.... that is increasingly becoming a problem for me!!!!!
Primary Use: Family transportation
Zach

writes:
1995 Buick Roadmaster 4 Dr Estate Wagon
Review
Pros
Looks great, solid build, strong acceleration
Cons
doesn't handle all too good at higher speeds
The Wagon — All b-bodies (caprice, roadmaster, and impala) from 1994 on up had the LT1 corvette V8 in it, this car accelerates like crazy but it doesn't handle real well stock unless you mod the suspension and put larger wheels on it.
Alan

writes:
1995 Buick Roadmaster 4 Dr Limited Sedan
Review
Pros
It has sentimental value. Fast for size, good hwy milage, smooth ride, big
Cons
Big, Dad had a couple of dents (accidents) with it while he was taking Chemo and should not have been driving (but we could not keep him from driving)
This Was My Dad's Car. He Loved It And Wanted Me To Keep It. — This car has great sentimental value to me. This was my Dad's car. He left it to me, and wanted me to keep it with the same specialized plate on it. I always like the car. It is big, but really moves for a car that size. It used to do the 1/4 mile in 15 sec, which is what the Mustang GT 5.0 would do of the same year stock. I guess that was the main reason why I liked the car.
Displaying all 7 1995 Buick Roadmaster reviews.
Looking for a Used
Roadmaster
in your area?
CarGurus has
49
nationwide Roadmaster listings starting at
$2,995
.