1995 Buick Park Avenue
User Reviews
1995 Buick Park Avenue
Review Ratings
Average Ratings from

5

reviews
Performance:
Appearance:
Build Quality:
Overall:
Review Highlights
Click to filter reviews below
Displaying all 5 1995 Buick Park Avenue reviews.
Noah

writes:
1995 Buick Park Avenue 4 Dr Ultra Supercharged Sedan
Review
Pros
Power, Comfort, Quite, Responsive.
I Love This Car. — Its a very reliable car. I had to do a few repairs on it, such as replacing a crankshaft posistion sensor and a camshaft posistion sensor. Also had to do the usual maintenance, such as brakes, fuel filter, oil fiter, etc. It has excellent acceleration due to the supercharger in it, it handles amazing for the size of it. You do have to give yourself a little more braking room since it is a little heavy. The apperance of the car is decent, it does have an ordinary paint job (grey). The seats and sunroof kind of make up for it though. It has pretty bad gas mileage if you dont know how to drive it correctly. If you step on it the supercharger likes to help the engine drink the gas. Its a VERY comfortable car to drive, leather seats, smooth shocks all contribute to the fun factor of the car. Basicly it is a very fun car to drive.
Primary Use: Family transportation
Mercjerry

writes:
1995 Buick Park Avenue 4 Dr Base Sedan
Review
Pros
Style, generous standard and optional equipment, spaciousness, reliability, fuel economy
Cons
Build quality could be better, some cheap plastic inside, shock absorbers too harsh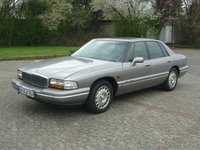 Good Looks And Dependability Do Go Hand In Hand Sometimes — The Buick Park Avenue is the best car I have ever owned, in terms of reliability, affordability, performance, comfort, safety - you name it. It's got all the advantages of a full-size American cruiser from the so-called "good old days", namely the 1950s and 1960s, but none of the disadvantages. The Park Avenue is lavishly equipped with all the goodies anyone could possibly ask for, and more. It's quiet, roomy, highly comfortable, quick, and very, very, stylish in a suave, sophisticated way. So far, so good. On the other hand, the traditional drawbacks of older American cars are simply non-existent in the Buick. It's big on the inside without being uselessly oversized on the outside. I once had a '73 Chevy Impala Custom Coupe which was a full 40 centimeters (15.7 inches) longer, 10 centimeters (4 inches) wider than the Park Avenue and had a wheelbase more than 21 centimeters (8.5 inches) longer to boot - not to mention the extra 500 U.S. pounds of weight on the Chevy. Still, the Park Avenue offers just as much room on the inside and even as much usable trunk space. Rear seat legroom is actually better in the Buick even with myself (I'm 6'4") in the driver's seat. The Park Avenue with its 205 inches of length is also much easier to maneuver and to park in our congested cities, although it's still a borderline case. After all, people over here don't buy small cars for no good reason. The Park Avenue's ride is at least as comfortable as that of any of its full-size predecessors from 30 or 40 years ago. Performance is fully satisfactory and certainly up to par with most of the big muscle cars from the Sixties. My car has the normally aspirated version of Buick's venerable V6 which dates back to 1962. It will go from 0-60 in less than 9 seconds and tops out at 127 mph on the autobahn. It's an export model with auxiliary engine and transmission oil coolers. That means it won't overheat during sustained high-speed runs, one of the long-time common ailments of American cars over here, as uncounted numbers of U.S. car enthusiasts in Germany have had to learn the hard way. As far as the Park Avenue's handling is concerned, it's certainly no sports sedan in the BMW, Mercedes-Benz, or Jaguar manner, but then again, no big American sedan ever was or is or should be. Cornering ability is markedly lower than in good German sedans, but who cares? My personal preference has always been going towards the comfort- rather than driver-oriented suspension design that makes American cars so unique and desirable, in my view. I say, leave the sportiness to the Bimmers et al. and keep on cruisin'. One of the most heartwarming aspects of owning the Park Avenue is fuel economy. Over here, a liter of unleaded regular costs 1.02 euros, which converts to approx. 4 dollars per gallon. I get 25 mpg on the highway (average speed 75 mph - I don't engage in too many high-speed runs) and 20-22 mpg in the city. European or Japanese cars of comparable size and weight can't do much better, either. The Buick is a surprisingly efficient automobile, something that not too long ago was a contradiction in terms when it came to American cars. Fit and finish of the Park Avenue are definitely better than on any 1960s U.S. car, though not quite up to German luxury car standards. Some of the plastic inside the cockpit looks and feels cheap by comparison. The plastic is also rather hard and creaks from time to time. However, the Buick's much lower price is ample compensation for those imperfections. I'm an automotive writer and an American car nut. In the last 20 years, I've owned and/or test driven around 300 cars, old and new, of all shapes and sizes, from all corners of the world. All in all, the Park Avenue is the perfect choice for me. It proves that nobody needs 4,000 pounds of steel to go from A to B comfortably, safely and quickly. It also proves that you don't have to pay 60,000 dollars for a car that will meet all the demands one could reasonably make in his or her everyday driving. The Park Avenue has been in my possession for almost 13 years now and it has never let me down. When it dies some day, it'll go to automobile heaven, I'm sure.
Primary Use: Commuting to work
Zoltanisangered

writes:
1995 Buick Park Avenue 4 Dr Ultra Supercharged Sedan
Review
Pros
The car has great acceleartion (Supercharged Ultra 4 dr sedan) for a car its size, beats my E Class Benz off the line and pulls low 7's in 0-60 mph. The seats are comfortable, and it has a lot of elbow room with 4 passengers and with 6 it's still not bad. The ride is fine and handling is good (I have the Gran Touring Suspension with the optional 16" wheels with Goodyear Eagle GT's mounted) for a car its size. It is the perfect car for long trips as it carries passengers comfortably and has an enormous trunk with 20.2 CU FT trunk space. With the traction control it even has respectable handling in the snow, steering and acceleration/traction, though the back end tries to sneak past the front when stopping because the rear end is so light.
Cons
I wish they had put larger brakes on the car, and disc brakes on the back would be nice. When it works, the 2 zone climate control is great but I've had to replace the A/C compressor as well as the control/head module. Gas mileage is about the same as my E Class Benz but when you stomp on the gas pedal frequently, the supercharger LOVES to drink gas and empty your tank.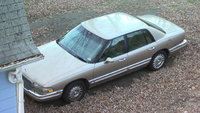 Buick Park Avenue Ultra: Fine Cruiser. — I bought this car when my left leg couldn't operate a clutch to drive into the city as a daily commuter. The ride is fantastic, the acceleration is great, and I enjoy the handling with the optional 16" tires and the Gran Touring Suspension. The seats are very comfortable although I miss my Mercedes seats for their lower back support that the Buick lacks. I really like the 20.2 CU FT of trunk space though I wish it had a full sized spare like the Roadmaster. It has a lot of little buttons and lights but once you get to know them, and know how to set up all the "automatic features," the car is great to operate. Since I tend to speed a bit, I also like the fact that although the car IS very fast, it looks like a "Grandma car." The stereo has good sound but I wish is had a CD player; it is a 1995 so I can't complain. Overall, I enjoy this car far more than I had thought I would. On weekends I thought I'd always be in my Benz, but I find myself driving my commuter car on weekends more and more for its own merits.
Primary Use: Commuting to work
melvinart

writes:
1995 Buick Park Avenue 4 Dr STD Sedan
Review
Pros
no rust, car from florida
Cons
small scratch on side

Nice Car! — even have a trailler hitch! love it but to have to go back in Canada. Very comfotable leather seats all electricals. very good average millage/gas maybe the breaks as to be done. no funny noise or blind spots. acceleration, braking and handling good very fun to drive an comffy!
Primary Use: Family transportation
Josh

writes:
1995 Buick Park Avenue
Review
Pros
Smooth ride, awesom trunk, gizmos.
Cons
loose suspention provides makes for loose cornering
Buick Park Avenue — Alot of gizmos and gadgets for it's time. Electric everything: seats, mirrors, trunk, antenna...etc. Car has a big 3.8 liter V6. though there is alot of power there is quite a bit of lag. 0-60 maybe 7.5 sec. "Dyna-ride" giving the car really crappy handling because suspension is soooo loose. AWESOME GRANDMA CAR!
Displaying all 5 1995 Buick Park Avenue reviews.