1995 Buick Park Avenue
User Reviews
1995 Buick Park Avenue
Review Ratings
Average Ratings from

4

reviews
Performance:
Appearance:
Build Quality:
Overall:
Review Highlights
Click to filter reviews below
Displaying all 4 1995 Buick Park Avenue reviews.
Noah

writes:
1995 Buick Park Avenue 4 Dr Ultra Supercharged Sedan
Review
Pros
Power, Comfort, Quite, Responsive.
I Love This Car. — Its a very reliable car. I had to do a few repairs on it, such as replacing a crankshaft posistion sensor and a camshaft posistion sensor. Also had to do the usual maintenance, such as brakes, fuel filter, oil fiter, etc. It has excellent acceleration due to the supercharger in it, it handles amazing for the size of it. You do have to give yourself a little more braking room since it is a little heavy. The apperance of the car is decent, it does have an ordinary paint job (grey). The seats and sunroof kind of make up for it though. It has pretty bad gas mileage if you dont know how to drive it correctly. If you step on it the supercharger likes to help the engine drink the gas. Its a VERY comfortable car to drive, leather seats, smooth shocks all contribute to the fun factor of the car. Basicly it is a very fun car to drive.
Primary Use: Family transportation
Zoltanisangered

writes:
1995 Buick Park Avenue 4 Dr Ultra Supercharged Sedan
Review
Pros
The car has great acceleartion (Supercharged Ultra 4 dr sedan) for a car its size, beats my E Class Benz off the line and pulls low 7's in 0-60 mph. The seats are comfortable, and it has a lot of elbow room with 4 passengers and with 6 it's still not bad. The ride is fine and handling is good (I have the Gran Touring Suspension with the optional 16" wheels with Goodyear Eagle GT's mounted) for a car its size. It is the perfect car for long trips as it carries passengers comfortably and has an enormous trunk with 20.2 CU FT trunk space. With the traction control it even has respectable handling in the snow, steering and acceleration/traction, though the back end tries to sneak past the front when stopping because the rear end is so light.
Cons
I wish they had put larger brakes on the car, and disc brakes on the back would be nice. When it works, the 2 zone climate control is great but I've had to replace the A/C compressor as well as the control/head module. Gas mileage is about the same as my E Class Benz but when you stomp on the gas pedal frequently, the supercharger LOVES to drink gas and empty your tank.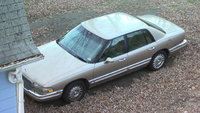 Buick Park Avenue Ultra: Fine Cruiser. — I bought this car when my left leg couldn't operate a clutch to drive into the city as a daily commuter. The ride is fantastic, the acceleration is great, and I enjoy the handling with the optional 16" tires and the Gran Touring Suspension. The seats are very comfortable although I miss my Mercedes seats for their lower back support that the Buick lacks. I really like the 20.2 CU FT of trunk space though I wish it had a full sized spare like the Roadmaster. It has a lot of little buttons and lights but once you get to know them, and know how to set up all the "automatic features," the car is great to operate. Since I tend to speed a bit, I also like the fact that although the car IS very fast, it looks like a "Grandma car." The stereo has good sound but I wish is had a CD player; it is a 1995 so I can't complain. Overall, I enjoy this car far more than I had thought I would. On weekends I thought I'd always be in my Benz, but I find myself driving my commuter car on weekends more and more for its own merits.
Primary Use: Commuting to work
melvinart

writes:
1995 Buick Park Avenue 4 Dr STD Sedan
Review
Pros
no rust, car from florida
Cons
small scratch on side

Nice Car! — even have a trailler hitch! love it but to have to go back in Canada. Very comfotable leather seats all electricals. very good average millage/gas maybe the breaks as to be done. no funny noise or blind spots. acceleration, braking and handling good very fun to drive an comffy!
Primary Use: Family transportation
Josh

writes:
1995 Buick Park Avenue
Review
Pros
Smooth ride, awesom trunk, gizmos.
Cons
loose suspention provides makes for loose cornering
Buick Park Avenue — Alot of gizmos and gadgets for it's time. Electric everything: seats, mirrors, trunk, antenna...etc. Car has a big 3.8 liter V6. though there is alot of power there is quite a bit of lag. 0-60 maybe 7.5 sec. "Dyna-ride" giving the car really crappy handling because suspension is soooo loose. AWESOME GRANDMA CAR!
Displaying all 4 1995 Buick Park Avenue reviews.