1995 BMW 5 Series
User Reviews
Average Ratings from

43

reviews
Performance:
Appearance:
Build Quality:
Overall:
Review Highlights
Click to filter reviews below
Displaying 1 - 10 of 43 1995 BMW 5 Series reviews.
Ryan

writes:
1995 BMW 5 Series 525i
Review
Pros
Built well, handles and rides well, pretty good fuel economy for the engine size.
Cons
Complex wiring, laquer peels on later models!,
Bmw E34 525i — The Bmw E34 is a great car it handles well, is much more driver orientated than its rival's (Mercedes-benz) It eats the mileage up very well i.e you can drive this car for 500 or 600 miles and you dont feel tired or achy when you get out!! Performance is good, the 2.5 is the best all rounder for MPG (about 30-34 on motorway) and performance. The build quality is second to noe even by todays standards. Everything right down to the switch gear inside the car feels solid. Appearance wise the 5 series e34 retains BMW's aggressive looks but at the same time it also appears to be a big business class car.
Snake_99

writes:
1995 BMW 5 Series 540i
Review
Pros
fast, Pretty, Fun, impressive,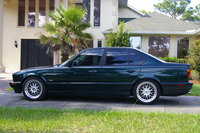 I Miss It Already, Like A Beautiful High Maintanrnce Woman — Great Marque , performance , styling, speed! Even the Valet's were impressed ! OK 40 words.. BMW's are for car guys, they require attention, but return performance and styling, excellent build quality, but like all German cars, and I am a German guy, they are over engineered, making maintenance a "interesting" task
Primary Use: Commuting to work
dagunster

writes:
1995 BMW 5 Series 540i
Review
Pros
Incredible power, smooth ride, good handling. A very deceptive car? very good parts availability. BMW mechanics like it. Inexpensive to insure.
Cons
Must maintain the car, like any fine machine. Only 18 mpg.

On Par With 944 For Fun Factor With A Back Seat — I have owned the car three years now. Had some deferred maintenance when I bought it. Has 216,000 miles, compression is on par. When you drive an older car, you accept that instead of making a car payment, you have maintenance. if you cannot accept that, just buy a Corolla. I put Bilsteins on it. did some suspension work, new cat converters, other things as the mechanic says. make sure to not get too deferred on maintenance. Do these things and the car will reward you. The V-8 is a sewing machine that pins yountomyour seat like a rocketship. Do warn your passengers before you open it up. Sadly, the fun does not last long, as the car will rocket past 100 real quick. The Bilsteins were jittery for first few months but now, the car is silky on the freeway, and just turns into a tiger in corners. Quiet, good room. big trunk. arresting hook brakes. be careful, as other cars cannot brake anywhere near as good, I have been almost rear ended several times until I learned to give people behind me better warning. had it three years, should be good for at least another 5. Averaging maintenance over months and I am driving one of the top1% cars for about $250 per month. A good one will run about 5k. A good choice.
Primary Use: Commuting to work
manwithataco

writes:
1995 BMW 5 Series 530i
Review
Pros
The best first car a person can have. It is tough, you have a roar of a v8, great for long trips, fast enough for anybody.
Cons
The car is pretty expensive to maintain, power is decent for a 3 liter, fuel econ pretty low.

It Is A Great Overall Car Decent For Everything. — Overall it is a great car never broke down on me. Got into a 10 mph crash and very little damage. I go to a gas station every other week so pretty good on gas and pay 10 dollars for the best wash every other week .
Primary Use: Commuting to work
John

writes:
1995 BMW 5 Series 525i
Review
Pros
Great handling and very safe. Fast enough for a thrill.
Cons
Miles per gallon is only 22 on average.
Greatest Mid-sized Sedan Of 1995! — Well for a 525i my BMW has pretty good pick up. Although it is a very heavy car and I like to call it the tank, it accelerates quite fast. The handling and breaking are great. The car is very fun to drive and drift in. It looks great runs solid and is very safe...like a tank! The gas mileage I guess is ok considering its a 95'. It gets about 22 in the city and 24-25 on the highway. I would definitely recommend this car to a friend because its safe, fast, fun, and it's quite the reliable car and a big bang for your buck! I bought mine used for only 4 grand and it's been great for over a year now.
Dendle

writes:
1995 BMW 5 Series 525i
Review
Pros
Great gas mileage, decent pickup speed, classy appearance
Cons
Not as a great a pickup speed as I'd personally like
Miss Her — Overall a great little car. Not quite as much pickup when you slam the accelerator as one would expect, but still pretty good. Technology-wise this was a great vehicle, especially considering it was a '95. Obviously, not the most modern looking car, but far from ugly. Definitely a solid body, held up very well.
Adrian

writes:
1995 BMW 5 Series 540i
Review
Pros
Huge, Powerful, Luxury
Cons
Fuel, oh god the fuel....
Bmw E34 540i Touring — Bought as a short term solution for a month to sell on, now planning to keep it 6 months. Excelent car, bought it for a bargin price (£500) and has served me well so far. Fiirst automatic car i've woned and its wonderfully lazy. Big 4.0l V8 just keeps going and going. Keep wanting to take it to the Nurburgring, but it'll be an expensive trip there and back. Performance - Incredible for the size of car, 5 series estate isnt small, but the 540 had the biggest engine and loads of torque. 7.7 seconds to 60 and something in excess of 150 top speed. Build Quality - Very few problems, a few pieces of trim in the boot which i've caught loading or fixing have come off, otherwise, perfect. Might as well be made of old Tanks, its that tough. Apperance - Classic looking executive estate, looks better than the saloon in my optinion. almost a GT Tourer. Purposeful on the road with performance to match. Cost of Ownership - Parts can be expensive, fuel more so. 20mpg on average, sometimes less, sometimes more (27mpg is the best on a long run). Bought for £500, so it cant really depreciate further, roll on the service... Fun Factor - Amazing, a proper wolf in sheeps clothing. Sumptous luxury, and more extras than some new cars of similar class today. Everyone needs to own a V8 once, theres no better feeling, short of perhaps a V10 or a V12, but nothing sounds the same.
Matt

writes:
1995 BMW 5 Series 525i
Review
Pros
found a manual, plenty of room, good reliability, passing power, handling, great ride quality
Cons
desire better fuel economy, pricey OEM parts but doing labor yourself equalizes that
'95 Bmw 525i Manual 155k — Trim is loaded loaded, leather seats, heated front seats, rear climate control, traction control, yet manual transmission for an enguaging ride. I pretty much leave the traction control off at all times, sometimes leave it on when it is raining. Replaced the clutch master and slave cylinders and havent had issues since. Heater doesn't blow quite as hot as I would like, probably just need a new cabin air filter. Starts and runs slightly rough in the winter but slowly moves back to perfection as it reaches operating temperature. Wish it had a little more pick-up, but it is easy to tell this car is built for the highway, which is what I bought it for: to get out of town! Great car for the road, good amenities, decent fuel effeciency (~23-26mpg mixed) and plenty of room for baggage/equipment and friends!
Primary Use: Family transportation
h2oyo

writes:
1995 BMW 5 Series 540i
Review
Pros
Great car all around fun to drive.
Cons
Some repairs can be pretty expencive

1995 Bmw 540i — Performance of this car is truly awesome. Acceleration, braking and overall handling of the car can take your breath away. The appearance of the car is timeless. I have been asked by many people questions about the car but when they ask about the build year they are shocked. The E34 will never go out of style. The quality of the car is "German" everything fits and everything has purpose. When you first get in and shut the door you know the car is of the highest quality. The cost of ownership is BMW. It really doesnt cost anymore then many other cars to repair. I am fairly handy and will always do my own repairs. Things like oil changes, brakes, fluid changes are a snap and the preventative maintenance is the biggest thing of this or any car. The E34 540i has the highest fun factor of any car I have ever driven and can still have 4 adults in the car and seated comfortably. But I must say its when i'm alone and driving that I find myself taking the long way home just for the enjoyment of the car.
Bradley

writes:
1995 BMW 5 Series 540i
Review
Pros
Power, Luxury, Safety performance, value
Cons
Little pricey to fix at times.
Displaying 1 - 10 of 43 1995 BMW 5 Series reviews.
Looking for a Used
5 Series
in your area?
CarGurus has
17,588
nationwide 5 Series listings starting at
$2,500
.