1994 Toyota Celica
User Reviews
Average Ratings from

32

reviews
Performance:
Appearance:
Build Quality:
Overall:
Review Highlights
Click to filter reviews below
Displaying 1 - 10 of 32 1994 Toyota Celica reviews.
Seefer

writes:
1994 Toyota Celica GT Coupe
Review
Pros
Well, till now a like the feeling it is smooth, its a very promising project, i love japanesse cars...
Cons
Mmmm, the suspencion its dead....but all toyotas are great warriors!!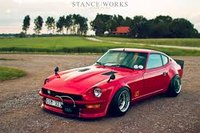 Dreamy!!! — Well, i just bought this one for 1000 dll the suspencion its damage idk how much, it lacks paint, i little of interior´s tires, rims, but, it looks like the engine its ok, so, the soul its ok with this warrior, i gonna give him the right weapons that make him revive once more!!
Primary Use: Sport/fun (spirited driving, track racing, off-roading, etc.)
jbarter04579

writes:
1994 Toyota Celica GT Hatchback
Review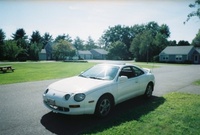 1995 Toyota Celica Gt Hatchback, 5 Speed — I bought the car in November of 2007 from my aunt. Performance-->accelerates pretty well, baking is amazing and so is the handling, will handle better than a Subaru WRX STI if driven right :D. Build Quality-->The car is build very well and is very solid, mine has 175,000 miles on it and still doesn't burn any oil, The car is my daily driver and I also race it and beat the hell out of it and it continues to run with NO issues. Appearence-->The car is great looking for the year, very sleek, the interior has a very smooth flow and most everything is easy to find and operate. Cost of Ownership--> GREAT gas mileage, I have been able to achieve up to 37 mpg or about 500+ miles per tank of gas. Even tho the car is driven hard, it has needed very little, just the regular maintenance that any car with 175,000 miles needs. Fun Factor-->The car is great fun to drive, as i mentioned above it handles amazingly and will handle better than an STI if driven right, I've done it. The car is MUCH funner to drive if it is a 5 speed, it will accelerate faster. My car will do 0-60 in about 7.5 seconds. I would recommend the car to anyone because no matter who is driving it or how it's driven the car will last, and will last longer if the proper maintenance is done. I have owned the car for nearly 2 years and don't plan on getting rid of it anytime soon.
Anthony

writes:
1994 Toyota Celica ST Coupe
Review
Pros
Gas Saver, Sounds Great, Great Handling, Great top speed
Cons
Slow Acceleration for 0 to 60
Celi — This car was my baby. It is very good with Gas and the Exhaust sounded amazing. My celica had great Handling and it was my project car too. I did tons of work to it spend about 2,500 dollars on transmission, cold air intake, air fliter, Exhaust system, radiator, Headers, and short ram Intakes.
Primary Use: Sport/fun (spirited driving, track racing, off-roading, etc.)
Glyn

writes:
1994 Toyota Celica GT Coupe
Review
Silly Car?!? — Loved this car, it was everything you could wish for. Looked stunning, went like the clappers and clung to the road like glue Totally under-estimated in my opinion. These are now a cheap motor with bags of character and loads of fun. Seriously the GT4 must be a lightningly fast car if my little 2litre was anything to go by.
Sagemark

writes:
1994 Toyota Celica GT Hatchback
Review
Pros
operating expence is very low, doesn't go fast so keeps me out of trouble, but I;m always first off at the light.
Cons
Very responsive car but is very light and skids easy when breaking hard. t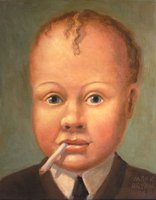 Dubbed A Chicks Car, But I Enjoy Looking At It As Mush As Driving It. — I can carry an amazing amount of stuff in this car. I even had a dryer in the back. I carry my bike in the hatchback. Have to remove the front tire but, what that is resy as the bike has easy levers on the wheels. The mechanics say they like working on the engine. The seem very impressed with the resilince of the engin. I am too.
Primary Use: Commuting to work
Leif-Ian

writes:
1994 Toyota Celica GT Hatchback
Review
Pros
Dependable, took a beating and kept on going
Cons
Poor acceleration, paint peeled after a while
My First — Handling was good, especially with the low profile tires. Acceleration was not the greatest, but you can't accept much from a 4-banger. Breaking was good, and would stop on a dime. Headlights could be a little better...not the best. Overall, it definitely was a dependable car. Glad I had it
Rob

writes:
1994 Toyota Celica GT Hatchback
Review
Pros
Looks, performance, comfort. Basically everything.
Cons
Nothing to hate yet, aside from having to fix all the stuff that was neglected but that's not the cars fault.
Will Be Keeping This For A Very Long Time. — Well, lets see. I purchased the car in August of 2012 and have been fixing all the neglect of the previous owner. I have replaced the turbo since it was seized and broken and have a few little things left to fix. In terms of cost, it hasn't been too expensive to be honest, even considering I've had to search for parts since the car wasn't sold here. Acceleration wise, it's pretty quick. 255hp and AWD makes it get off the line quick and since the turbo has a ceramic exhaust wheel, it spools very fast. Not much lag to speak of. The brakes are huge, they are 315 mm (12.4 in) rotors with a 4 piston caliper off a Supra Twin Turbo. Comes to a stop very well but I've also got some high performance tires on it so that helps as well. It's a 90's Toyota which means it's built like tank. Aside from parts that have been broken by the previous owner, it's in great shape. I think it looks great. The huge vent on the hood with the small ducts to cool various engine parts. Four round headlights I think look very cool along with big fog lights give it a tough appearance. It has a very curvy body with big rear fenders and out back has a raised 2 post spoiler. The spoiler is straight from WRC and I think looks really good as well. Few things that the WRC model has over the regular GT-Four are the lifted rear spoiler blocks, the small wing along the back of the hood and the water sprayer inside the bumper to cool off the radiator for the intercooler. It also has a set of OZ Racing Cronos wheels in 17" diameter which are also in white that look great on it! Much better than the 3 spoke wheels that come standard (I think they're very ugly lol) Considering I'm just about finished getting it on the road, I don't have good ideas yet on gas mileage. I've read that if you keep it out of the boost and drive casually, you can see some pretty decent mileage out of it. Once I get it on the road and take it to my favourite road, I'll update with how fun it is to drive.
Primary Use: Sport/fun (spirited driving, track racing, off-roading, etc.)
Simon

writes:
1994 Toyota Celica GT Hatchback
Review
Pros
Cheap & easy to maintain. Good performance. Pretty car.
I Love It!!! — Swift(ish) acceleration, gearbox better suited to motorways as ratios a bit tall but once rolling accelerates well. Great handling. Rock solid build quality. Pretty exterior, typical 90s interior. Cheap(ish) to run. Super reliable. Fun to drive when pushed hard.
Primary Use: Family transportation
Charlie

writes:
1994 Toyota Celica GT Coupe
Review
Pros
fun fast plus won the rally champoinship from 1994 to 1999
Cons
if ur not willing to spend money on cars to keep it running this aint for u
Brilliant Car Bit Of History! — love it completely!! 2.0 turbo running just shy of 400bhp ( atm cuz its broke lol) its better then an honda! in its 16yr old! AWD assits in good grip n traction n just throws u out of coners hard n fast! treat her wrong n she`ll spit her dummy out 4 wheel drift does come common if u push into summit she dont like! lol only thing i dont like is parts n cost! its an exclusive car the parts r rare n exspensive but apart from that AWESUM!!!!
Primary Use: Commuting to work
prarie33

writes:
1994 Toyota Celica ST Coupe
Review
Cons
my mom has trouble get in and out of it - of course, thats kind of cool too

Love It — just an overall great car - have 160K miles on and recently re-did all the suspension and handling so drives like new again. Good winter handling, and gas milage. Has the whole stylish feel to it with spoilers and everything - put some speakers in the trunk really enjoy driving it now
Primary Use: Commuting to work
Displaying 1 - 10 of 32 1994 Toyota Celica reviews.
Looking for a Used
Celica
in your area?
CarGurus has
428
nationwide Celica listings starting at
$1,799
.