1993 Toyota Camry
User Reviews
Displaying 1 - 10 of 49 1993 Toyota Camry reviews.
robnatlanta

writes:
1993 Toyota Camry DX
Review
Pros
310,000 miles and counting... past replacements: a/c compressor, starter, distributor (twice), brake and clutch cylinders, radiator, fuel filter, fuel pump, wheel bearings, still have original starter
Cons
small oil leak persists despite non-mechanical solutions--use oil sealant (heavy duty kinds); probably seal around oil pump is leaking slowly (same problem in 1992-2002 models); can ignore if you put some clay absorbant (cat littler works) where the drip area persists.

Great Little 93 Manual 5-speed Camry Dx — In it's day it was a medium sized commute car, but now it's an economy car compared to the newer Camrys. Also have a 2000 Camry XE and wife has a 2006 LE which make the 1993 looks ultra simple to maintain and service. Book may say it's not worth anything, but on-the-street pricing is between $2500-$2600 in my area on auto sales sites whether dealer or private sale.
Primary Use: Family transportation
Looking for a Used
Camry
in your area?
CarGurus has

76,232

nationwide Camry listings starting at

$1,300

.
Alicia

writes:
Camrys Rock! — My car is amazing. My uncle gave him to me, because, yes my car is a boy and he's named Rodney. My uncle kept him in great shape. Drives amazingly, get gas mileage, durable, good suspension, runs smooth, an overall awesome car. It's great for commuting and for going on adventures abd dat trips. Anyone who needs a dependable, durable car... BUY A CAMRY, NOW!
Colin

writes:
1993 Toyota Camry LE V6
Review
Jordy

writes:
1993 Toyota Camry LE
Review
Pros
reliable, great gas mileage
Camry — This was a very reliable car that got great gas mileage but could bore a sloth. It was just boring up and down. id recommend it to some one who doesnt care what they drive as long as it will start up and drive every time they get in it. this is th car for them. Not for anyone looking for something inspiring
Tony

writes:
1993 Toyota Camry XLE
Review
Pros
will turn on every day and get you to wherever you need to go.
Cons
its not a hotrod, dont drive it like one
You Have A Teenager Who You Want To Know Has A Reliable Car This Is For Them. — Car is made to be driven every day for years on end, performance is solid, breaks are great and handles like any 4 door family sedan should. This is not a fun but smart car to drive. This is one of the most dependable cars made, guaranteed to last well over 200,000 miles. now cheap to buy and easy to find still over 30 miles to the gallon highway around 23 miles city.
Primary Use: Commuting to work
Alex

writes:
1993 Toyota Camry LE
Review
My Car — it has a go cart engine and is as old as i am, but it runs and has decent gas mileage. the radio doesnt always workbecause i bought the antenna offf the internet for like ten bucks. ill only have it for a little while longer
Primary Use: Commuting to work
Luis48

writes:
1993 Toyota Camry SE V6
Review
Pros
V6 and manual tranny sedan from Toyota. Reliability.
Not A Bad Car — It's too bad Toyota doesn't make fun cars anymore. Not that this car was a blast, but it was nice to be able to have a V6 sedan with a stick from Toyota. You can barely find their "sport sedan" Lexus IS with a stick nowadays. Anyway, the '93 Camry SE was a good car, built solid with a strong engine built to last. It was a decent size, not too big but not too small. If you are in teh market for one check for rust behind the wheels, especially if the car has mud-flaps installed.
Austin

writes:
1993 Toyota Camry XLE V6
Review
Pros
everything V6 leather, 20-25 MPG, sunroof,
Top Of The Line Xle V6 — this is a 1993 camry XLE V6. it is the top of the line camry made in 93. most camrys came with 4 cylinders but this one has the 3.0 V6 , the same motor thats in the Lexus. with the camrys there are three trim packages,, they are CE,LE,and XLE. CE is the base model, LE is limited edition, and XLE is Xtra limited Edition. The 3.0 in this car is very power also the car has a button next to the shift lever that you can press for extra power. the interior is very luxurious, this model comes with wood grain accents on the dash, leather seats, power seats and windows, and also has a CD player and an air conditioner. this vehicle also has a very good ride quality. and the 15 inch alloy wheels excintuate the cars best qualities.
Eric4663

writes:
1993 Toyota Camry LE
Review
Pros
Fun, Reliable, Comfortable, Fast, Engine is built to last.
Cons
None that are the manufacturers fault.
My Favorite Car So Far — This was my first car, and that will always have a spot in my heart for it. Build Quality: The front struts gave out, the gas latch didnt work, the trunk needs to be manually opened, the battery got disconnected a lot, it once started leaking break fluid, if you fill it up past 3/4 of a tank it starts to leak, and the muffler is giving out. Its still my favorite car to drive. I got a new car, and left it outside for most the winter. When i tried to turn it on in the summer, it started right up. No sputtering or complaining, roaring like a lion. At over 250k miles, and still going strong, i know ill be enjoying this car for a long time. Performance: It handles amazingly, with no power steering or brakes I could really have complete control over it. Winter was no problem, as the control it had in slush was increadable. It had amazing pickup for a middle class car. Apperance: It was comfortable for me, being 6'3'', and had great feel to it. After driving a Ford F150, Saturn Vue, and a Buick Regal, I still prefer this car. I had cloth interior, which was comfortable in any weather, unlike leather. The outside looked pretty bad, due to 15 years of scratches and dings, but the general body of the car wasnt too bad. Its no fararri, but its not unsightly. Cost of Ownership: I bought it for 500$, and i feel like ive gotten my money's worth. Where other cars have failed me, this car has never left me stranded. It gets good milage, though i never tracked it. Nothing unusual about the maintenance. Fun Factor: Oh yes, i love driving it. Its small and meneuver in traffic. It has amazing pickup, and can get to high speed very quickly. It was so much fun to drive.
twistedtortie

writes:
1993 Toyota Camry DX
Review
Pros
Gets me where I need to be, most of the time.
Cons
One thing after another goes wrong, bad gas mileage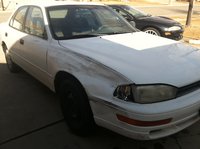 Every Day Comuter Turned Project Car — This was a great car for a while, but the more I drove it, the worse gas mileage would get, nd the more problems I would have with it. I did all regular maintenance on it on time, and I didnt drive it very often. But when one thing went wrong, it was an avalanche of things to follow.
Primary Use: Commuting to work
Displaying 1 - 10 of 49 1993 Toyota Camry reviews.
Looking for a Used
Camry
in your area?
CarGurus has

76,232

nationwide Camry listings starting at

$1,300

.