1993 Chevrolet Suburban
User Reviews
Average Ratings from

15

reviews
Performance:
Appearance:
Build Quality:
Overall:
Review Highlights
Click to filter reviews below
Displaying 1 - 10 of 15 1993 Chevrolet Suburban reviews.
Mercjerry

writes:
1993 Chevrolet Suburban K1500 4WD
Review
Pros
Big space, reliability, safety
Cons
Too big outside, impractical in the city

A Tank With Plenty Of Comfort — Once again, the 1993 Chevy Suburban K1500 AWD I drove for a few weeks was not mine, but a test car for the German automotive magazine I worked for back then. Frankly, I'm no big fan of SUVs, even though I've been making a living testing them and writing about them for more than 20 years. They may arguably have a legitimate place in rural regions as people-haulers, but for city dwellers (who make up the vast majority of SUV buyers) they are absolutely ludicrous, not to mention they look completely out of place in an urban setting. I know, that's the very reason many of those people buy them. Having said that, I must admit that I was deeply impressed by the Suburban. It was only with reluctance that I would hand over the keys to a colleague so that he could get acquainted wit the big Chevy. "My" Suburban was equipped with the standard engine, Chevy's tried-and-true 350 CID small-block V8, which sported 190 net horsepower back then. This powerplant made the big SUV not exactly a stoplight racer, but provided more than sufficient push for the 220 inches of length and, more importantly, the 4,800 pounds of curb weight of this aptly termed "Cowboy Limousine". The Suburban earned this nickname, by the way, because, year after year, about one third of its annual production was (and probably still is) bought by Texans. Anyway, the Chevy never felt underpowered, its governor-limited top speed of 107 mph was quick enough because at speeds in excess of 90 mph the Suburban's truck origin began to show and the huge vehicle would ride rather stiffly. Below such speeds, however, the Suburban was surprisingly quiet inside and exceedingly comfortable. One always had a commanding view of the road behind the steering wheel due to the high seating position, one of the primary reasons people buy SUVs. Add to that more than two tons of cocooning steel and you always felt completely safe inside this tank with captain's chairs and air conditioning. With its comprehensive sound insulation, V8 power delivery, smooth-shifting four-speed automatic transmission and responsive power steering, the Suburban always put me at ease behind the wheel. Even in thick urban traffic, with hundreds of little cars buzzing around, the big Chevy rolled along with contemptuous ease, making driver and passengers feel invulnerable, as if all the commotion outside had absolutely nothing to do with us. Thanks to its massive, even menacing size, the other drivers eagerly made way for the Suburban, making one feel King of the Road. Not bad at all. The German automotive publication I worked for focused on 4x4s, so naturally the test of the Suburban would not be confined to paved roads. In the boonies, the Chevy once more proved its mettle. While it was way too big to be a nimble off-roader like a Jeep Wrangler, Land-Rover Defender, or Mercedes G-Class, the K1500 still took on mud, sand and gravel competently, fording shallow creeks and even going up or down pretty steep hills sure-footedly. Those Texan good ol' boys sure know how to pick 'em. The Suburban was one mighty impressive vehicle with all the comforts of a luxury car and the toughness of a truck. Small wonder the PR guys at Germany's GM subsidiary really had to twist my arm to make me give the Chevy back to them after the conclusion of the test.
Primary Use: Sport/fun (spirited driving, track racing, off-roading, etc.)
Looking for a Used
Suburban
in your area?
CarGurus has
13,793
nationwide Suburban listings starting at
$1,995
.
Cole

writes:
1993 Chevrolet Suburban K1500 4WD
Review
Pros
Heavy Duty, Roomy, Powerful
Great All Around Suv If You Can Afford $100/week In Gas — This suburban is a beast! It is big and everyone stays out of the way! It is a great vehicle, plenty of room for people or cargo. The only drawback is the cost of gas. And one of the best things about it is that its NOT A FORD
Primary Use: Utility (towing boats, transporting cargo, etc.)
mike

writes:
1993 Chevrolet Suburban C1500
Review
medranojk6

writes:
1993 Chevrolet Suburban K2500 4WD
Review
Pros
lots of room for entire family
Cons
Wish this truck ran off of good times. Hurts at the fuel pump.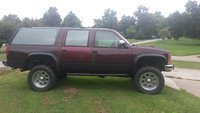 Great Family Time — We love this machine. Daily driver, camper, school bus. This truck has seen it all. Enough room to transport a portion of the wrestling team with enough power to navigate through Turkey Bay. This has been a vehicle that the entire family has enjoyed.
Primary Use: Family transportation
Kyle

writes:
1993 Chevrolet Suburban K1500 4WD
Review
1993 5.7l V8 K1500 Chevy Suburban 4x4 — I own a 1993 Chevy Suburban, it is a great truck has a 350hp stock but updated to a 385hp engine. the engine has been rebuilt and transmission was replaced. The vehcile is great for off roading. The only thing i don't like baout the truck is the gas milage and a stock 40 gal gas tank.
Sarah

writes:
1993 Chevrolet Suburban K1500 4WD
Review
Pros
loud, roomy, and nothin' but fun!!
Big Beast In The Making — currently has dual exhaust 3 inch pipe w/4 inch tips and no muffler(nice sound), real steel cowl hood, ventshades, chrome brush gaurd. In process of putting new 350 motor in (first one died at 230,000mi), has rebuilt tranny, rearend, and a bunch of other new stuff under the hood. Eventually will have a 4 or 6 inch lift with mud swamper tires, black paint job with blue realistic fire flames, and many other improvements. Currently has real nice stereo and subs/amp, but needs new speakers in doors and dash. Rust free. And is driven by a girl who loves to go muddin'!
Jacob

writes:
1993 Chevrolet Suburban K1500 4WD
Review
Pros
Great back seat room, Very comfortable captains chairs, Great braking , Great ride
This Is A Great Truck! — This was a great truck! I still miss driving this truck even though it was 20 years old. This truck had a great suspension and soaked up the bumps like nothing out there! It wasn't the fastest and it shifted pretty hard from 1st to 2nd gear. Sometimes when going into 2nd the tires would squeal how hard it shifted! We always drove it like that though and it never failed.the truck got about 14 driving around and The tank was so huge that one time when a couple of friends and I were driving to town it died because we were going down a pretty steep hill and all the gas went to one side of the tank! It started right up though and we continued on! The ABS system wasn't very good on dirt roads but it worked great on pavement!!! The stops were very straight and stopped in a heartbeat!! However, if the ABS was on a surface with a lot of traction (pavement) and you pushed the brakes all the way then the truck would stall. It was wierd but that's how it was. This truck has a very good quality feel to it and feels very safe when riding in it. The steering was really good and the handling was average. This truck is perfect for someone who wants a truck that can take them to work or to school and can carry a lot of people or cargo. This would be a good beginners truck and is built like a tank for people who like feeling safe when they drive
Primary Use: Commuting to work
Melissa

writes:
1993 Chevrolet Suburban K2500 4WD
Review
Pros
The size could do anything with it just about and transport all needs and lots of people1
Hmmm — Too costly for gas! The interior and exterior were in excellent condition. I loved the way it drove until the brake booster decided to act up and quit. I drove the care everywhere, had so much fun, until gas prices started to rise!
Primary Use: Family transportation
Bo

writes:
1993 Chevrolet Suburban K1500 4WD
Review
The Rockin' Burb — When i got the Burb it already had 280,000 miles on it. Now it has well over 300,000. Then engine is tired. It has been around the block. But don't get me wrong, the 350 chevy in there could be turned into a beast if i had the time. Its a pretty sleek led sled. its been called a limousine before. the only thing i never really liked was the color.. Ugly Metallic Teal.. but it has only broke down once since i owned it and it gets okay gas milage for a giant SUV. and because its giant theres plenty of blind spots. but that dosent matter when youre off roading!
Primary Use: Commuting to work
HarvardBlue

writes:
1993 Chevrolet Suburban K1500 4WD
Review
Pros
Lots of power to spare, very roomy with seating for eight, quite durable.
Cons
As you might expect of an SUV, gas mileage is nothing to get excited about.

Plenty Of Cargo Space And Horsepower — This is the family vehicle that I was taught to drive in. Being an SUV, the wheelbase is large, which takes a bit of getting used to, especially when parking. Generally, I'm not a fan of auto design from the 1980s onward, but I feel that Chevy managed to shape good-looking trucks and SUVs up through the 1990s, and this Suburban is no exception. Gas mileage is about what you might expect of a V8-powered vehicle, though with a 42 gallon fuel tank, it doesn't need to be filled up all that often (though it can get mighty expensive when you finally do need to fill up.) Behind the wheel, I found the Suburban to be surprisingly responsive. I've always felt completely in control of the vehicle whenever an opportunity to drive it has arisen, even when driving off-road. Overall, this vehicle is a pleasure to drive, and I would recommend it to anybody who seeks a sturdy, reliable vehicle with lots of cargo space and off-road capabilities.
Displaying 1 - 10 of 15 1993 Chevrolet Suburban reviews.
Looking for a Used
Suburban
in your area?
CarGurus has
13,793
nationwide Suburban listings starting at
$1,995
.