1993 Chevrolet Caprice
User Reviews
Average Ratings from

12

reviews
Performance:
Appearance:
Build Quality:
Overall:
Review Highlights
Click to filter reviews below
Displaying 1 - 10 of 12 1993 Chevrolet Caprice reviews.
DecentNewYorker

writes:
1993 Chevrolet Caprice LS
Review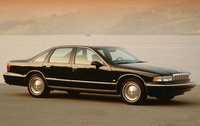 I Love My Chevy Nothing Like It — I have my Caprice 93 since 2000 and it has been running well so far it very good on gas only 30mpg i maintain it well i have driven many miles on driving south it just keeps on going and going. So if you have any questions don't hesitate to ask...it's a very powerfull car even though it has only 170 horses under its hood. its a 305 engine.
Owner for 6 years, 8 months
Miles Driven per Year:15,000
Marc

writes:
1993 Chevrolet Caprice Base
Review
Pros
V8, Real wheel drive, smooth ride
Cons
Chevy, high miles, ugly, mechanically junk
The Heavy Chevy — While it's ride was rather good for having 220K, but it was poorly maintained by it's previous owner, making it a pain to work on. The thing looked like a bath tub that was turned upside-down and wheels added to it. The 5.0L V8, while most commonly referred to as a boat anchor, had enough power to bring the rig sideways, though even when you didn't want it to. While it was based of a design that originated in 1978, it had too many modern annoyances for my tastes.
Primary Use: Commuting to work
Taylor

writes:
1993 Chevrolet Caprice LTZ
Review
Pros
power, size(interior and exterior)
Cons
fuel mileage, size(if you can drive it all the power to you), overall weight of the vehicle is almost 2 tons.
1993 Chevrolet Caprice — Car handles weak in corners but accelerates like no tomorrow. The things a boat and the quality is better than japs. Fuel mileage is not the best because of the 350 but it goes when you want it to. Maintenance costs are extermely low for this car and only basic maintenance is needed, and i have 212,000km on it. For someone looking for a full size six passenger traditional American body on frame construction v8 I would recommend this car over any other any day.
GuyNewport

writes:
1993 Chevrolet Caprice Base Wagon
Review
Pros
This is a most capacious vehicle: with the back seats down, you can load a 4'X8' sheet of plywood in the back and close the door. It comes with an adjustable roof rack that will take 500lbs. It's a comfortable ride and even with 140,000 miles on the clock, gets better mpg than I would have had with a pick-up of the same year. I just completed a 3500 mile trip and I didn't loose a drop of the Mobile 1 I used at it's first oil change in my possession. This model is equipped with a throttle body Chevrolet 350 C.I. engine and even featured a factory engine oil cooler.
Cons
It was difficult to install a class III trailer hitch. Thin sheet metal keeps the weight down but is very easily dented. You've got to want to keep that enormous, sloping windshield cleaned; it's hard to get to the base of it on the inside.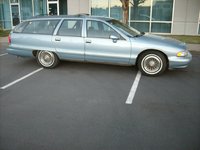 Happy Chevrolet Long Roof Owner — These cars are really under rated, IMHO. Naturally, since it's a used car, there are some issues to be over come but nothing's come up so far that can't be repaired. When I took ownership, the rear gate doesn't lock, the two power windows on the rear doors need attention and the horn doesn't work. Since I don't have a garage to work in, I'll have to wait for good weather but none of it appears daunting in the least.I purchased a factory manual and it's one of the most helpful factory manuals I've ever owned, much better than what I had to work with on my '89 Caprice wagon. Update: Rear door/gate lock fixed by straightening out the actuating rod and adding a screw-on button. It's easily broken off when you're loading over the gate or when the gates down. L.R. window needed a switch and both rear windows needed the plastic insert in the window channel replaced; I found out this is a common repair on this year/make/model. If you decide to buy one of these, look for the models with the simple throttle body engines, 91-93. After that things get more complicated; more power and performance but not much better gas mileage and much more expensive maintenance.
Primary Use: Utility (towing boats, transporting cargo, etc.)
Eros

writes:
1993 Chevrolet Caprice LS
Review
Cons
low power 305 cid motor

Stephen

writes:
1993 Chevrolet Caprice LTZ
Review
Pros
It's a yacht and everybody notices you and there's tons of room for your stuff.
Cons
Typical Chevy build quality from the 90's it sucks.
Last Of The Land Yachts. — Performance: Is decent it has a 305 V8 so it has power and gets reasonable MPG's. Its handling is very floaty like a boat so it's never dull. Build Quality: Is well typical GM from the 90's... crappy but it is simple to fix. Appearance: Jelly bean like and the interior is typical 90's material.But, its one of the best and most iconic cars from that era. Cost: Not bad u can find good cars cheap and chevy parts = cheap! MPG's about 20/25 if u don't beat it to death. Fun factor: It's not fun but its like going in the 70's car but from the 90's it the last of the land yachts!
Primary Use: Family transportation
Tyler

writes:
1993 Chevrolet Caprice Base Wagon
Review
I Love It — Performance? Its slow, at first, Needs some brakes but it stops, I love the full power steering. It has a few squeeks and rattles but it needs some shocks and that will be resolved. great for the age it looks good inside and out. Mileage is good about 16 round town. Its very fun to drive. I once put 14 sheets of dry wall in it.
Primary Use: Utility (towing boats, transporting cargo, etc.)
Anthony

writes:
1993 Chevrolet Caprice LTZ
Review
Pros
Spacious interior, Fast and agile response.
Cons
Hard to park in tight spots.
Definitely A Great Fun Car To Bring Your Friends And Family Along For The Ride. — With a 5.7 TBI (Throttle Body Intake) 350ci the Caprice Classic has fast acceleration for a larger and heavier car. With a spacious cabin and trunk it is no wonder it was the premium choice for police and law enforcement agencies for years even after thier retirement from the chevrolet line. With sleek bodylines and a luxury ride on the long haul it requires less maintenance than it's counterpart that carries the LT4 Corvette motor. With over 280 Horsepower the top speed of 233 Miles Per Hour. Reasonable Fuel Economy for its size. Definitely a Blues Brother Car for fun.
Primary Use: Sport/fun (spirited driving, track racing, off-roading, etc.)
Ian

writes:
1993 Chevrolet Caprice Base
Review
Pros
Easy and cheap maintainance, aftermarket parts list, cult following with some good online forums, decent MPG despite the V8 and weight, not difficult to clone into an Impala SS if you are unoriginal.
Cons
Not the best choice for city people who constantly parallel park
If You Need Suv Space Without The Suv Mpg, Especially True If You Get A Wagon. — Still going strong after 155,xxx (hard police) miles, and about 4,xxx (Ian) miles. Pretty good accelleration with TBI 350 (not LT1), Great handling with 9c1 cop suspension. Big ass truck brakes with ABS make the car feel smaller when panic stopping. Even with neglect the exterior and interior hasn't worn out that much. It had a bunch of leaks when I got it and the transmission made a clicking noise but was all fixed for about $400 (could have fixed myself but I'm lazy sometimes). Besides the $400, all other expenses were routine (gas, oil change, 2 tires). Gas mileage can get as good as 25 MPG highway with 3.08 gears as with my previous Caprice. Expect about 21 MPG highway with 3.42 gears. Rear wheel drive makes any car a blast to drive! Doughnuts anyone?
Frank

writes:
1993 Chevrolet Caprice Base Wagon
Review
Pros
Beautiful car, loads of power, yet suprisingly good highway mileage
Cons
A/C didn't work, bad in winter
Displaying 1 - 10 of 12 1993 Chevrolet Caprice reviews.
Looking for a Used
Caprice
in your area?
CarGurus has
118
nationwide Caprice listings starting at
$3,495
.