1993 Audi 90
User Reviews
Displaying 1 - 10 of 13 1993 Audi 90 reviews.
Mathieu

writes:
1993 Audi 90 CS Quattro
Review
Pros
Solid, reliable, good-looking, fast, amazing handling+winter qualities
Cons
Some trim is sketchy, isn't good in NA fuel ratings (needs Super)
Kevin

writes:
1993 Audi 90 CS Quattro
Review
Pros
Its what I wanted and not many people have a car like this.

It has been comfortable for long trips which it rarely takes. Great quality and legendary Audi looks reminiscent of the IMSA race car. It has originality and good build quality are present in this fine example of an Audi 4 dr sedan.
Cons
I spend a lot of money on it.

There was only one engine option available for the US market. The stock 12v is a bit doggy in the low end but some tweaks helped that. The suspension from factory sits a bit high. US bumper with added reinforcements are ugly[.thanks DOT.] and stock headlights aren't the greatest, just get some RS2 headlights. don't bother with a AT version. 5spd a must
Fine Luxury In A Fun To Drive Package — My car is extensively modified so its not gonna be rated the same as a stock 12v B4 Audi 90Q. The fit and finish are exceedingly fine for a car of this era. Fuel economy is average for a V6 AWD car around 18c/23h Common upgrades are suspension, brakes from Porsche 993TT, throttle body, MAF, RS2 headlights, catback exhaust system. Mine will soon have a modified Audi UrS4 AAN Inline 5 20v Turbo which is very similar to the one in the Audi RS2 Avant that was never sold in the United States.
Andrew

writes:
Too Old Now — was a great car, but had many mech issues...actually was a lease replacement from a lemon i had...was ahead of its time, great styling...still looks great after 16 years...havent seen one in years on the road
Primary Use: Commuting to work
Kevin

writes:
1993 Audi 90 CS Quattro
Review
Pros
Quattro, build, fit finish, clean contemprary style, comfortable, reliable,
Cons
auto tranny(I dont have this though), US bumpers, US headlights blow
Audi 90 — definitely have done more then most people to this car so my brief run down wont be completely accurate for a stock car. I can tell you dont bother with an automatic, get the 5spd version of this car for sure. Stock handling is pretty good for a car of this time period. The Quattro AWD system is unbeatable and no Subaru can even come close. stock breaks and power is decent but since my upgrades it has really made a world of difference. The suspension is easy to work on and improve. I have done a considerable amount of improvements and it is quick to respond with zero body roll. The build quality is great. Trouble points are A/C and components, cruise control, and a wire harness to the trunk though ive never had this to deal with this problem as it never was an issue. Headlight US spec have rather poor light output so get some European ones i.e. RS2. I would buy another. I have owned a few Audi's and still have this in my garage.
Primary Use: Sport/fun (spirited driving, track racing, off-roading, etc.)
Pierre

writes:
1993 Audi 90 CS Quattro
Review
Pros
Smoothness of the ride, extremly relyability, very good handling
Cons
Not too roomy in the rear, not-too-powerful engine
A Good Old Euro Car — Overall a pretty good car, I bought this old Audi 2 years ago, with a mileage a little than 60,000 miles on the clock. I loved everything about it, and I still do now : although not really powerfull (I live in Europe, and the engine I have is the l5 2.3 litres, with an output around 140bhp), the engine is quite smooth and gives a good acceleration ; the car is also pretty light for its size, so it helps a lot. Braking and handling are truly amazing, especially with the quattro AWD (but it is very good with only FWD too - I tryed both). Although both interior and exterior of the car are now a little old, it's still nice when well-maintained ; the only major drawback being the (relative) lack of room in the rear... But the most amazing feature of this car is its relyability : it never let me down, and apparantly never failed its previous owner too ; parts are affordable (here in Europe) and maintenance is low. The gas mileage is a bit low, compared too other, more modern European cars with similar outputs, but hey, it's quattro...
Matt

writes:
Pros
Never left me stranded Quick V-6 styling is way ahead of its Time
Cons
Parts can be costly or tough to get at times
Audi — over 200,000 miles and still running very strong ;) Quick acceleration Heated seats are nice. Takes me back and forth every day without problems. plenty of creature comforts such as a sunroof heated Seats, cd player V6 motor and fog lights
Primary Use: Commuting to work
Thomas

writes:
1993 Audi 90 CS Quattro
Review
Pros
acceleration, speed, AWD
Cons
totally sucks when u blow the tranny
Damn — such a great fun car to drive ...fast and great acceleration and is also great for going thru mud water and grassy areas besides the low clearance factor it is a great all around vehicle would love to get another one soon
Primary Use: Sport/fun (spirited driving, track racing, off-roading, etc.)
jamesbarchi

writes:
Pros
Solid handling 5 speed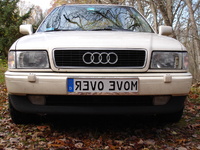 Grat Var 9 Out Of 10 — I love my '93 Audi 90 CS 5spd. It has 192K on it and I still drive it like a race car. It was hard finding a short shifter for it but I did find one and it works really well. The car tops out at around 123mph even with its age! I suggest this car to anyone who want a good German machine for little cash.
Primary Use: Sport/fun (spirited driving, track racing, off-roading, etc.)
Samantha

writes:
Pros
smooth ride, reliable, its an AUDI!!
I Love It, But I Need A Quattro — The car has a 2.8 L V6, its a 12 valve, not the 30 valve, but it still boogies. i wish it was quattro, but unfortunately its only FWD. but thanx to it being front wheel drive, i can burn out!! thats fun.... it has an oil leak, but other than that runs really strong for 200,000 miles
J

writes:
Pros
Quick, Great on gas, Fold flat seats for extra storage.
Cons
Paint faded after three years, looks like a brushed steel finish lol
German Quality — I got this car for completley free! it had been sitting for a year and was covered in mold and pollen and a mouse had made home under the hood. It took me probably 12 hours total to completely clean and sanitize the interior, but from there i went on to try and work the kinks out of the electrical system. It has the 2.8 that they used for so many years, and its still running strong. It handles amazingly, its just a bit under powered. 2,800 lbs could use more than 180 HP. IT sounds amazing and is great on gas, even though it rocks a v6. Its fun to drive and everyone thinks your someone simply because its an Audi.
Displaying 1 - 10 of 13 1993 Audi 90 reviews.
Looking for a Used
90
in your area?
CarGurus has

3

nationwide 90 listings and the tools to find you a great deal.