1992 Subaru SVX
User Reviews
1992 Subaru SVX
Review Ratings
Average Ratings from

22

reviews
Performance:
Appearance:
Build Quality:
Overall:
Review Highlights
Click to filter reviews below
Displaying 1 - 10 of 22 1992 Subaru SVX reviews.
Joseph

writes:
1992 Subaru SVX 2 Dr LS AWD Coupe
Review
Pros
Speed, Agility, HWY mileage, solidity, RARITY, class, THE LOTUS THAT WASN'T by ItalDesign!
Cons
If you drive all-city, expect 15mpg avg on PREM. fuel. Draws attention.
Best-of-breed Of The Early-ninties Gt-class! — Many don't know this, but the SVX was supposed to be the replacement for the Lotus Esprit. Money, as it was in the early Ninties, didn't permit ubaru opening the exclusive ALCYONE brand for the SVX, so from day #1 on Subaru lot, it was doomed to sales failure. Lets forget that and focus on the positives: Performance - For an erly-90s car, it HAULS. 0-60 in just under 7 ticks, 70-0 braking in 163 feet (do that 3 times though and it's time for new rotors, folks!), 0.92g around MT's ELITE skidpad, etc...maybe a bit too much body roll, but that's why you never feel harshness through the chasssis; with the rubber-isolted subfrmes, the word "harsh" never enters the brain! Build Quality - My last SVX that I got for $1,600 as a "beater" was anything BUT. Not a squeak or rattle ANYWHERE. Paint like new after clesaner waxing it. flushed all the fluids, cleaned the fuel syetem, and it ran as well as my 37,313 mile example. MANY people debate that these cars are unreliable -- NOT SO! There were rear wheel bearing problems as a result of pressing them into the shipping grease; this no longer is a problem. Next, they mention the tranny. The Subaru 4EAT-AWD unit is one of the most reliable traannies out there, but can overheat. Solution? Have a ooler put on! $100 that saves you from a $2,600 issue. Appearance - both interior and exterior styling Cost of Ownership - This vehicle is AWD and weighs 3,600 lbs.; it doesn't get Geo Metro mileage. BUT with a .29cd, it EASILY achieves 32-33mpg HWY, on PREMIUM only, of course. Oil changes are only req'd every 7,500 miles; everything else, including the timing belt, every 100k. This is a low-maintainance car! Fun Factor - THIS is a catch-twenty-two...the car is a blast to drive, but it gets annoying when you get harassed at every stoplight with someone asking something about the car. And forget about Gas Stations; I only go full-serve now. The car is a blast, period...
Primary Use: Commuting to work
Scott

writes:
1992 Subaru SVX 2 Dr LS AWD Coupe
Review
Pros
Flat H6 engine, AWD
computer controlled, multi-profile automatic transmission.
wide stance and low center of gravity,
Leather and suede interior, telescopic steering column,
fully loaded electronics and sound system.
Sleek profile and odd window style turns many heads.
Cons
Rear wheel bearings wear too easily,
transmission overheats under hard driving (OK after adding an extra cooler)
Luxury Sports Car Way Ahead Of Its Time In 1992 — I fell in love with this car when I first saw it, and bought one a year later. Such an amazing vehicle was way ahad of its time when it was introduced in 1992. Subaru, successful and well known for its reliable AWD econoboxes, decided to make a play in the luxury sport car segment. So they built a new 3300cc, 6 cylinder, horizontally opposed power plant, added a computer controlled automatic transmission that would automatically adjust the shifting points based on the way you depress the gas pedal. If you stomped on the pedal, a sensor triggers the "Power mode" which makes the tranny shift later in each gear. Very cool! Then they put every fancy gizmo they could cram in with leather interior and suede dashboard and trim. Crystal clear multi-speaker sound system and even heated seats. The entire chassis was dipped in zinc coating for complete rust protection before assembly, so they would last many years without corrosion. Unfortunately, people were not warm to the idea of paying a sports car price for a Subaru, so poor marketing kept sales down and Subaru abandoned the experiment in 1997 and concentrated on their bread and butter product. Like so much artwork, it is not really appreciated until it is gone. There are still a few around 15 years later.
Jess

writes:
1992 Subaru SVX 2 Dr LS AWD Coupe
Review
Pros
Steering, Interior, AWD, styling, reliable, gorgeous, has a personality, the windows of course.
Cons
Gas mileage, cost of maintenance, CD player blows.
I Hope I Own One Until The Day I Die. — Performance; In my opinion, top of the line. It's a heavy car, but for a heavy vehicle its light on it's wheels in terms of handling. Speeds over 60 you best have a generous amount of stopping room though. For 108k miles it's had a small amount of repairs. Tranny rebuilt once, new radiator, and in the future i see myself getting a valve job and some sensors fixed. The interior is rugged and the leather is fantastic, 17years into it's life and it still has that new car smell :']. The radio leaves a little to be desired. Premium gas puts a dent in your wallet from time to time, and since the car IS getting old i'm always on the look out for new problems to spring up - but the amount i enjoy driving it, and the looks and that "WHAT IS THAT?"'s i get just from driving down the street is worth it.
Primary Use: Family transportation
svx1992

writes:
1992 Subaru SVX 2 Dr LS AWD Coupe
Review
Pros
Awd makes this an all weather car. The Svx is great in the snow, rain, any weather condition. I have to say this is one of the best engines on the market. Very reliable engine, will run well pass 200,000 miles. Very comfortable seats, all buttons and gadgets within reach, great view of the road and surroundings with the window within a window theme. Will love this car on the highway, speed is very deceptive, you will forget how fast you are going. One of the best designs I've seen in years.
Cons
Maintenance costs is not cheap for the Svx but worth it once you experienced driving this car. These cars are well known for transmission problems. So if you ever decide to get one, I would invest in a transmission cooler for the car, very inexpensive and not hard to install. Backseats only for smaller people or children, trunk space very limited(its a sports car). Heavy car but very maneuverable .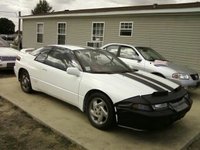 Futuristic Classy Design, Real Head Turner — Car came out in the 90's and was ahead of its time with the options that came with it. Nice design, low in the front so good view of the road. Love the window within a window setup, only the middle part of the window go up or down. That keeps the wind down and the rain out. Engine is very reliable and is a non interference engine. Which means if the timing belt breaks it will not damage the engine and you can still make it back home. Idle is very quiet, like the engine is not even on. I like how comfortable the front seats are including legroom. The car is fast so watch out for those speeding tickets. The awd makes this a year round daily driver, very good in the snow, very stable. Very good car if you don't mind the maintenance cost.
Primary Use: Commuting to work
Paco

writes:
1992 Subaru SVX 2 Dr LS AWD Coupe
Review
Pros
The unique design, nothing in the road looks like an SVX, no other coupe has AWD with a boxer 6 in the front.
Cons
Parts are not easy to find, but not impossible.
A Cer Designed With No Limits. — This was Subaru's top of the line flagship from the 90's Even thou it only came in automatic nowadays it's very easy to make the manual transmission conversion. That is one of the best improvements for the SVX. It drives very firm, feels solid like a german car, and has an exhaust tone in between a Porsche Carrera and an Impreza STI.
Primary Use: Sport/fun (spirited driving, track racing, off-roading, etc.)
haroldmiran

writes:
1992 Subaru SVX 2 Dr LS AWD Coupe
Review
Pros
AWD /FWD option, hp, comfortable ride, appearance(eye catcher)
Cons
rear bearings, gas mileage, runs only on premium, no 5spd option

Svx Not Too Bad — Overall i love this car! THE GOOD: the exterior is amazing always catches the eye, acceleration is pretty good beats most of the rice rockets , handling is not that bad, pretty responsive. Fun to drive especially in the snow, you can drift really good with it in a big open parking lot. My model has the option from either being on AWD to FWD. Which i like a lot, since it wont stress the transmission as much compared to if it was on awd all the time. THE BAD: The gas mileage is terrible, and on top of that it runs on premium which is costly. the rear wheel bearings are noisy and needs new ones. The transmission failed on me already so i had to replace it. Apparently it needs an additional cooling system which i still need to install. ALso pretty heavy, which slows the car down alot. H6 is a great motor except when you change the spark plugs, it'll take u all day. other than that its pretty good!
Darik

writes:
1992 Subaru SVX 2 Dr LS AWD Coupe
Review
Pros
Great looking, many options, a preformance monster, All wheel drive, boxter engine, RARE!
Cons
High cost of parts, hard to find parts, next to no modifications can be done, only auto
Subaru Svx — The best car i ever owned!. The subaru svx is a performance monster, boasting a boxter 6 engine, Semetrical all-wheel drive, and stunning good looks. An absolute blast to drive and you will get many looks and questions no matter where you go. I owned the rare toureing edition which came with leather interior, heated mirrors, heated seats, alarm, bose audio, cd/casset deck, and preformace geared transmission. The only thing i didnt like is the fact that they only came in automatic (easly switchable to stick if your willing to put the work and gut one out of an early 90s forister) It was basicly the subaru imprezza befor they were made. Windows for driver and passenger are desighned like a dilorian in which you are surounded by glass and only a section of it went down. There are no blind spots and it can run with the best of them! mine made it to over 400k miles befor an unforunate accident locked the transmission in first gear.
Primary Use: Sport/fun (spirited driving, track racing, off-roading, etc.)
Kris

writes:
1992 Subaru SVX 2 Dr LS AWD Coupe
Review
Cons
Hard to get parts....
Kristen

writes:
1992 Subaru SVX 2 Dr LS AWD Coupe
Review
Pros
Fast. Fun. Different.
Cons
Expensive to own. Not for the faint of heart
Drive One If You Ever Have The Chance. Don't Let The Ridiculous Windows Cloud Your Judgement. — The svx is QUICK. It launches like a rocket; however it is very hard to slow it down - the brakes aren't big enough for a 3800 lbs rocket ship; and the handling leaves a little to be desired (maybe some adjustable suspension/lowering springs would solve the problem.) Oh yeah, the thing i hated most about the car was the automatic transmission (they are very prone to failure as well). Fortunately, it now has a manual transmission transplant and a stage 2 act clutch - much better :) The automatic seatbelts suck too. It is an absolute fuel pig and near impossible to buy parts for. However, come winter time making drift brings grin to my face and i usually have no problem puling a four wheel drive truck out of a jam!
Primary Use: Sport/fun (spirited driving, track racing, off-roading, etc.)
Jesse

writes:
1992 Subaru SVX 2 Dr LS AWD Coupe
Review
Cons
parts are hard to find
Her Name Is Elva — My subaru was a gift to me from my grandfather for my 15th birthday. It's very low to the ground and also very zippy. The only thing i dont like about this car is how rare it is, which makes it very difficult to find parts.
Primary Use: Commuting to work
Displaying 1 - 10 of 22 1992 Subaru SVX reviews.
Looking for a Used
SVX
in your area?
CarGurus has

18

nationwide SVX listings and the tools to find you a great deal.