1991 Toyota MR2
User Reviews
Average Ratings from

82

reviews
Performance:
Appearance:
Build Quality:
Overall:
Review Highlights
Click to filter reviews below
Displaying 1 - 10 of 82 1991 Toyota MR2 reviews.
Vince

writes:
1991 Toyota MR2 Turbo T-bar
Review
Pros
Perfect reliability, tidy handling and a Toyota.
Cons
Not more exciting than it'd suggested.
A Daily Driving Exotic With Very Tidy Performance. — This is a '91 Toyota MR2 Turbo T-top with black cloth interior. With 2 italian cars behind my belt, I needed something more reliable to restore my faith in the auto industry. Toyota was usually not the name associated with excitement but this one could be an exception. There wasn't a more responsible way to spend money on anything automotive but a Toyota, no matter what colour and chassis configuration! The overall fit-and-finish of this vehicle was exceptional. Despite the absence of exotic materials (ie. I did not purchase the leather interior due to financial constraints), the interior looked upscale and very sporty. The semi gloss vinyl dash and trims were perfectly textured such that I never missed the real leather in this car. Controls and switches were naturally well placed like any Toyotas, and their engagements were positive in the tactile sense. Only tach/speed/fuel/temp/boost(turbo) guages were there to convey information to the driver, as one could prabably be assured that nothing else needed attention given the reliability records of Toyotas. The T-top were made of smoked glass panels with very substantial yet easy to lock/unlock mechanism, they also came with molded linings for blocking the sun out if so desired. These all had their own storage space behind the seats securable by velcro straps (cloth "pizza delivery" bags were provided to protect these exterior panels from soiling the interior)! As a matter of fact, I couldn't help but wonder the amount of thinking that had been put into work here, all the parts felt so durable and pleasant to use! The exterior colour was Speed Yellow with glossy black rubber trim (painted!). The paint job was flawless and of high quality. Body panels were wave free, tolerance was tight for the gaps. Trunk spaces were found both in front and at the back, both lined and weather sealed, very civilised. Sounded like a perfect package, now lets see how she did in bed, er... on the pavement. Cars of mid engine configuration have only one purpose - performance. The MR2 Turbo had a head start with the most powerful engine in its price class - a 200 horsepower 2L inline 4 turbocharged engine! The engine started to have usable power from 2,500 rpm on and peaking out at 4,500 rpm (redline was around 6k). This made the torque curve rather peaky somewhere in the middle of the torque curve, which was typically what made turbocharged power plants less desirable. Throttle response suffered as a result and putting power down at low rpm required patience. Driving on the edge, there was plenty of torque to get out of fast turn where power could be laid down much sooner than front engined vehicles. In straights, this little rocket had surprised numerous V8 equipped domestic muscle cars and with equally exceptional braking performance to boost. Despite the exotic configuration (mid engine layout), this vehicle derived its suspension geometry and parts directly from the front end of the Corolla (to be utilized in BOTH the front and back end of the MR2!). This had set the ultimate limitations to the car's chassis dynamics. The car had a very compliant chassis which would also absorb any irregularities on the pavement without complaints. The down side to this was slow reaction time and less than optimal body motion control (ie. body roll in corners). Of course, my standards were set high, thanks to the coincidental side by side comparison made with a '89 Lotus Esprit Turbo owned by a contemporary then. (The Esprit had an unacceptably bone jarring ride, but there was no lean while cornering, and it had an engine whose turbo would spool up at as low as 1,800 rpm all the way to redline putting out 300 horsepower!). The MR2 gave you a taste of what driving an exotic car would be like without having to make the drivers sacrifice comfort, reliability and the high costs of ownership. More importantly, the MR2 was as easy and safe to drive as any Toyotas and drivers needed not have prior experience in high performance driving to enjoy this vehicle. Given the low costs of maintenance, the availability of aftermarket performance parts, and the tremendous potential to tune its chassis, this little gem had remained the enthusiasts' favourite over the years and will remain so in the future.
Cam

writes:
1991 Toyota MR2 Turbo T-bar
Review
Pros
Fast, a ton of fun, very well built car
Mr2 — This was my first car, a great little car... 200hp in a light body gives it excellent performance, it can even beat 5.0 liter Mustangs at the drag strip. The only downside to this car is that with the engine in the middle behingd the seats, it can be very expensive to fix minor problems as the engine needs to be removed for most repairs.
jeffyork40

writes:
1991 Toyota MR2 Turbo T-bar
Review
Pros
I am surprised this car never had a bigger following then it did. At around 2400 lbs and with the SW20 option package which include's a very spirited turbo charged engine mounted mid rear, it has amazing handling and speed. In short track SCCA competition, I am often put in the same category as Race prep'd Corvette Z06's. I think that unfair to me but, I keep up and beat them. On a bigger track, I am sure they would over power me. This car is in my opinion the best bank for the buck sports car you can buy.
Cons
Unfortunately they are 20 plus years old and parts for them are fairly rare. Thank goodness we have online shopping as the dealers carry and cant get many of the parts for this car. Body parts, glass and other parts are very difficult to find. but, if you search lo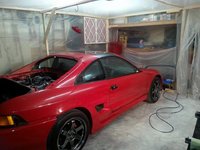 Mr2 Sw20 Turbo ...fast, Fun, Sexy Hot Good Looking. — What other car comes in this light, this powerful, this fast and handles this well for the money ? What other car can you buy this cheap that gives you exotic sports car looks performance and appeal all connected to Toyota reliability ?
Primary Use: Sport/fun (spirited driving, track racing, off-roading, etc.)
Jeff

writes:
1991 Toyota MR2 2 Dr STD Coupe
Review
Pros
Theyre beautiful! Sound great! Last forever! Run smooth! Very reliable!
Cons
Pain in the ass to do a NA to turbo swap.
Mr.2 — I haven't driven either of my MR2s but I have driven my dad's and I LOVE it almost as much as my 300zx. It just doesnt have as much hard hitting, plant your body in the seat feel as the 300zx, of course. Other than that I love them! They are, however, very difficult to do an NA to Turbo swap if your not VERY VERY familiar with the car but after its all said and done its worth it. With my black one it has T-tops, as does my 300zx, and they leak, as does my 300zx. My new MR has a slick top and does NOT leak. Recommend getting a slick top in a rainy state and a t-top in a state with a lot of sun. :) And plus, theyre Toyotas they WILL last!
Primary Use: Sport/fun (spirited driving, track racing, off-roading, etc.)
Austin

writes:
1991 Toyota MR2 Turbo T-bar
Review
Pros
Fast, Headturner, Fun
Cons
Gas, Road Noise, Bumpy Ride
A Great Choice If You're Looking For Something Fast And Fun Without Spending A Lot — For performance the MR2 is outclassed by most similar imports in a straight line. However, it can handle better than any Supra or Skyline you'll ever lay eyes on and is a very nimble car. It gets up to speed very quickly due to the turbo, and has very responsive disc brakes. It's a small car so easy to maneuver and fun to drive. So far no repairs needed. The front struts do squeak going over bumps but I don't have the money to replace them. The T-tops do rattle at high speed but that's because the seals need to be replaced. It leaks when it rains a little, again because of the seals. Appearance wise I think the car is stunning. It's a very unique vehicle and you don't see many on the road. Inside it has a great leather interior with some great bucket seats and a nice center console. It also has storage racks behind the seats for the t-top roof sections to hide behind, but these little ledges can be used for general storage when the roof is up. Outside it has a lot of nice gentle curves but nothing over the top. Gas mileage on this car varies. The engine is small so if you're a feather-foot you can get upwards of 25 mpg easily. However if you're a leadfoot and you use the turbo too much you're looking more at around 15-19 mpg. Maintenance varies. Most parts are cheap being a Toyota, but labor can be pricey because the drivetrain is very difficult to access without pulling the engine out the bottom sometimes. The car is wicked fun to drive. Mine is making 288 whp right now, and it's like a rocket. It weighs very little and is very small, so it accelerates very quickly.
Primary Use: Sport/fun (spirited driving, track racing, off-roading, etc.)
Michael

writes:
1991 Toyota MR2 Turbo T-bar
Review
Pros
TRD suspension and adjustable shock
Funny To Drive — Clean like a brand new :) juste have to change bushing .. and ad a roof scoop. Vent brake 4 wheels, turbonetic intercooler, limited split transmition, juste want to try drag test now, will see this on the next summer. :P :) Miie
Primary Use: Sport/fun (spirited driving, track racing, off-roading, etc.)
Francis

writes:
1991 Toyota MR2 2 Dr STD Coupe
Review
Pros
If you like pop-up headlamp, this car is for you!
Cons
Can't drive it in winter condition. S54 transmission has no Limited Slip differential.
Francis

writes:
1991 Toyota MR2 2 Dr Turbo Coupe
Review
Pros
Cheap to insure, great performance, great look.
Cons
Requiring an other car for winter!
Toyota Mr2 1991 Turbo Review — Great car all around. Loved it. Unfortunatly, I had to get rid of it cause I noticed it had a Salvaged Title! 8( You can get them now for less that 10000$ in mint condition. You can get other below 5K, but you'll end-up probably spending 2-3k on repairs. Should buy a good one in the 1st place!
Matt

writes:
1991 Toyota MR2 Turbo T-bar
Review
Pros
Turbo, t-tops, 2 seater rear wheel drive fun
Cons
Not having enough money to work on it how I'd like to
Great Sports Car For The Money, Very Fast And Fun — This car is great for the money I bought it for. It's fast, looks great, can carry a great deal of stuff to the track and did I mention that it looks great? The styling of this car is classic, the lines all flow nicely and nothing looks out of place. The performance is there and when it's time to go, you can do that easily by mashing the gas :) I bought the car for racing and was able to do so for awhile, then ended up daily driving it. Snow tires made the car a tank in the snow, no problems whatsoever and very easy to drift around a snowy lot for some fun too :) I'd recommend this car if you're looking for something fun and fast, with a little bit of money, it can definitely go faster too. It's a Toyota, so the reliability is there but it's not terribly easy to work on. All in all, a great car to own - if you can take care of it, it'll take care of you.
Primary Use: Sport/fun (spirited driving, track racing, off-roading, etc.)
JonBoy

writes:
1991 Toyota MR2 T-bar
Review
Pros
the look are as cool as it gets and the colour really cought ur attention!!!
Mr2!!! The Way It Should Be — brilliant car for its age overall, but fuel is an issue and that is the biggest reason why i dont own it anymore!! and because its a t-bar you also get the wind in ur hair when the sun comes out!!! bring on the summer!!
Primary Use: Commuting to work
Displaying 1 - 10 of 82 1991 Toyota MR2 reviews.
Looking for a Used
MR2
in your area?
CarGurus has
14
nationwide MR2 listings and the tools to find you a great deal.